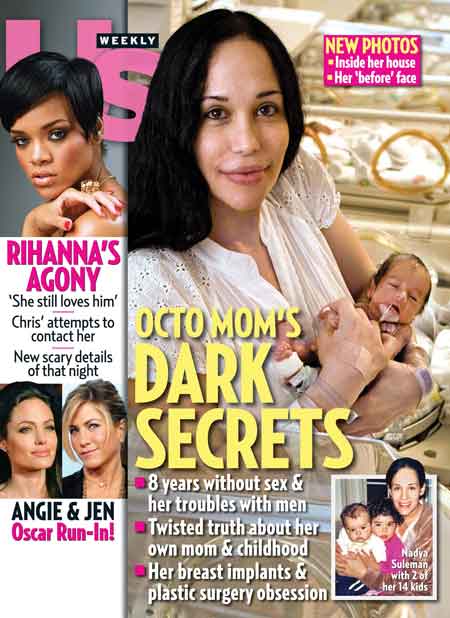 This week's tabloids feature Octomom, Rihanna, and that old standby, Brad, Angelina, and the Aniston triangle.
I think US Magazine really gets it right with this Octomom's Dark Secrets cover. She regularly lies through her teeth and all they have to do is show how she's contradicted herself in interviews. People have a lot of understandable resentment for this haughty woman and the way she's worked the system and US plays into that. I especially like how they point out that she's had a boob job – that's news to me and it makes me want to read the article. CoverAwards agrees and thinks this cover is genius.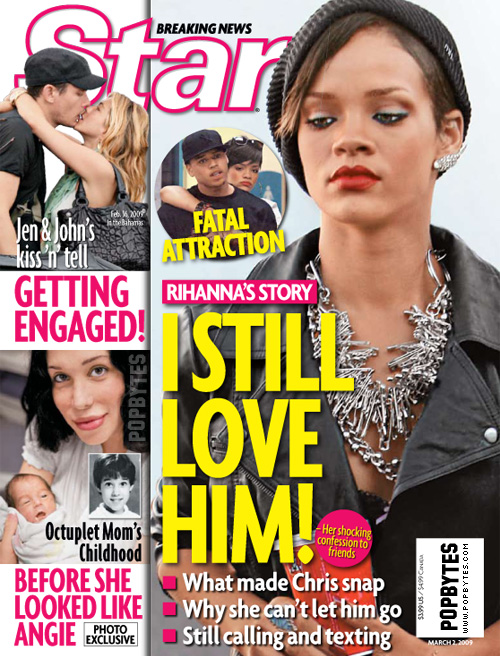 Star Magazine should be ashamed for this cover. Both US and Life & Style include the detail about Rihanna still loving Chris on their upcoming covers, but to focus on it as the center of the article is obnoxious. We wouldn't expect much more from Star I guess.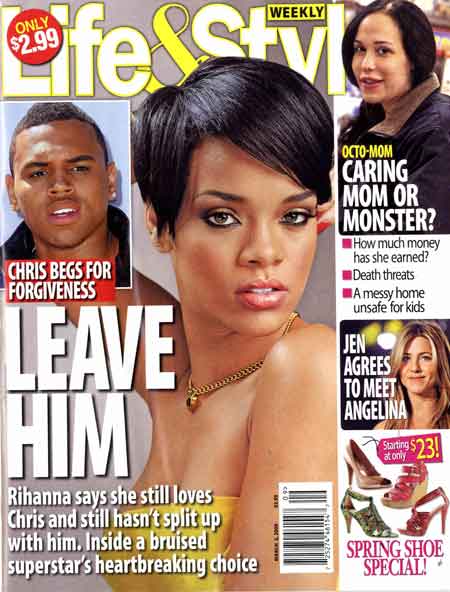 Look how Life & Style takes the same information as Star and makes it a lot more sympathetic toward the victim Rihanna. They sent us this advance information about the article:
But will Rihanna, 21, be able to break things off with Chris, 19, whom she's been dating for a little more than a year? While a family friend of Chris' tells Life & Style the two are not currently talking, a Rihanna insider isn't convinced the star will cut Chris out of her life for good. "People who know Rihanna know how much she loves him and how she believes very much in the fairy-tale ending," the insider tells Life & Style. "Maybe that's naive, but hardly anyone who works with her believes she's just going to walk away from him."
[Received via e-mail from Life & Style]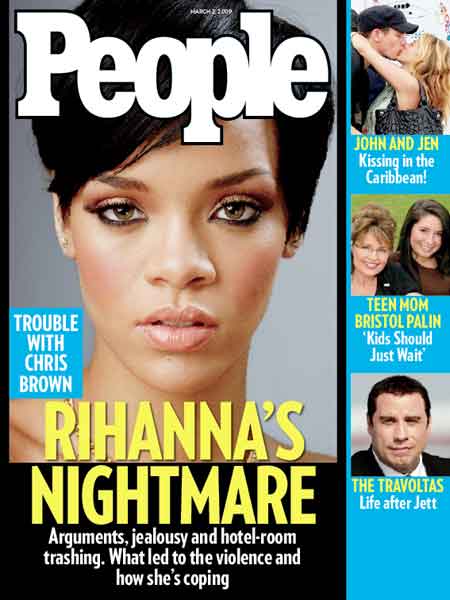 People's Rihanna cover has a much more palpable "She will survive this" vibe and kind of seems to champion Rihanna. I like how they used a darker border to make it seem as if she is in a bad place but will come out of it triumphant. The close up of her face is very dramatic.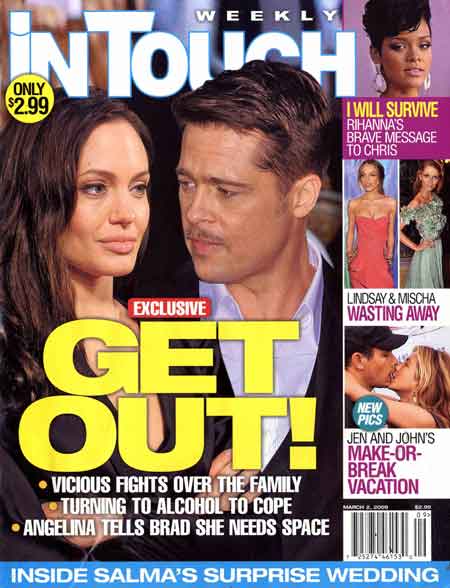 In Touch runs another BS split cover about Brad and Angelina. The public tired of these a couple of years ago when it seemed like the tabloids were announcing their split constantly. I doubt In Touch has anything more than that old story about Brad having a few too many beers in Berlin. The details on their cover seem like the same kind of vague "insider" claims the tabloids usually use for these stories.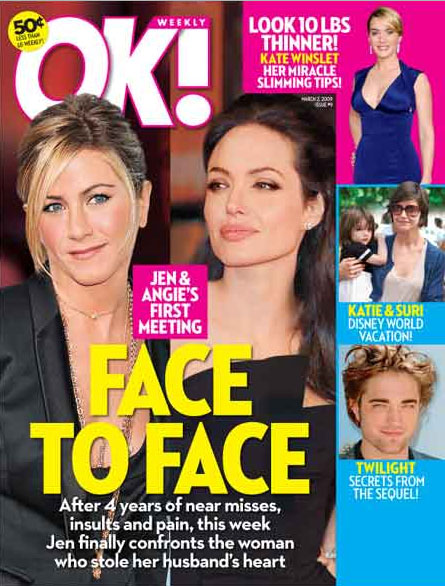 We heard about the supposed Angelina/Aniston meeting last year at Oscar season when they were both listed as co-hosts for an Oscar party. Brad and a then-pregnant Angelina didn't go to that party though, and showed up at the People's Choice Awards instead. This time Aniston is rumored to be a presenter at the Oscars and she might show up at a pre-Oscar party again. It's hard to see how any kind of meeting could happen given how long they've all avoided it. They may see each other across a crowded room but it doesn't seem likely that they'll exchange words – either barbs or pleasantries.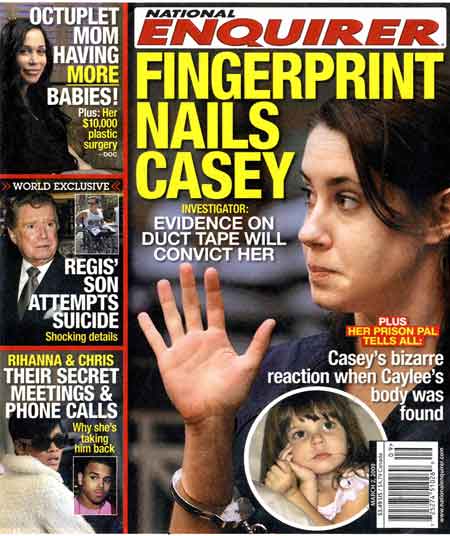 The National Enquirer features Casey Anthony along with Octuplet Mom's plans for more babies, a shock suicide attempt (hopefully in the remote past) by Regis' disabled son, and Rihanna and Chris supposedly reuniting. The Caylee Anthony case is heartbreaking and you kind of suspected the mom was guilty early on, but the Enquirer has this alleged detail that will convict her. It's something I would be interested to read about but wouldn't necessarily buy the tabloid for it. The story just makes me sad.
Why Walmart and other stores aren't carrying your favorite tabloids
If you noticed starting earlier this month that you haven't seen the latest tabloids at your local Walmart or supermarket there's a reason for that. Many companies, including Walmart, are boycotting a 7 cent increase per issue imposed by the distributor, Anderson Magazines. Anderson distributes People, Time, National Enquirer, Star, and Life & Style. US Weekly and OK! Magazine are distributed through another company and should still be available. The stores that are refusing to pay won't carry the magazines, including all Walmarts and some CVS and Walgreens outlets. Anderson may be forced out of business and has had to lay off employees. The woman who scans the tabloids for the Celebitchy writers called the National Enquirer, and was told that they're working on it but have no date when they expect the magazines back on the shelves. You can of course subscribe to the tabloids but some don't come for days after they used to be available in stores.
Thanks to Coverawards and PopBytes for these tabloid covers.