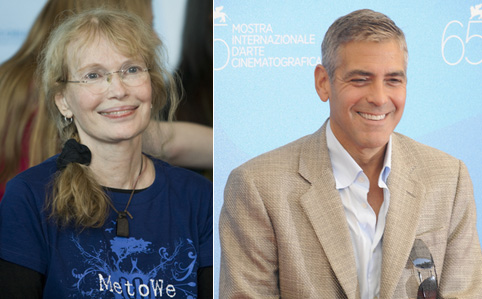 UNICEF goodwill ambassador Mia Farrow just returned from a three-week fact-finding mission in Darfur and Chad, just as UN Messenger of Peace George Clooney left the States for a visit to the same area. Farrow has been to Darfur and to the refugee camps on the Chad-Sudan border more than a dozen times. This is Clooney's fifth visit.
The Darfur genocide came out of the decades-long unrest in Sudan and their neighbors, but became the modern tragedy of genocide and war crimes in 2003. Throughout 2005-06, the Darfur genocide gained more publicity through the work of activists like Mia Farrow and George Clooney, though to little avail. Even though an alleged "peace" agreement was reached several times, the rape, killing and burning continued. In 2006, the American papers identified that it wasn't just the Sudanese refugees who were being targeted – the Janjaweed (pro-government Sudanese mercenaries) had begun a campaign of rape and murder on relief workers. Clooney spoke out about Sudan's president, Omar al-Beshir, saying that he hoped the International Criminal Court would arrest Beshir and try him for war crimes.
Hollywood activists George Clooney and Mia Farrow are stepping up their campaigns to publicise the plight of refugees in the Sudan with a series of visits to the country's war torn Darfur region.

Clooney has been at the helm of a campaign to highlight the continued bloody conflict in the country, which is thought to have killed millions of innocent refugees.

Meanwhile, Farrow uses her role as a goodwill ambassador for the UN Children's Fund (UNICEF) to try and increase aid for Sudanese children affected by the bloodshed.

In a continued bid to help the refugees affected, Farrow has returned from a three-week fact-finding mission, just as Clooney is preparing to make his fifth visit to Darfur and eastern Chad.

Clooney says, "It is the right time to be here to support the people. We are waiting for the indictment of (Sudan President) Omar al-Beshir."

Beshir is awaiting a decision by the International Criminal Court on whether a warrant for his arrest will be issued. He has been accused of genocide, crimes against humanity and war crimes.
From Contact Music
While Clooney was in Chad, he made a surprise visit to the Irish peacekeeping troops stationed near the refugee camps. The Irish website RTE reports that Clooney "made an unscheduled stop at Camp Ciara in Goz Beida in the southeast of the country late on Tuesday evening. There he met members of 99 Infantry Battalion and posed for photographs." There is a nice photo on the RTE website.
Mia Farrow is shown at Free The Children's National Me To We Day in Toronto on 10/17/08. George Clooney is shown at the Venice Film Festival on 8/28/08. Credit: PRPhotos.