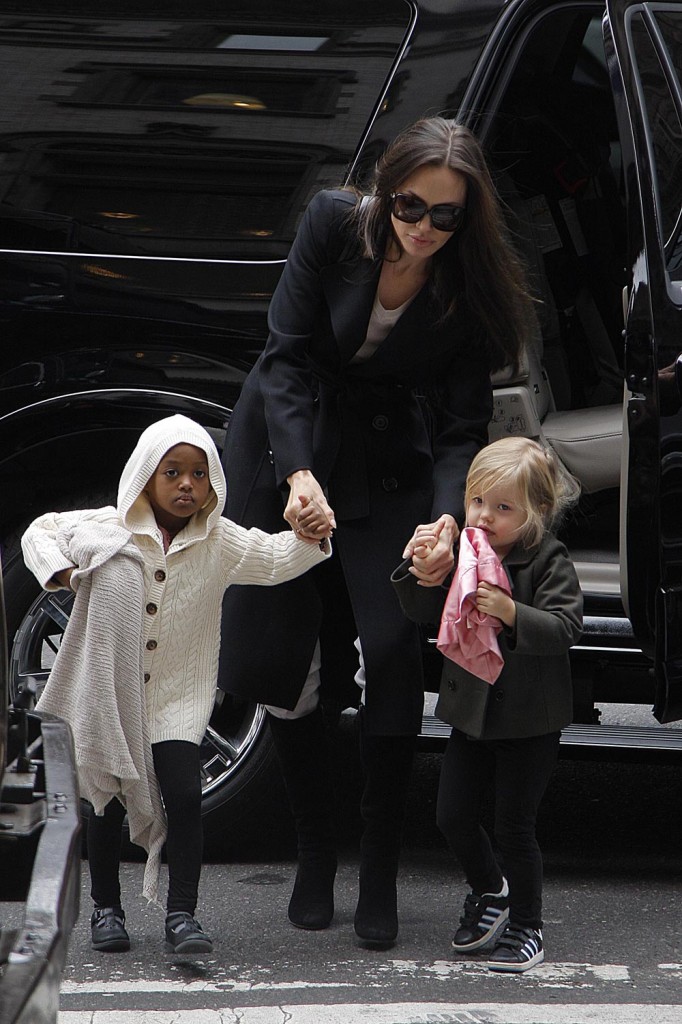 Angelina Jolie was spotted out shopping for Easter baskets with her two older daughters, Zahara, 4, and Shiloh, who turns three on May 27. I thought these photos were so cute because both Zahara and Shiloh have their comfort items with them. They were also seen getting Easter items at an art store. Angelina told Hello! Magazine in an interview published last year that Zahara has a blankie and Shiloh has "silkies," and it looks like that's what they're both carrying in some of these pictures. Here's how Angelina described her children's comfort items:
"Madd is interested in the military right now, so he has a lot of little army men and military planes. Pax has bits of rope – that's his thing, for some reason – and also stuffed monkeys, which he loves. Pax packs a lot – his bags are very small, but they're really heavy. Zizi has a blanket that was once actually pink, but now is the dirtiest shade of brown you can imagine. Shiloh has little, what she calls 'silkies', which are like these little square things with silk on them that are very important to her because she just has to have them… and I think that's about it. Knox and Viv don't have things yet because they're too small, but I'm sure that just as soon as they're ready for them, I'll hear about it."
[From Hello! Magazine, print edition, October 21, 2008]
Zahara's blanket doesn't look all that dirty to me so maybe she got another one or Angelina is exaggerating. These pictures are adorable and it's so nice to see how the girls are growing up.
The family is in NY while Angelina is reportedly looking at apartments for when she needs to be in the city to film thriller Salt. They are also said to have rented a huge estate on Long Island.
Update: According to People, Angelina was "visiting an apartment building that will serve as a production location" for Salt yesterday, not looking for an apartment for her family as was previously reported.
Thanks to SplashNews for these pictures.