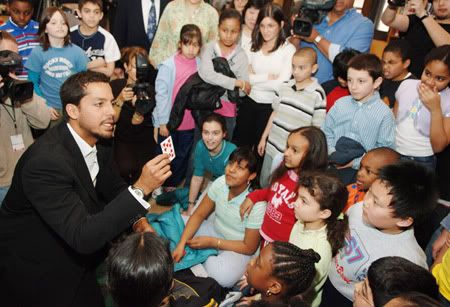 David Blaine does not want to die known as the man who failed to break the world record for holding one's breath after living in a snow globe in Lincoln Center for a week. He wants to be known as the man mauled by lions on reality television:
Illusionist David Blaine is to live "harmoniously' in the jungle for his next stunt.
The magician plans to be left "alone" in the Tanzanian jungle where 150 people are attacked by wild lions a year with just a TV crew present to film his actions.
Blaine narrowly escaped death during his last stunt where he was suspended in a giant fishbowl for a week. The illusionist hoped to end this extravagant display by beating the world record for holding your breath underwater, currently held by Tom Zitas.
However, he fell short of the world record, which stands at 8 minutes 58 seconds, after passing out after around 7 minutes.
Blaine is currently recuperating after suffering from liver failure and severe [sic] caused by the aquatic stunt.
He probably feels like he failed or whatever, and "let the people down" as his physician said, but the guy got a lot of attention and he really gave it his all. It's only been a week since he got out of the bubble. He's probably afraid of slipping into obscurity.
His last gig was bringing magic to libraries as the spokesperson for the 2006 New York City summer reading program, so his fears are well founded.
He sound have kids and then he will realize how immortality is attained – through genetics.