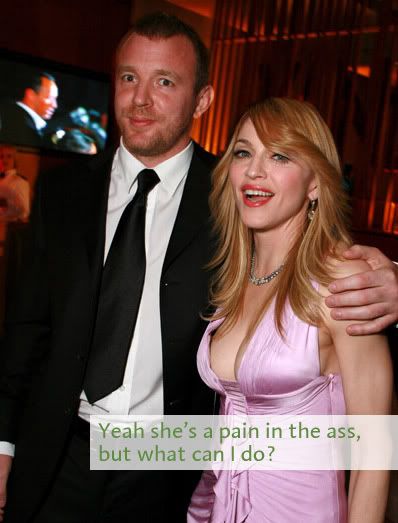 MSNBC's The Scoop is reporting that cult-loving Madonna has been seen out without her wedding ring. People have speculated that Madonna's five-year marriage to Guy Richie is in trouble for some time.
The Material Girl was recently photographed in Los Angeles without her wedding ring. The singer has acknowledged some rocky patches in her marriage to director Guy Ritchie, but has maintained that she and her husband are committed to making things work.
Madonna's rep says the absence of the ring is not significant. "I don't think there's any particular meaning to that," she told The Scoop. "She does not always wear her wedding band."
Still, fans of the singer were alarmed when her brother recently suggested that Madonna and guy were staying together mostly for the children. "They both want to see the children," Christopher Ciccone told the London Mirror. "It's the children that will keep them together. The children are everything to them."
While Madonna is out touring and promoting her new album, Guy's career has languished. He put out Revolver last year, a critical and commercial failure, and before that was the terrible Madonna film Swept Away in 2002. His only hits are Lock, Stock and Two Smoking Barrels from 1998 and Snatch in 2000, both of which were brilliant but he hasn't been able to create a follow-up.
Madonna was said to have put Guy on a curfew a couple of months ago, and tried to limit his drinking to three pints a night.
Last month she was supposed to be trying for another baby, but that sounded like just a rumor.
Guy was said to be going on a month-long extreme sports vacation with his friends this month, and it is unclear if they are even together.
Madonna has recently said that she feels like a bad mother for spending so much time working. Does she feel like a bad wife too?