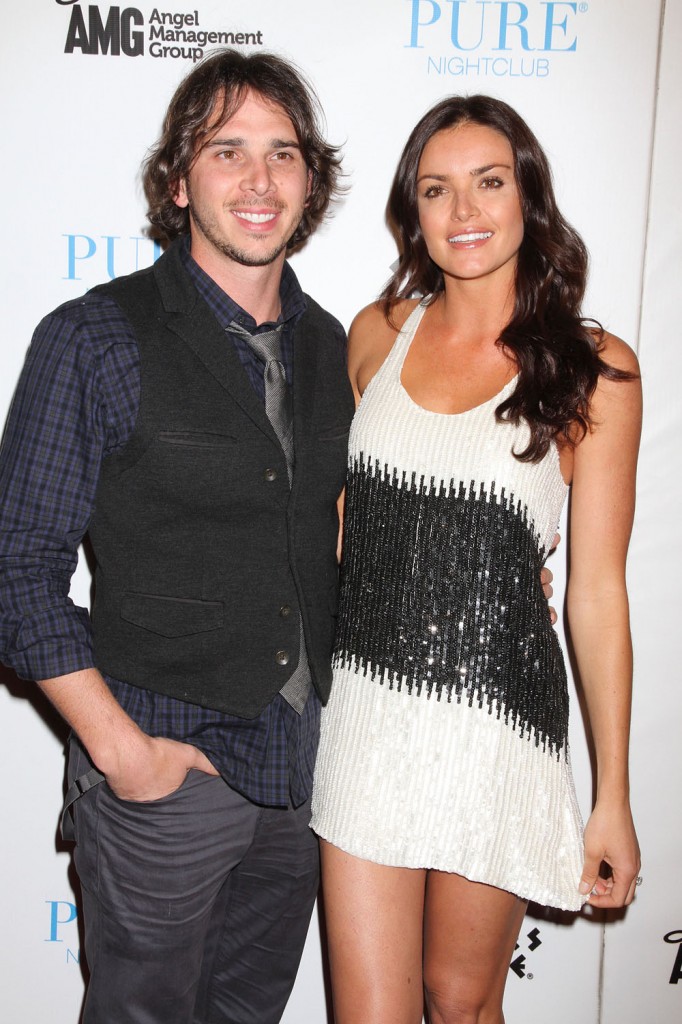 This story is from earlier this week, so if you've heard it already bear with me. Bachelor contestant Courtney Robertson, who was picked by Ben Flajnik in 2012 (of course it didn't last), has a new tell-all out called I Didn't Come Here to Make Friends: Confessions of a Reality Show Villain. Salacious details from Courtney's book have been steadily leaking to the press. We learned a couple of weeks ago that she had an on-off thing with Entourage's Adrian Grenier and that she considered him well hung but hairy. (TMI, and that's like a backhanded compliment, right?)
This week, we heard that Courtney dishes in her book about having sex with Ben twice while on the show, once on camera in the ocean (although it wasn't full sex) and once in the fantasy suite. The thing that bugged me about this story is that Courtney said that she and Ben had unprotected sex because no one bothered to leave condoms in the fantasy suite. Of course these two idiots might not have used the condoms anyway, but that detail bothered me. The room was perfectly staged for romance, with rose petals on the bed and candles all around, but there weren't any condoms. What's more is that the contestants were checked for STDs prior to participation, so you think that having protection available for them would be a priority. Here are some details from Courtney's book:
Jesse Metcalfe wasn't her only famous hook up
As previously reported, Robertson had an on-and-off courtship with future Dallas star Jesse Metcalfe, but she also writes that she went on a date with Reese Witherspoon's future husband, Jim Toth, was pursued by Gerard Butler, and was long-involved with Entourage's Adrian Grenier. "As charming as Adrian was, I didn't feel a spark with him … As expected, because I wasn't interested, Adrian pursued me on and off for the next six years!" (Plenty more NSFW details about the actor in the book).

The Bachelor has a resident psychologist, tests for STDs, and has some cute production lingo
A "10-2" means a contestant "needs to go number two," Robertson writes. And to keep the finale results under wraps, everyone called Ben "William" in public, and both Robertson and eventual runner-up Lindzi Cox went by "Kate Hilton." Robertson and Flajnik even had fake names and email accounts to converse before the finale aired. Robertson also details the grueling process of getting cast on the show.

Robertson encouraged Flajnik to hook up with other women on the show
"While we were skinny-dipping, I told him I was crazy about him, but that if we were indeed going to get engaged, he should sow his oats," writes Flajnik's former fiancée. "I told him to take advantage of being a single man because once we were officially together, I'd be the last woman he'd ever make love to."

She had sex with Ben on two occasions during the show
Viewers who watched Robertson on Season 16 of "The Bachelor" saw her as the villain who broke the franchise's unwritten rules by skinny dipping with bachelor Ben Flajnik. "To answer your question, yes. Ben and I did have sex in the ocean. On-camera," Robertson wrote in her new memoir, according to Page Six. "It was immediate but it was only for about 20 seconds and, um, it was just the tip."

She also confirmed the couple's trip to the Fantasy Suite saw more than just the tip. ABC never overtly reveals if couples have sex during that date — the one time where they're left completely alone and are away from cameras — but Robertson revealed she and Flajnik had sex three times. She also noted that the producers didn't leave condoms (just rose petals and candles, apparently). She wrote, "Ten minutes after we were in the cottage, the camera crews, handlers, and producers scrammed, and we were completely alone for the first time ever. We immediately ripped each other's clothes off and had intense, passionate sex on the couch in front of the fire." She later added, "We did every position under the sun, but I believe I sealed the deal when we successfully completed the reverse cowgirl." They also listened to Bon Iver.
[From People Magazine and Huffington Post]
I didn't watch that season, but from what I heard Courtney was always pulling focus and showing up in a bikini. She sounds like a real piece of work. That's the point of these shows, though, there has to be someone to bring the drama. Now Courtney is extending her 15 minutes with a tell-all. While it may sound ridiculous to us, we're talking about her and she's making bank from this book even though her season wrapped two years ago. So score?