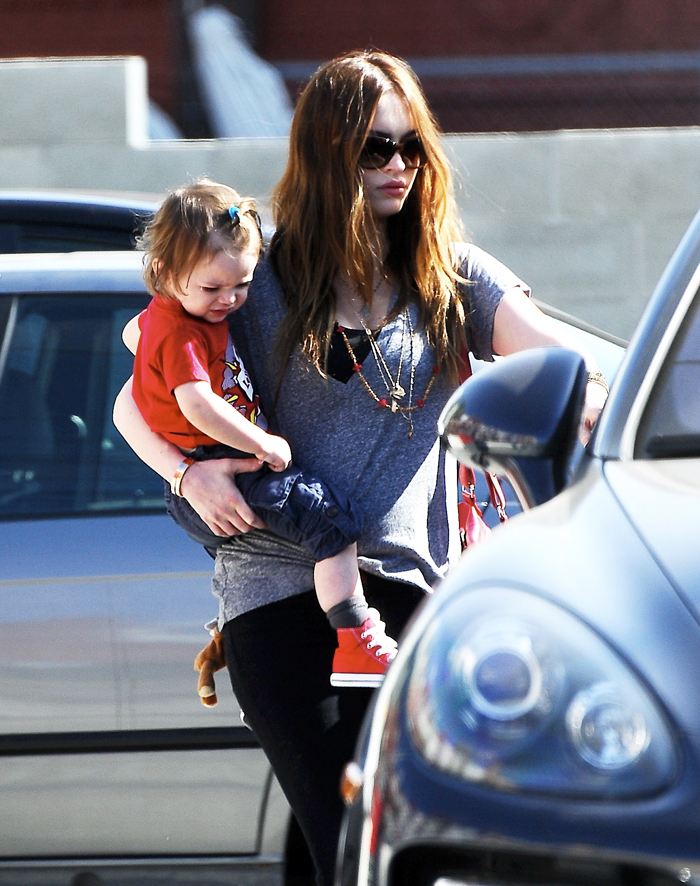 Megan Fox has gone through a lot of changes in the past few years. She no longer covets the Maxim babe image. She's no longer trashing Michael Bay and even begged him to hire her to play April in Teenage Mutant Ninja Turtles. Megan's promoting this movie with an interview in Parents magazine. This is a wise move because Megan's talking to the people who will bring their kids to see this dumb movie. She's also now a mother of two boys, Noah (2 years) and Bodhi (4 months).
Megan talks about the challenges of being a working mother. She describes the struggle of meeting both boys' needs at once, especially since she doesn't let them watch television. This stance is unexpected since Megan's husband, Brian Austen Green, has made most of his money from television gigs. Megan describes tv as too "overwhelming" and "too stimulating" and "bombarding" for kids. Which is fine, it's her choice. I do wish her luck in keeping her boys off the internet until 8th grade. That sounds like a hefty task considering how many elementary schools have kids researching on the internet. Take it away, Megan:
Becoming a working mom: "The main thing it does is it affects how much I'm willing to work. I've never been an extraordinarily ambitious girl or career-oriented, but especially once I got pregnant with my first son and now [having] my second, it's so hard to be a working mom especially when your heart is not in your work, when your heart is with your family. I have to make one movie a year because I have to invest in their future and I have to be able to pay their way through college and be able to provide for them. I'm looking for movies that will shoot in Los Angeles, for projects where I'm part of an ensemble so I can shoot in and out in 10-20 days. It's all about trying to spend as little time away from my kids as possible."

Parenting 2 kids under 2 years: "Itts total chaos obviously. Before you have kids you really do not understand how much work it is and how consuming it is. And then you have one and you're like, 'Oh my God my baby is my whole world.' Every moment of the day is dedicated to this one baby and then all of a sudden you have two babies! Their needs are so different because Noah is nearing 2 and then my newborn is 4 months. It's really hard to manage because I also don't let them watch TV. It's not like I'm going to sit Noah in front of the television so I can take care of Bodhi. I have to figure out how to incorporate Noah into the process and have him help me take care of Bodhi and make sure he doesn't get jealous and make sure nobody's neglected and everybody's needs are being met. As a mom it's hard because I don't feel like I'm ever giving either one of them 100% of my attention or 100% of myself, so I carry a lot of guilt."

When she first felt like a mom: "I was really connected during my first pregnancy. But even during my pregnancy I had no idea how worried I was going to be for the rest of my life. From the moment I gave birth to Noah, that was the first time I was like, 'I love something so much that I will never be the same again.' I will never be relaxed again because I will always be worried about him and hoping that he is ok and safe and happy."

More on the "no TV" issue: "I do let them watch movies, I just don't let them watch TV. With movies I feel like there's a beginning, a middle and an end. It's linear. There's a clear story. I think that it's different than just putting a kid in front of the television, because it's just nonstop. They're just being bombarded with all of this sort of live media and it's very overwhelming and it's too stimulating I think for anyone. I don't watch television because it's just too much it overwhelms me. I just can't deal with it. But I do let them watch movies. I remember going to the theater to see movies with my dad or my mom and those are special moments for me. One day they're gonna watch television. I can't keep it from them forever. My intention is to keep it away as long as possible or to introduce it through Apple TV so they're not being exposed to the commercials constantly. My goal is no computers, no cell phones until at least 8th grade."

Filming TMNT during pregnancy: "I constantly had a big box of saltine crackers with me wherever I went. So in between takes I would scurry away and shove a bunch of saltines in my mouth to keep me from being nauseous."
[From Parents]
Well … I can identify with Megan's saltine necessity during pregnancy. That was the only way I could keep the acid reflux at bay. Not even Tums helped that issue. Megan also seems much softer and less like a complainer after becoming a mom. Her PR person must have talked some sense into her.
What do you think about Megan's no-television stance for her kids? Some of the commercials are way too frenetic for kids, but they have to get used to seeing advertising. That's a part of modern life.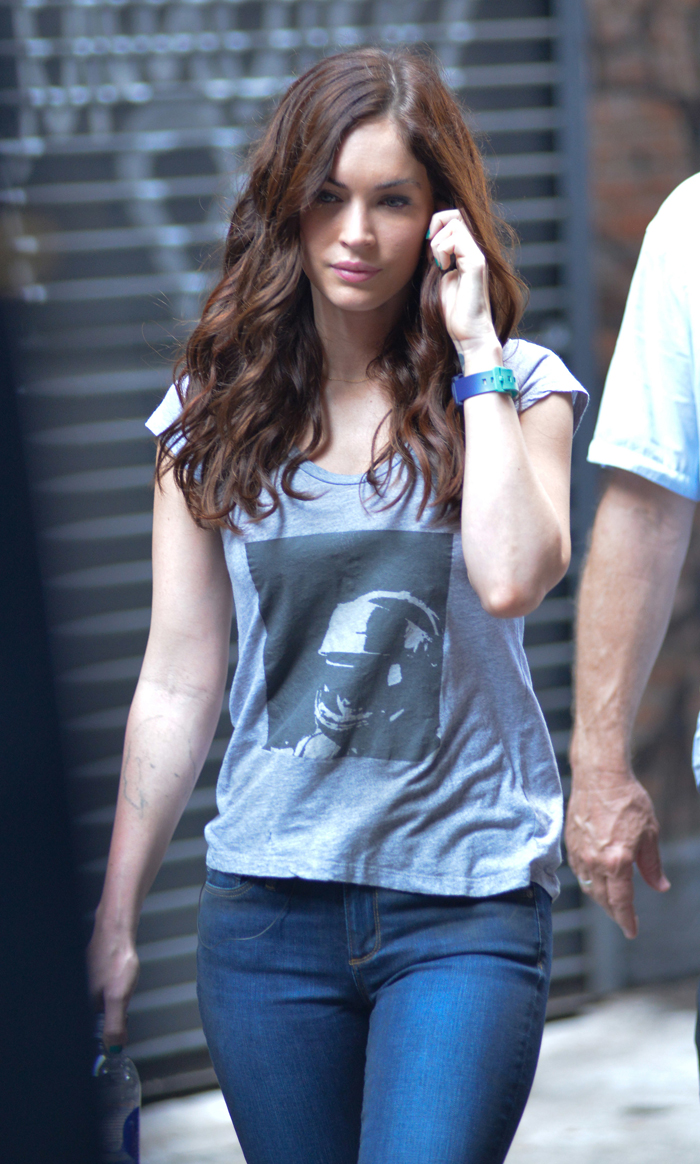 Photos courtesy of Fame/Flynet & WENN