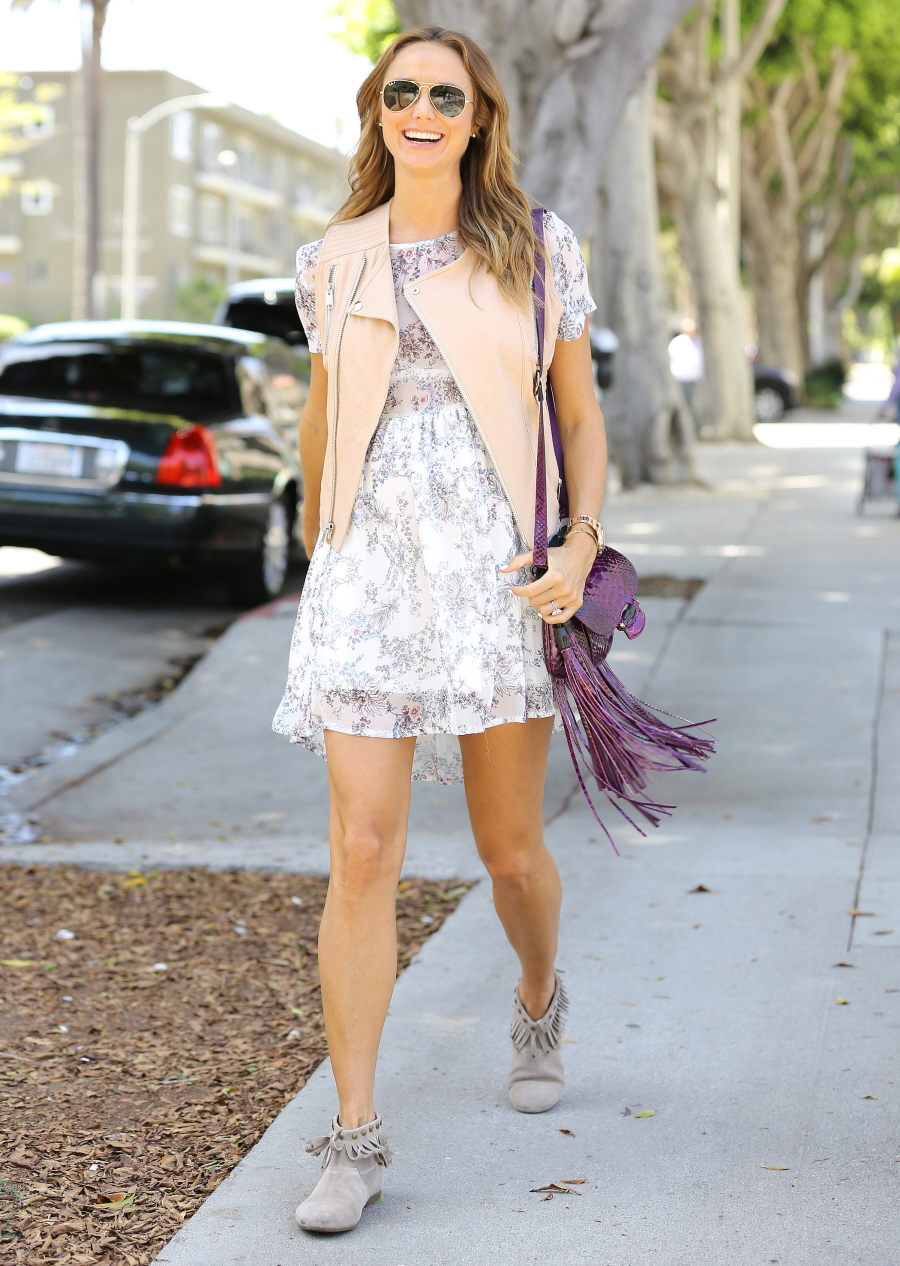 Are itsy-bitsy babydoll dresses appropriate for pregnant women? Scratch that, are itsy-bitsy babydoll dresses appropriate for any grown-ass woman? Here are some photos of Stacy Keibler, out and about in LA on Wednesday. Her outfit makes no sense to me: babydoll minidress, a leather vest, fringe-tastic purse and suede booties (with extra fringe)?! The eff? Anyway, Stacy has been talking about her pregnancy all over the place this week coughcoughcough not that it's about anyone in particular. Of course none of what she says is in any way pointed of shade-baiting. Never! Most of what she has to say is just normal pregnant-woman stuff, like "I feel very blessed!" and such. Some highlights from all of the press she's been doing:
Her food cravings: "I'm really boring and don't have any! But I can tell what I eat does affect the baby in different ways. The baby will kick around depending what I eat."

She's expecting a girl: "I am so excited! I can't wait to dress her. My husband is having so much fun picking out clothes."

Staying in shape: "I make sure to walk everyday! I also make sure to eat healthy and organic foods. Eating healthy is very important to me right now because it builds a foundation for the baby's health. I want to make sure my daughter will have healthy, organic foods and not fill her up on sugar and oil and things like that."

Morning sickness: "I haven't had one day where I've been sick or tired…I've had so much energy, but I'm very conscious of making sure I work out every day and eating healthy, so I really, truly believe that's a big part of it."

Organic: "I try to be as organic as possible, especially with food. I not only try to eat organic, but no preservatives, nothing artificial."
[From Star Magazine & People Magazine]
Well, I guess we should have expected this. The Motherhood Industrial Complex is so powerful these days that Stacy Keibler has basically fashioned a new career for herself based only on being pregnant for the first time. While I think it's fine for Stacy to shill for her organic, active pregnancy, it also feels slightly judgy on her part. Like, women have no one to blame but themselves if they have a "bad" pregnancy, or they have morning sickness or whatever. Because obviously they weren't as healthy as Stacy. And because every woman's pregnancy is the same, don't you know?
Stacy has also been Instagramming about her pregnancy, and she's a pregnancy-blogger now, because she's an expert I guess. She's been posting photos of her pilates workouts, reminding everyone: "Stretching your obliques is key during pregnancy. I devote at least 15 minutes each day to stretching! #fitpregnancy #pregnancytip." She also recommends using ghee instead of butter. Ugh! My dad used to make ghee and it is the most disgusting smell ever. My favorite Instagram was the one she posted of herself and her husband Jared in what is an obviously posed, formal portrait. She tacked on this message: "Happy First Father's Day to my hubby!!! Our daughter is so lucky to have u as her daddy." Your move, Amal Alamuddin.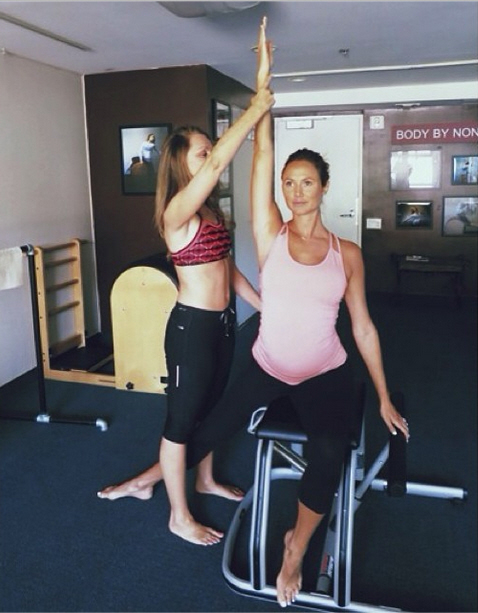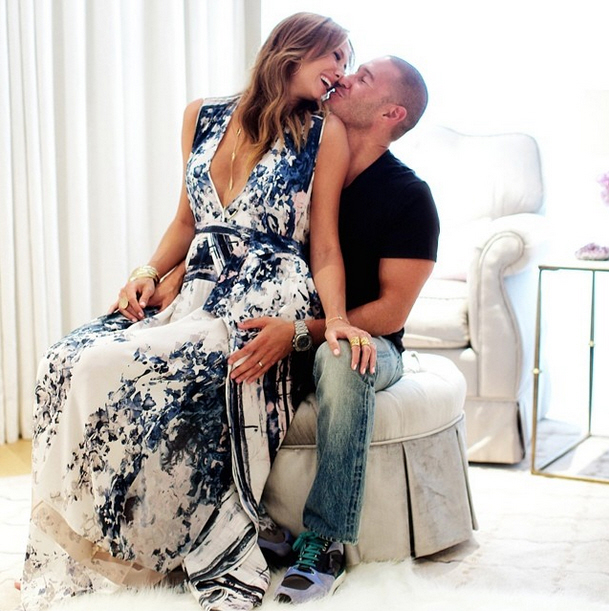 Photos courtesy of Fame/Flynet and Stacy's Instagram.