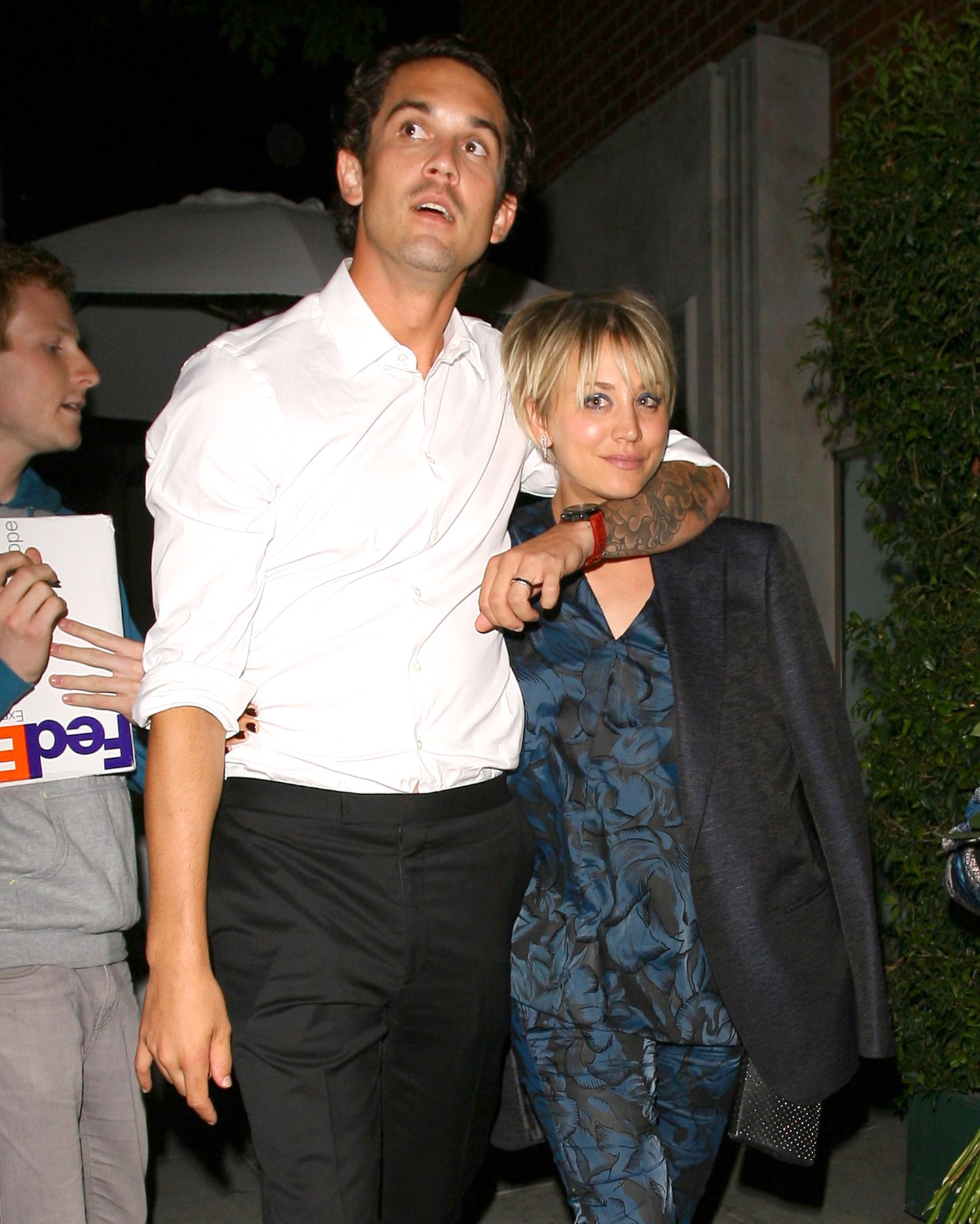 Here are some photos of Kaley Cuoco and her husband Ryan Sweeting out and about Wednesday night. They went to a party at Vera Wang's boutique (Kaley's ensemble is by Vera Wang) and then they went to Mr. Chow's. Um, we need to have a conversation about Kaley's hair. She chopped off a lot of her hair a few weeks ago, and then she got a series of trims finally getting her hair to this length. What do you think? It's awful, isn't it? This is the problem with girls with "baby fat" faces (and I'm saying this as someone with a baby-fat face) – we do not look good with short hair. Really. It emphasizes the roundness of Kaley's face, plus it just looks like a really cheap, awful haircut (and badly styled to boot). Even if you disagree with me about the awfulness of this particular haircut, can we agree that she looked much better with longer hair?
In other Kaley-and-Ryan news, Star Mag says that she's a jealous mess and their marriage is already in trouble:
Kaley Cuoco and Ryan Sweeting are already showing major signs of trouble. They were spotted bickering at a friend's engagement party in Florida earlier this month. A guest at the bash – which was thrown for one of Ryan's pals – tells Star that Kaley became annoyed when her husband began socializing and didn't include her.

"Kaley looked like she really didn't want to be there. Ryan told her to relax, and that's when all hell broke loose. She snapped back and told him where to go. She didn't known many people at the party and felt like he was being irresponsible for not looking after her. It wasn't pretty."

Sources say the blowup may be just a small taste of what has been going on behind closed doors, as tension over her jealousy issues has been building for quite some time.

"The novelty has definitely worn off," according to the insider.

Kaley recently accused Ryan of getting too close to Zooey Deschanel. "Ryan doesn't have many friends in LA, so he's reached out to Zooey a few times to get together." But pals admit that Kaley, who was enraged by Ryan's innocent actions, took it as flirting and now forbids him to hang out with Zooey unless she's there too.
[From Star Magazine, print edition]
The tabloids always take it a step too far. I would have totally believed it if the story was simply "they rushed into the marriage too fast, now they're getting on each other's nerves." But the whole thing about Kaley being jealous? Eh. But I totally believe that she snaps at Ryan and gets pissy in general (and Ryan being a douche sounds right too). That, to me, says their marriage is the real deal!
Photos courtesy of Getty, Fame/Flynet.