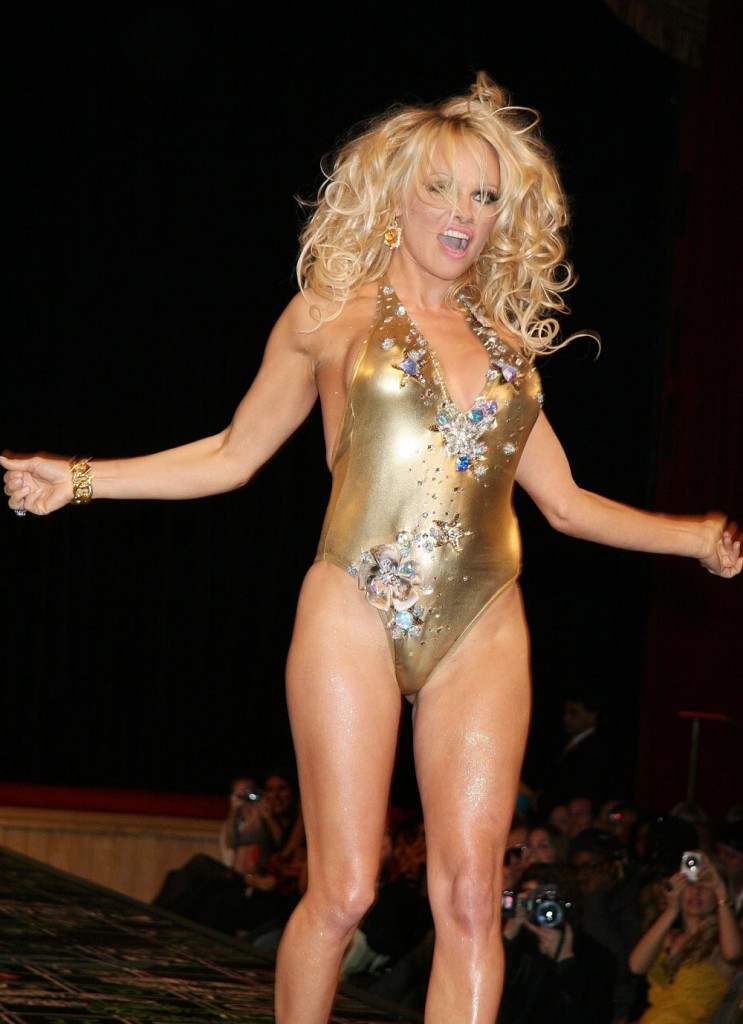 Pamela Anderson was a gold bedazzled mess on the runway for fashion designer Richie Rich in New York yesterday. The former Baywatch babe, now 41, strutted her stuff in a tight butt-baring v-neck gold bathing suit adorned with jeweled stars. Is it sad or just business that Anderson continues to get attention for showing us the extent of her personal waxing?
Anderson has reportedly moved into a mobile home with her new boyfriend, a surfer and electrician she met while she had to live in a trailer park temporarily while waiting for renovations to her home. She is said to be in love with the guy and to have introduced him to her sons:
The former Baywatch star is reportedly living in a mobile home with new lover Jamie Padgett, who is a surfer and electrician, in Malibu.

A source said: "Pam is staying with him in the Paradise Cove trailer park while her house is renovated."

Three-times divorced Pamela, 41, met Jamie at the end of January and soon introduced him to her sons, Brandon, 12 and Dylan, 11.

The source added: "Pam and the kids joined Jamie and his sons – who are around Brandon and Dylan's age – on his boat in Paradise Cove at the weekend. They spent most of the time on the beach with their kids. They are really happy together."

Pamela is said to have fallen "head over heels" with Jamie because of his clean living ways – in stark contrast to Pamela's ex-husbands: Motley Crue rocker rocker Tommy Lee, who is also the father of her children, rapper Kid Rock and professional poker player and pornographer Rick Salomon.

A friend said: "She is more in love than I have ever seen her before. He's a totally moral, nice, normal guy.
[From Stuff.co.nz]
It is worth noting that Anderson isn't living in a typical trailer park – she's in "Paradise Cove," which was one of the high end trailer parks on the Pacific Ocean profiled in a 2005 piece in the NY Times. Mobile homes in that area used to go for a million and up during the real estate boom. Minnie Driver also lives in Paradise Cove. It's kind of fitting to think of Anderson living in a mobile home community, but it's not quite what you might assume despite the way she carries herself.