Miley Cyrus is wrapping up her world tour soon. Have you missed her? I kind of appreciate that Miley's been doing her own thing with only the occasional deluded interview to remind us that she's still kicking. She's pushed through this tour despite losing her favorite dog and suffering an extreme allergic reaction. I hope she rests up after her last show and recharges her twerking batteries. Is she still twerking? All I know is that most of the photos from her latest shows are too NSFW to publish here.
Miley isn't touring alone. She's brought along some family members, namely her mom Tish and her little sister, Noah, who is 14 years old. Tish is one of those moms who is more of a friend than a mom, so I doubt Noah's being properly homeschooled. Noah has been performing as one of Miley's backup dancers, and she dresses up as a kitty kat onstage. Miley's been Instagramming a lot of pictures of herself and Noah. You can tell they're very close … so close that Miley put Noah in charge of, um, wardrobe malfunction prevention. Miley told an Aussie radio show that Noah is her "p–sy police." Oh god:
Does Miley shave or wax? "My sister—what channel are we on right now, so I can't say 'p—y.' She's my p—y police. She makes sure that, you know, everything is staying intact. I never shave my legs because I have these really amazing tights. I've got some tights on, so then I don't have to deal with that. But they're not like the Spanx-y tights, just so I can be lazy and I don't have to tan, even though I just got back from vacation so I'm a little bit more tan than usual…But yeah, I definitely rock the tights, but that's like one of those things. You definitely can't wax…because you have to wait a certain amount of time and you don't really have that kind of time, so you've just got to hope to god that this, like, unitard covers everything that it has to cover."

Is Noah destined for stardom too? "She's a natural entertainer, even when I'm with her I'll feel like sometimes…'Oh my god, she's totally stealing my shine. Like, if she's in the room…all the attention is on Noah, and she's the only person that I've ever known–she gets more of that attention than me. And she's kind of like a natural at it, so I feel like if she wanted to do it I wouldn't stop her. But she's really into sports, she loves horses, so I'm going to keep her on that and keep her kind of…that innocence as long as I can."

Is fame difficult? "It's more just about people invading your life. It takes someone who's really strong and I obviously don't care too much what people think."
[From 2 Day FM]
Okay, so I was wondering how Miley was wearing all those hi-cut leotards without slipping a part or two out for the audience. But putting Noah in charge of the wardrobe malfunctions is just gross. For real. Then Miley talks about preserving Noah's "innocence" a few breaths later. Miley really is clueless, right? A 14-year-old doesn't need to be on tour and checking her sister's vadge on the regular. Noah doesn't need to be onstage while her sister humps a banana and backup dancers dress up as blunts. Poor Noah.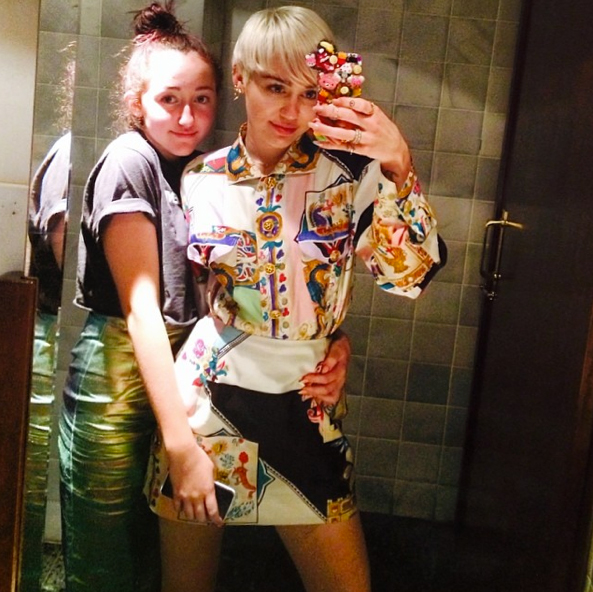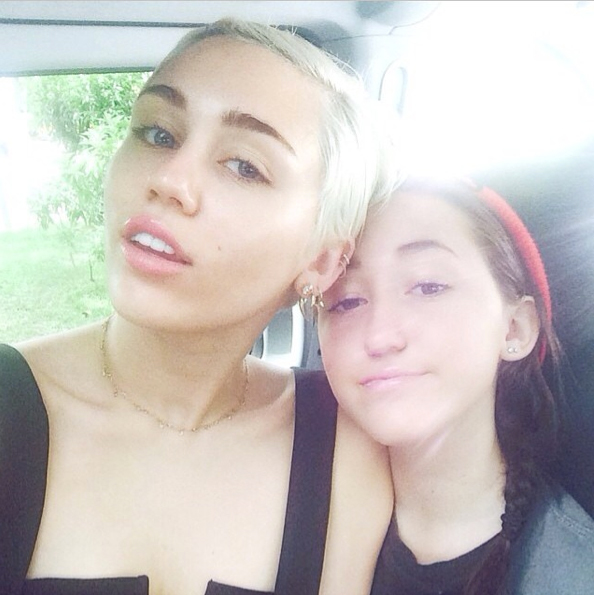 Photos courtesy of Fame/Flynet & Miley Cyrus on Instagram