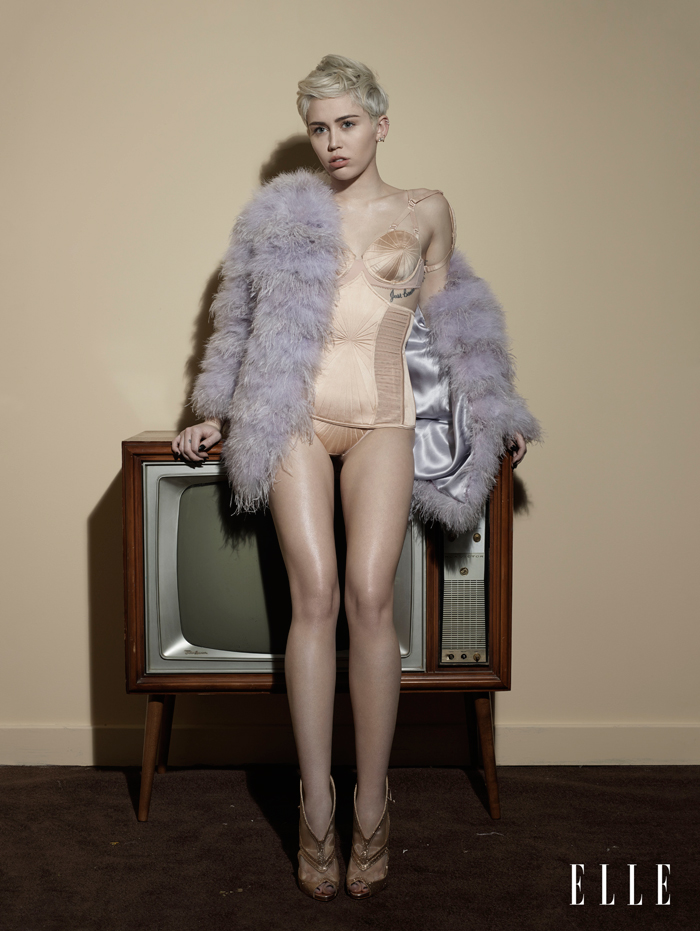 It's amazing how little angst I feel for Miley Cyrus' antics from the past year. Now that she's on tour instead of wagging her tongue all over every magazine cover and talk show in the universe, I don't mind Miley as much. She's doing her thang in her niche, and she pops up every so often to say weird sh-t. She's more of a novelty now than a nuisance. Here's something interesting: Forbes published an article about an unexpected rise in demand with Miley's ticket sales. She's reached the halfway point of her tour. Now that she's not in our faces all the time, people are suddenly interested in Miley again.
As I threatened yesterday, Miley covers the May issue of ELLE. The shoot is awful with some weird 1970s vibe and lots of Tom Ford clothing, which is confusing as a whole. Miley talks about several things in this interview, but what stands out are her words on feminism. Miley previously said she was "one of the biggest feminists in the world," and everyone laughed. Flashing one's hoo-ha does not a feminist make. Here's Miley's refined take:
She appreciates Disney now: "You know, I'm really thankful that I started on Disney. I got the most intense training. There's times where I wish I could have just started as a new artist, but the world has kind of allowed me to do that. I feel really lucky–a lot of kid stars get all crazy or stuck in what they were, so they can't actually become what they're meant to be. When I went through a really intense breakup–you know, I was engaged–and when I was with him or when I was on Disney, the thing that gave me the most anxiety was not knowing what to do with myself when Disney wasn't there to carry me anymore or if I didn't have him. And now I'm free of both of those things, and I'm fine. Like, I lay in bed at night by myself and I'm totally okay, and that's so much stronger than the person three years ago, who would have thought they would have died if they didn't have a boyfriend."

Her fan connection: "I have guys and girls that come out, and they're like, 'The only reason I'm able to admit that I'm gay is because you've made me feel like that's okay.' That is so intense, because that is a part of this generation–it wasn't always accepted–and I feel like I am a big part of that change. Or they know that I've struggled with depression, and that helped them get over theirs. That gives me a big purpose–a reason to wake up in the morning that's bigger than to put on my f—ing feathers and my little outfits."

Miley's idea of feminism: "I'm just about equality, period. It's not like, I'm a woman, women should be in charge! I just want there to be equality for everybody. I still don't think we're there 100 percent. I mean, guy rappers grab their crotch all f—ing day and have hos around them, but no one talks about it. But if I grab my crotch and I have hot model bitches around me, I'm degrading women? I'm a woman–I should be able to have girls around me! But I'm part of the evolution of that. I hope."
[From Elle]
Miley still doesn't understand the feminism thing, right? Just because men degrade women in videos doesn't mean it's okay for women to do it too. Oh well. I'm with Gloria Steinem — who said, "I wish we didn't have to be naked to be noticed." We also shouldn't strive to humiliate other women just because dudes do it. As for grabbing crotches? I have no problem with Miley grabbing her crotch. I only hope she's doing it because she likes it and not because the guys are doing it too.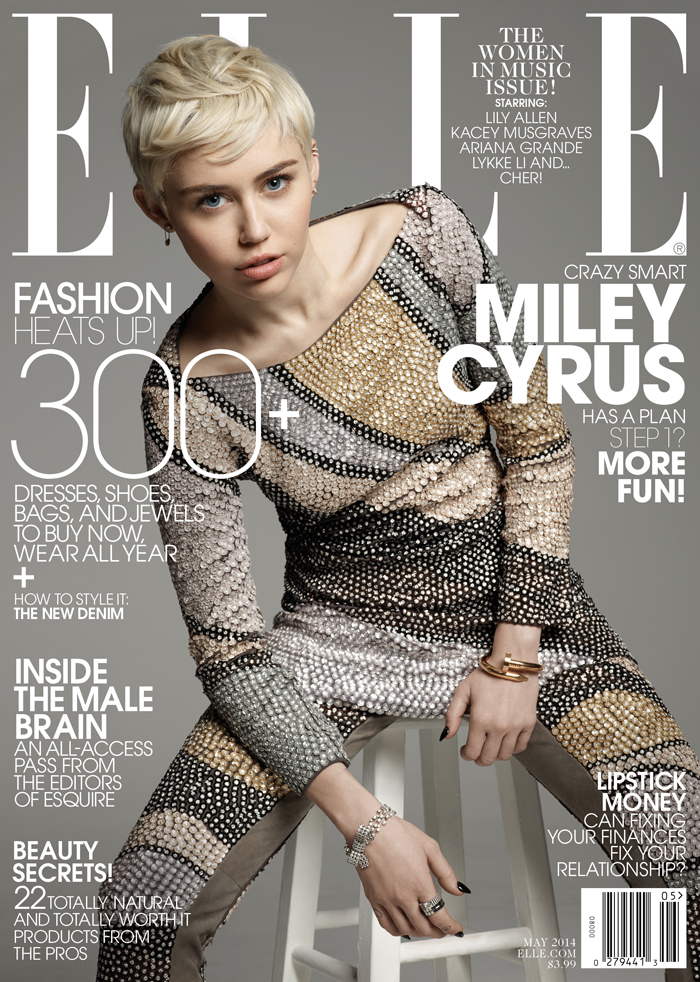 Photos courtesy of Michael Thompson/ELLE