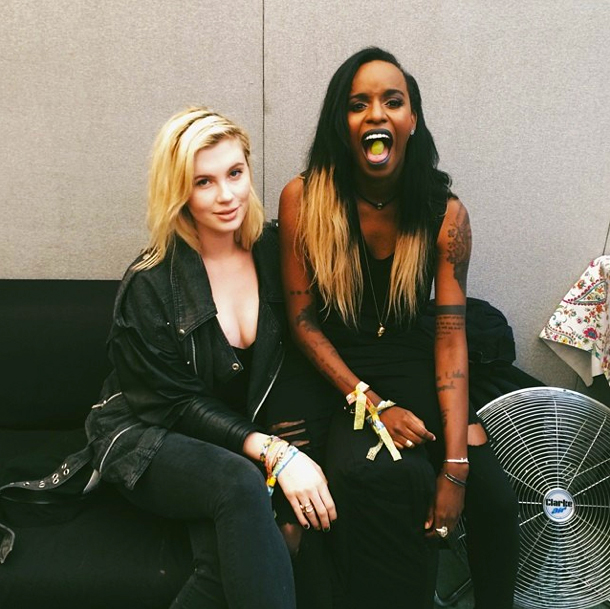 I had no idea who Angel Haze was until Ireland Baldwin started hanging out with her. This is a picture of Ireland with Angel before her Glastonbury performance on Saturday. These two have been inseparable for a few months (they met shortly after Ireland broke up with Slater Trout). Angel and Ireland didn't confirm their romance, but they started Instagramming all sorts of coupley things and tweeting sappy/racy stuff at each other. Such as Ireland tweeting, "Don't let this go to your head, but you're the best I've ever had… @AngelHaze." Angel responded, "Your body is a canvas, I want to paint it red." They finally went "official" by smooching for the paps a few weeks ago in Sherman Oaks.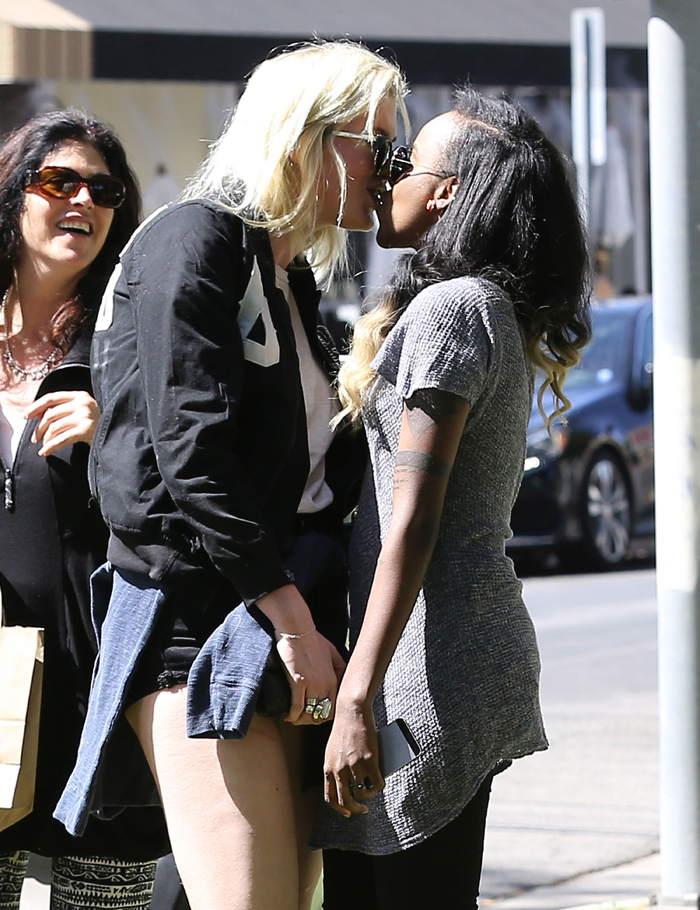 Cute. Ireland and Angel are in that hot-and-heavy phase where they can't get enough. I enjoy imagining Alec Baldwin's reaction to all of the PDA. Alec was already ragey when Ireland dated a boy. Given that Alec is prone to homophobic slurs, god only knows what his reaction is to having a daughter in a same sex relationship.
Angel did an interview with the Independent ahead Glastonbury. She talked a lot about Ireland and media perception of lesbian couples:
On dating Ireland: "I don't know if there's like some confirm or deny thing with the way relationships work in the media, but everyone just calls us best friends, best friends for life, like we're just friends hanging out. It's funny. It's rad in some ways, it sucks in others. There are still certain limitations for women. If we were two guys, it'd be insane, negatively insane with the attention. With us it's all being very positive, the media are like, 'Oh they're so cute, they're best friends.'"

A definite confirmation: "An interracial gay couple, I mean that's just weird for America right now. We f— and friends don't f—. I have never f—ed one of my friends. Once I see you in that way, it doesn't happen. But we do f— and it's crazy and that's weird to say because I think about it in terms of an audience reading it and them thinking, 'What the hell?' But it happens."

Love makes her more positive about life: "When you find it love it definitely amends your perspective on certain things. I was dating a guy I really liked about a year ago and being around him and realising so many things about myself totally made me hate the traditional ideas of what a relationship should be, of what romance should be. You go out and you're searching for this Utopian feeling, butterflies; that thing where you can't stop thinking about them. It doesn't have to be so overwhelming."
[From Independent]
Angel just put it all out there for us. The gossip reaction really has been cutesy about these two, but they are definitely more than friends. I don't know whether Angel realized how all of the "f—" talk would look (and again, I'd love to see Alec's reaction), but Angel isn't happy with being quoted this way. Angel would also like her privacy, thank you. She tweeted a long rant about how "reporters like to take our words, alter them to their benefit and run." This makes Angel feel like Tupac.
me against the world….swear i feel like tupac

— Angxl Hxze (@AngelHaze) June 29, 2014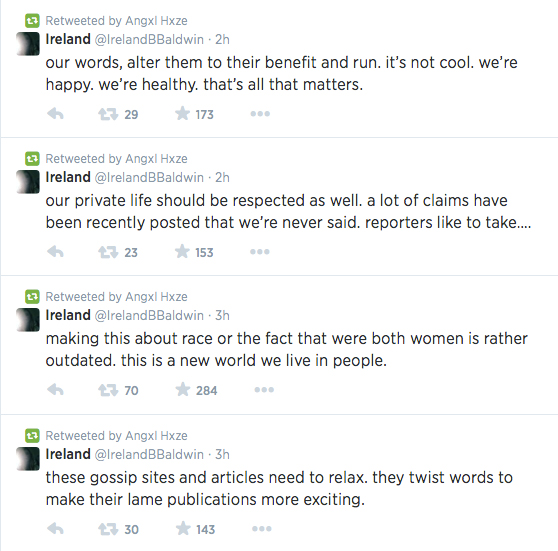 Here's Angel performing at Glastonbury.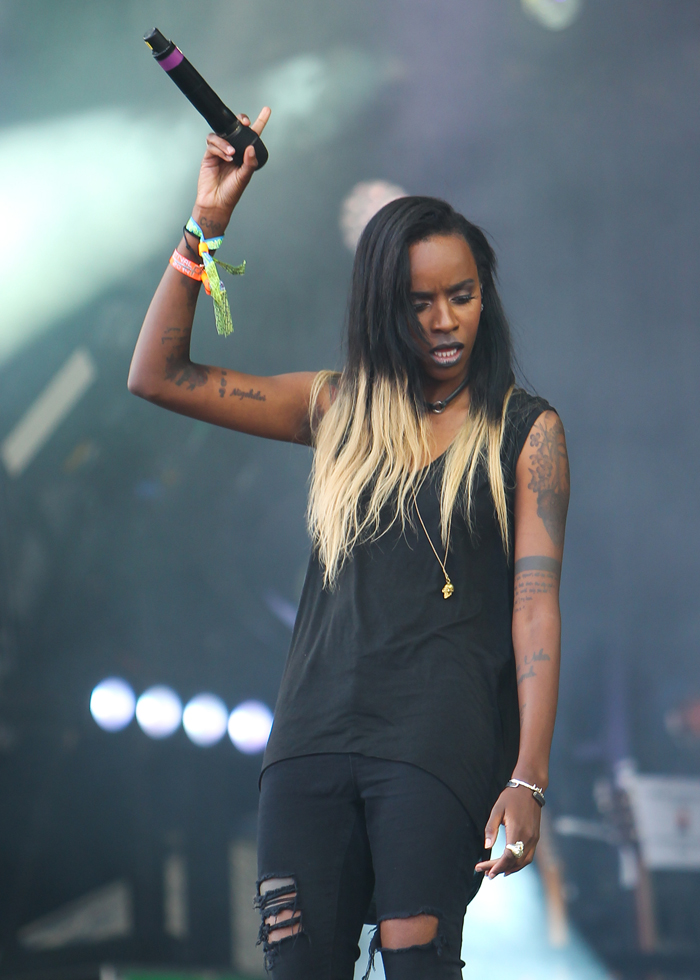 Photos courtesy of Fame/Flynet, WENN & Angel Haze on Instagram