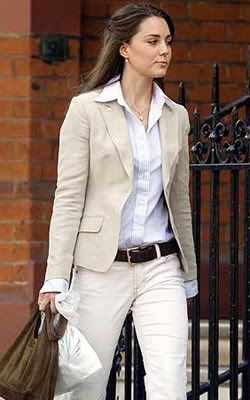 See, I knew he had something to do with it!
Kate Middleton is blaming Prince Charles for her break up with Prince Williams. Apparently Will's daddy told his son to let Kate go if he wasn't ready to marry her so that there would not be another 'Diana' fiasco in the family.
Kate apparently got sick of people asking her how she was feeling, and told them that it was Prince Charles who told Will to end the relationship. Here's what her co-worker let slip to the Daily Mirror (I'm pretty sure Kate won't be talking to him at the company Christmas party):
Jigsaw co-worker Philip Higgs tells British newspaper Daily Mirror, "Normally, Kate doesn't talk about anything. She's very quiet. But it was as if she'd reached boiling point from one sympathetic question too many.
What is up with these men? They are more concerned about how to avoid PR fiascos then how to mend their relationships. And what was so wrong about what Diana did anyway? If you found out that your man never loved you and was having an affair throughout your whole marriage while you had to maintain a plastic smile on your face for Queen and country, then I don't really blame her for her public outbursts. Hell hath no fury like a woman scorned.
Kate seems like a strong girl, so I'm sure she will be fine. I do think, however, that Prince Charles's past should not affect Will's future relationships.