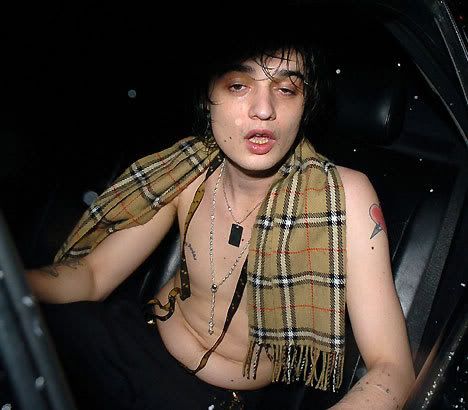 Pete Doherty is admitting himself into rehab, AGAIN.
How many times has this guy gone into rehab already? Do you think he gets a punch card, and after ten punches on his card he could stay at rehab for free?
Here's the info from The Sunday Mirror:
DRUGGIE Pete Doherty will miss the launch of fiancee Kate Moss's new Top Shop collection – because he's going back into rehab.

The Babyshambles singer will check into a Midlands clinic tomorrow for yet another implant to wean him off heroin. A pellet of a drug called naltrexone will be inserted under the skin of his stomach. One of the band members said: "Pete did go out on a bender last week, but he has reduced his intake massively and he hopes the new implant will help him quit for good."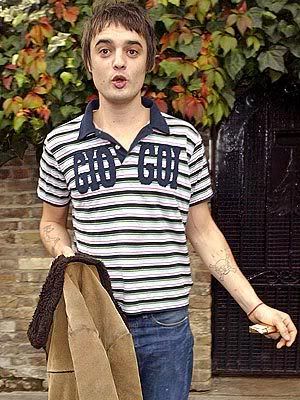 That's funny –didn't a judge saying he was making excellent progress a few days ago? I wonder what that judge will think now of this "progress."
Pete Doherty has been to rehab so many times that it's hard to believe he will EVER clean up. I don't think I can imagine a sober Pete Doherty — I think I would find that more outrageous than a drug fiend Pete Doherty.
In other news, God bless Topshop and the Kate Moss collection. I don't care if all she did was take Polaroids of her outfits and sent them to Topshop to design them, I've already earmarked 5 separate items I am willing to fight over and am making my way up to London in a few hours for the fashion battle royale (the outfits go on sale tomorrow nationwide, but they are having an early showing at the flagship store tonight). As long as Pete is MIA long enough for Kate to pull off stunts like these for the female public, I am more than happy.