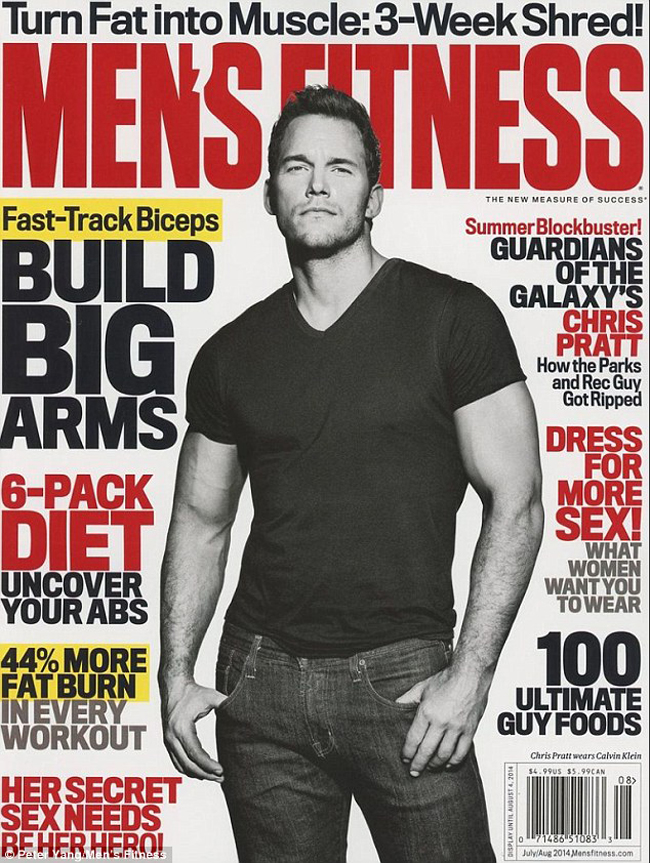 Chris Pratt covers the July/August issue of Men's Fitness to promote Guardians of the Galaxy. This movie is poised to catapult Chris to A-list status if everything goes as planned. Given the amount of social media excitement I've seen for this movie, I think things will go well. Then Chris will no longer be "the goofy guy" from Parks and Recreation and the guy no one remembered was in Zero Dark Thirty and Moneyball. Chris will be a star in his own right and the leader of a franchise. Are you excited for his future success?
Chris has had some ups and downs in the fitness department. He used to be a stripper, which is easy to believe from the way he looks on this cover. In 2012, Chris lost his girlish figure and ballooned to 300 lbs for a role. Once he finished that movie, much of the weight stuck around for awhile. Then he snagged the Guardians role and lost 60 pounds in 6 months (resulting in the selfie heard 'round the world). Chris threw himself into a regimen of lifting, rowing, running, circuits, swimming, and biking. His trainer says Chris was very intense about the process:
Why Chris decided to act: "When I was very young, I saw my brother do a play – Boo Bear in this Christmas special. My dad did his make-up, my mom cried and he was a huge star in our family for a year. So I decided that's where it's at, that's what I want to do."

Chris always wanted attention: "I was always the class clown. I was in the class in charge of putting on the assemblies. Of course, I'd make myself the star, ripping off SNL sketches or doing bits from movie. We'd do song and dance numbers. We did Thriller and Grease."

Meeting Guardians fans: "I was very nervous going to my first Comic-Con. I associated fanatic fans with haters. But it's really not the case. They're so enthusiastic to support it. What they want is to hang out and ask you questions and impress you with their knowledge and passion."

Personal trainer Duffy Gaver on Chris: "Chris' athleticism is amazing, he is incredibly disciplined and his work ethic is phenomenal. He isn't the client you have to push; He is the type of client you have to pull down. If you were to walk into the gym when he was training, you would have thought for sure you've got a guy getting ready for the NFL Combine. He wanted more muscle, to be much leaner, and to be more fit. He wanted to do justice to the role."
[From Men's Fitness]
Hmm. Chris sounds as humble and adorable as one would expect in this interview. A weight loss of 60 pounds in 6 months seems very fast, but Chris probably gained weight as he lost it. Does that make sense? This wasn't a case of him simply getting skinny. He gained muscle mass as well. Chris looks good, and I hope Guardians of the Galaxy transforms him into a ragingly successful leading man.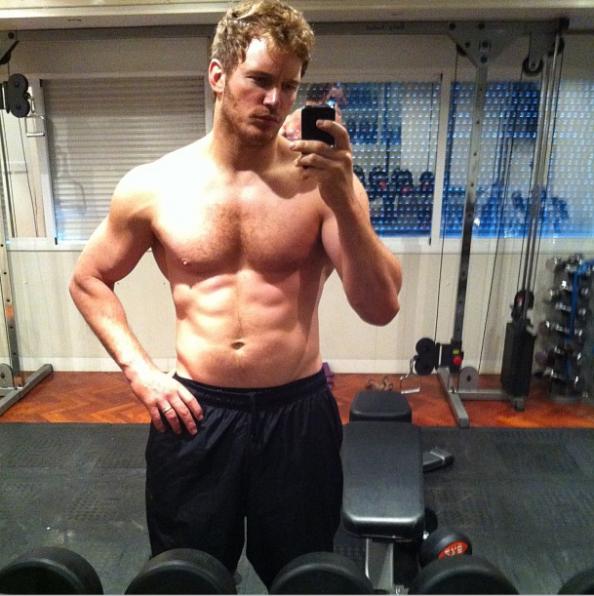 Photos courtesy of Men's Fitness, Chris Pratt on Instagram & WENN