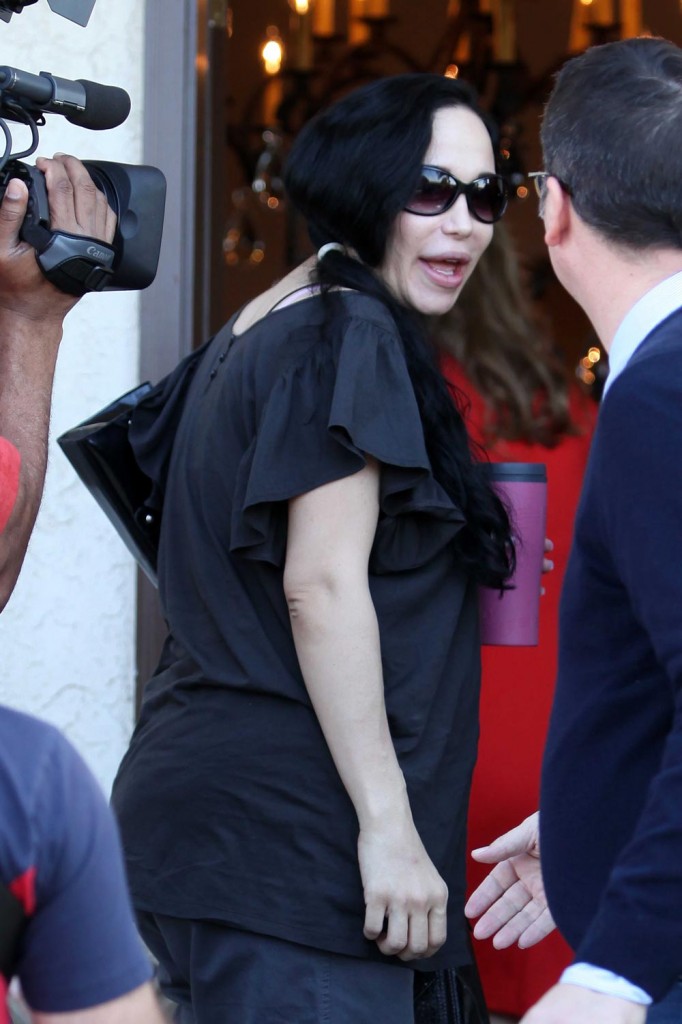 As a person who pays taxes, pays my bills, and pays close attention to my one cherished child, Octomom grates on me. Greedy bankers and thieving bastards like Madoff should technically draw more ire, but they're not getting as much press at the moment as this one obnoxious woman with 14 children, a distorted face and an enormous sense of entitlement.
According to TMZ, Nadya Suleman has found another home to which she plans to move. Her mother failed to pay the mortgage on their existing home for over 10 months and it's set for foreclosure. Suleman is now looking at a $1.2 million home in the same area that she lives. If she has the money now after all that media wrangling, do you think she's going to pay off the $23,224 her mother owes on the existing home first, or is she just going to let it get auctioned off? Suleman even arranged for an interview to take place at the new pad. Splash News photo agency reports that she met with Entertainment Tonight there:
We just called back our contact at Century 21, the agency that has listed the house. They claim Nadya is indeed an interested buyer. But here's the rub. We're told a big TV show has the house for the day and is there doing a sit-down interview with Nadya….

UNBELIEVABLE!!! We've confirmed OctoMom Nadya Suleman is looking to buy a home listed for $1.24 MILLION!

Octo is there right now … the house is in Whittier, California. It has 4 bedrooms, 2 1/2 bathrooms and a pool with no safety gates. Perfect for 14 kids.

A real estate source tells TMZ the owner canceled showings today specifically because Octo wanted to see it. She needs it because the house she's living in now may be on its way to the auction block — as in foreclosure.
[From TMZ]
The photos of the home are below and while it's decent looking structurally the furniture is pretty tacky. I tried to find the listing on Century 21′s site for Whittier, CA, but the website is down now, probably from the increased traffic. Maybe the furniture isn't included with the home. I would expect MC Hammer levels of tacky excess from this woman, though, so I guess it's not that bad. We all know what happened to Hammer's wealth and he's a decent guy.
This woman is having a windfall by licensing photos of her children and getting paid for interviews, but how much do you want to bet she blows through it quickly again and ends up broke before she knows it? It seems like she has no clue how to manage money. It baffles me that she'll be able to buy a house even though she just declared bankruptcy last year. Obviously she now has some money in the bank. She's going to waste it on frivolous things, and we'll be hearing about her sad state in a year or two as she comes back to the media and whines about how all this stuff she couldn't control happened to her. Only this time people won't be paying attention and will be saying "told you so." Her kids hopefully won't be without shelter or food, although they're surely lacking in less tangible things with that type of mother.
Suleman's older children's birth certificates show different birth dates for their father
TMZ has obtained the birth certificates for all of Suleman's children, and they all have this supposed "David Solomon" listed as their father, which is suspicious enough given the similarity to Suleman's name. "Solomon" has all different birth dates listed on the birth certificates, and they usually differ by about one or two digits, like 5/25/75, 6/25/73, and 5/25/73. No father is on the birth certificates for the Biblically named octuplets.
Update: TMZ reports that Suleman answered "I wish" when asked if she were buying the home. She was supposedly just sitting down there for an interview with Dr. Phil. Splash News reports that she met Entertainment Tonight there so maybe she scheduled multiple interviews at once. TMZ also claims that they have real estate sources that say she was looking to buy the home, which she sort-of denied, but it's not like we can believe anything that this woman says.
Thanks to Splash News for these photos.