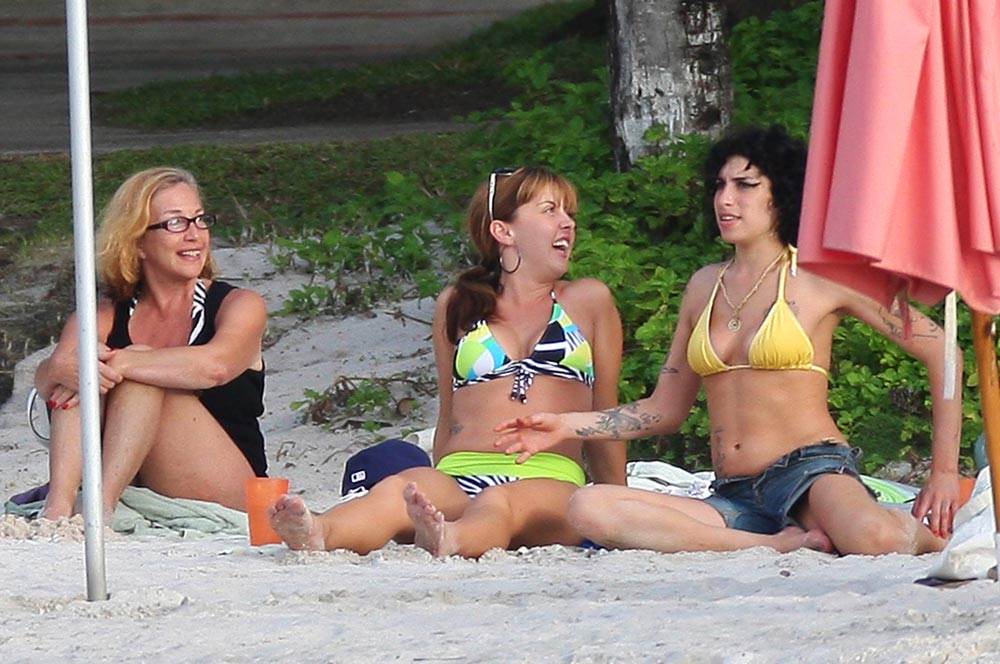 Amy Winehouse, 25, has been quietly getting off drugs and getting her life back together during an extended vacation on the island of St. Lucia in the Caribbean. She's pulled some antics and has reportedly propositioned guests, begged for booze, and smoked pot when she could get it but it really looks like she's turned things around.
The talented singer was on tasteless "death watch" lists before she decided to take a vacation. Now she's gained some weight, has kicked the hard stuff, and is just enjoying the surf and sand and her newfound freedom. She had one major setback last week when she was admitted to the hospital with reported withdrawal from the maintenance medication she was taking to kick heroin and crack, but is thought to be ok now.
Amy intends to make her stay on St. Lucia more permanent and is reportedly looking at homes in the area.
The Caribbean island of St. Lucia seems to have been doing wonders for Amy Winehouse. As the troubled British singer continues her recovery from her heroin and crack cocaine addictions, she has reportedly fallen so in love with the island that she's now looking to put down roots there.

According to Britain's The Sun, Winehouse, 25, has been househunting with her dad, Mitch Winehouse. The Rehab singer still has her new home in the North London suburb of Hadley Wood, but now intends to split her time between the two.

A pal of the singer tells The Sun, "Mitch and Amy have been looking at property while he has been in St. Lucia. They saw a few potential places this weekend."

The friend adds, "Amy loves it over there and being away from it all has helped her hugely in the fight against drugs."

Amid rumors that the singer is still partying it up in the Caribbean, the source says, "She has been drinking and smoking cannabis, but is still a million times better than she was in Camden. Her family thinks the best way to keep her out of trouble is to have a house in the suburbs and a place in the Caribbean where she can totally get away."
[From OK! Magazine]
Good for Amy. She's also been apart from her husband, jailed addict Blake Fielder-Civil, and although they're going through divorce proceedings they seem to have some kind of unhealthy draw to each other and you worry that Amy might take him back if he was around. It's a good thing that he'll be locked up until next year, and maybe by that time she'll have enough sense to continue to stay away from him. Perhaps we can expect some more unique hits from Amy in the near future. Her new crop of music might have a theme of redemption and renewal instead of defiance and loss.
Photos are of Amy Winehouse in St. Lucia on 1/2/09. Credit: Bauergriffinonline