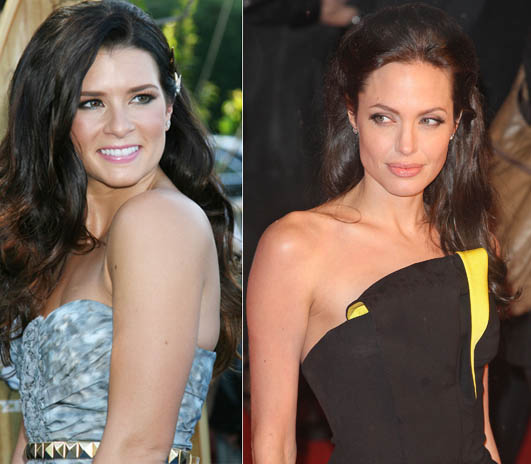 26 year-old professional race car driver Danica Patrick was asked in an interview who she would like to play her in a movie version of her life. Given Patricks's popularity and her unique story of triumph in a male-dominated sport, it's a legitimate question. Dark-haired beauty Patrick, who appears in a scantily-clad spread in Sports Illustrated's swimsuit issue, immediately mentioned Angelina Jolie. When someone asked her about Jennifer Aniston, she said "I don't think that'd be age appropriate," meaning Aniston is too old.
Whom would sexy race car driver Danica Patrick want to play her in a movie?

"I've always said Angelina Jolie would be great because she's an action star," Patrick, 26, told a group of Canadian bloggers.

"Although I don't quite look like her," Patrick goes on.

What about Jennifer Aniston?

"I don't think that'd be age appropriate," she says of the He's Just Not That Into You star, who just celebrated her 40th birthday. "She's older than me!"

Aniston and Jolie are set to face off at this Sunday's Academy Awards — the first time they'll have seen each other since Brad Pitt and Aniston split in 2005.

John Mayer will be on the arm of Aniston, a presenter, while Jolie and Pitt are both up for awards.
[From US Weekly]
In regards to that last sentence about how Aniston is going to the Oscars with Mayer: Mayer really blew it by revealing that he was going to the Oscars because they're working hard to make the presenters a surprise this year. Until he confirmed that he would be Aniston's date, her presenting duties were just a rumor.
Jolie is five years older than Patrick at 33, but the press doesn't focus on her age as much. It seems we've heard over and over again these past few weeks that "Aniston is turning 40." Someone was just trying to continue that never-ending Aniston/Angelina rivalry by bringing up the former Friends star to Patrick. You can't blame her for wanting a younger, and arguably more prestigious star, to play her.
As Kaiser mentioned yesterday, when Angelina and Aniston finally "meet" at the Oscars during Aniston's presenting gig you can bet the camera will keep going back to Brad and Angelina at their table. They will put on their best happy faces and we'll see just why they're both nominated for Oscars this year.
Danica Patrick is shown at the Teen Choice Awards on 8/3/08. Angelina is shown at the BAFTA Awards on 2/8/09. Credit: WENN