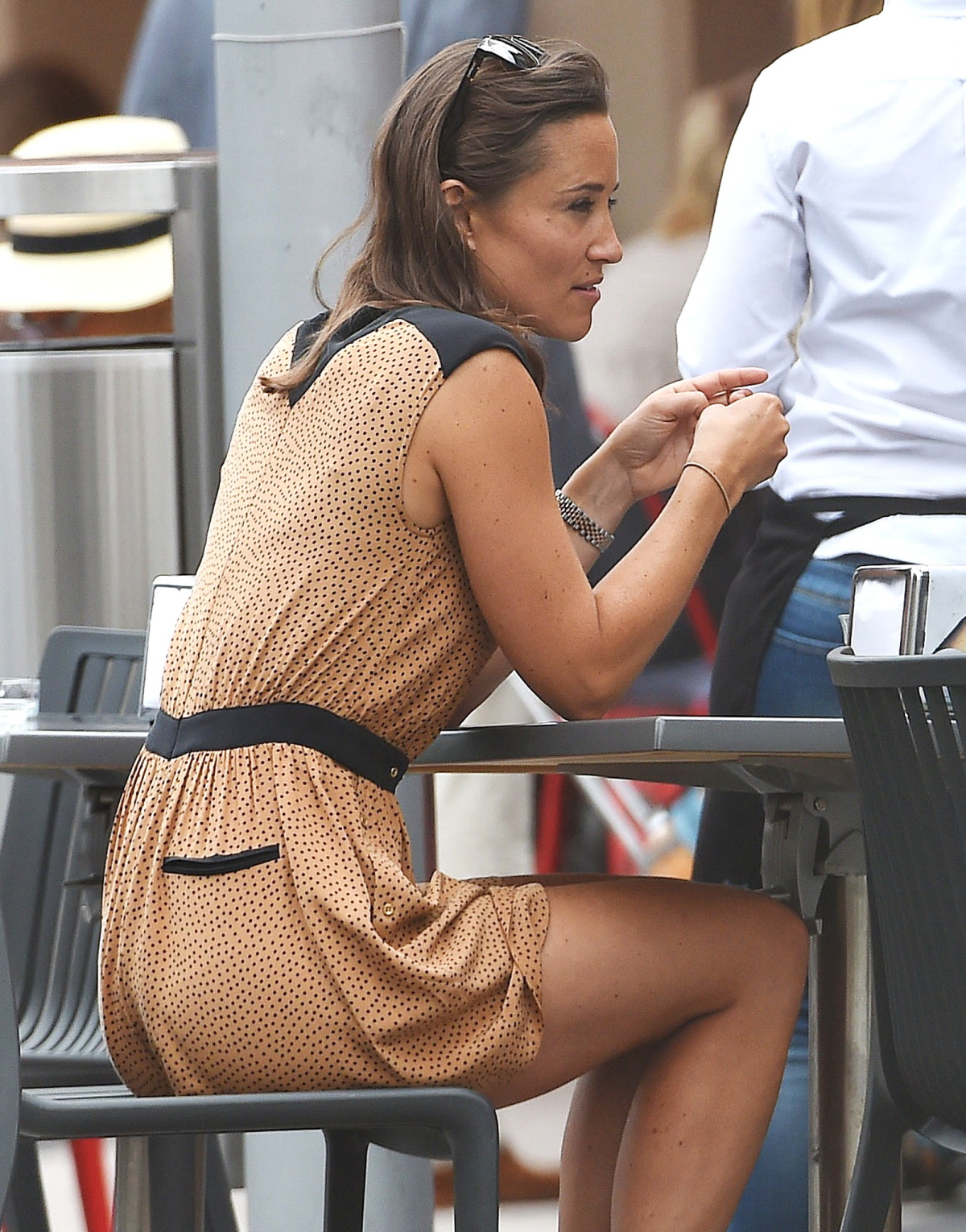 Here are some photos of Pippa Middleton having lunch or drinks with a female friend in London a few days ago. I think Pippa is wearing a romper, which… I don't know, I think rompers are bad on fully grown women, but I'd be willing to give you a pass if it's crazy-hot and you just wanted to wear something light and simple (but even then, why not a light dress?). Anyway, Pippa is still recovering from her utterly grueling Today Show interview in which Matt Lauer lobbed softballs at her and acted as if he was speaking to one of the most beautiful, enchanting women in the world. She said all of her little pre-rehearsed soundbytes in her weird speech patterns and most of us thought she was outright lying. All in all, not the best interview. You would think that Pippa would have given the royal family a heads up on the whole thing, but I guess not – and Radar says "the Palace" is upset with Pippa!
It might have been Pippa Middleton's first television interview, but not everybody is excited about her appearance on TODAY. Multiple Sources tell RadarOnline.com that Buckingham Palace is none too pleased with the Duchess of Cambridge's little sister!

"They are furious with Pippa," one aristocratic source dished. "They wish that she would shut-up. It is obvious that she wants to define her identify and step out of her sisters shadow, however she needs to know her place."

The exclusive interview was a huge booking for TODAY and its embattled host Matt Lauer, who travelled all the way to London with the show's executive producer to film the interview. But Palace brass isn't happy that Kate Middleton's little sister gave her first tell-all behind their royal backs, in fact, sources tell Radar that the Royal Family is "livid."

But other sources explain that Clarence House, the home of Prince William and Duchess Kate, signed off on the interview, which is slightly different from Buckingham Palace. The latter speaks for the Queen herself. Originally Pippa wanted to participate in the interview when her book came out, but was "discouraged from doing it as it would appear she was using relationship with Kate to promote the book," the source added.

But the source also added that Pippa was using the interview as a forum to be approached again for other opportunities in media. Right now there are no plans for Pippa to work for NBC.
Yeah, right NOW there are no plans for Pippa to sign on to a lucrative gig doing fake-reporting with NBC, but I'm sure it's in the works. Just wait for it. As for the other stuff… I believe it. I think Clarence House probably did sign off on it. Not only that, I think Kate, William and maybe even Charles signed off on getting Pippa some media training and some "princess lessons" because of the way she positioned herself and her sister during the interview. Now, did they tell the Queen? I doubt it. But that's the part I don't really believe – I don't think the Queen gives a crap about Pippa in any way, shape or form. The Queen's courtiers might be "livid" but I doubt the Queen is.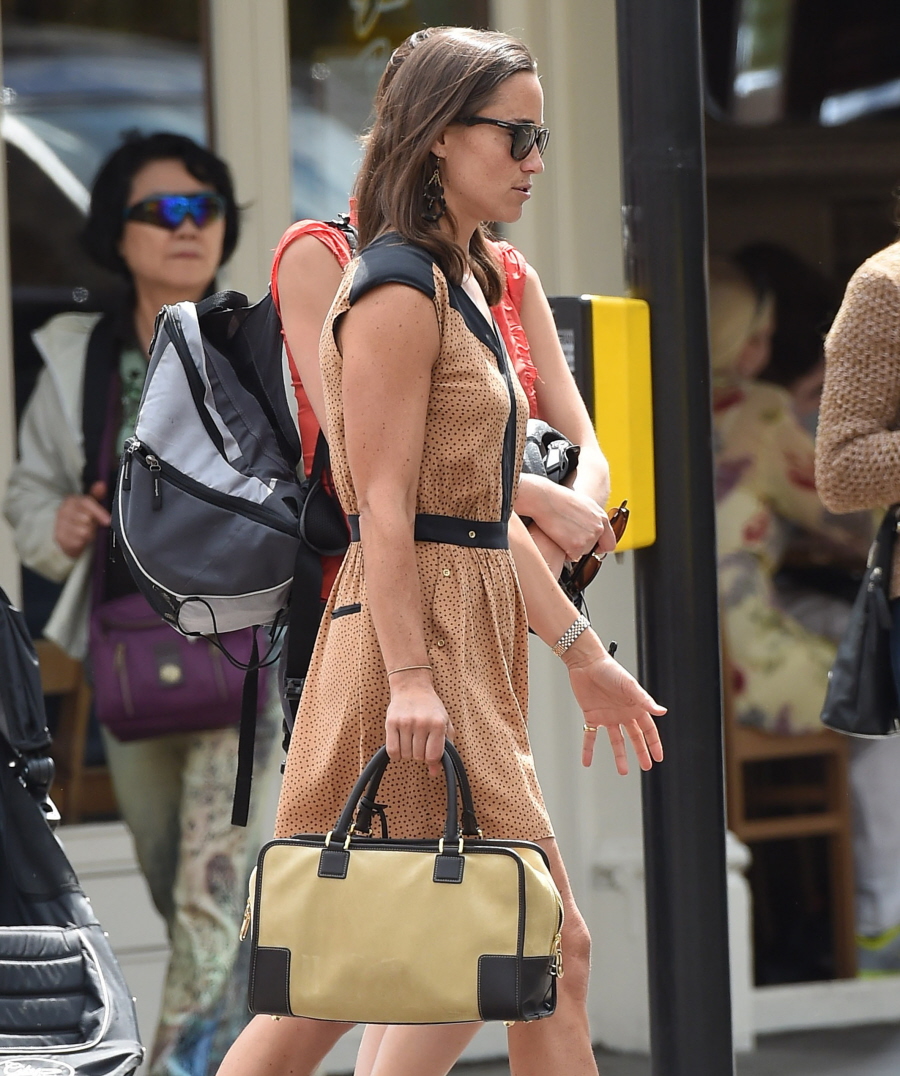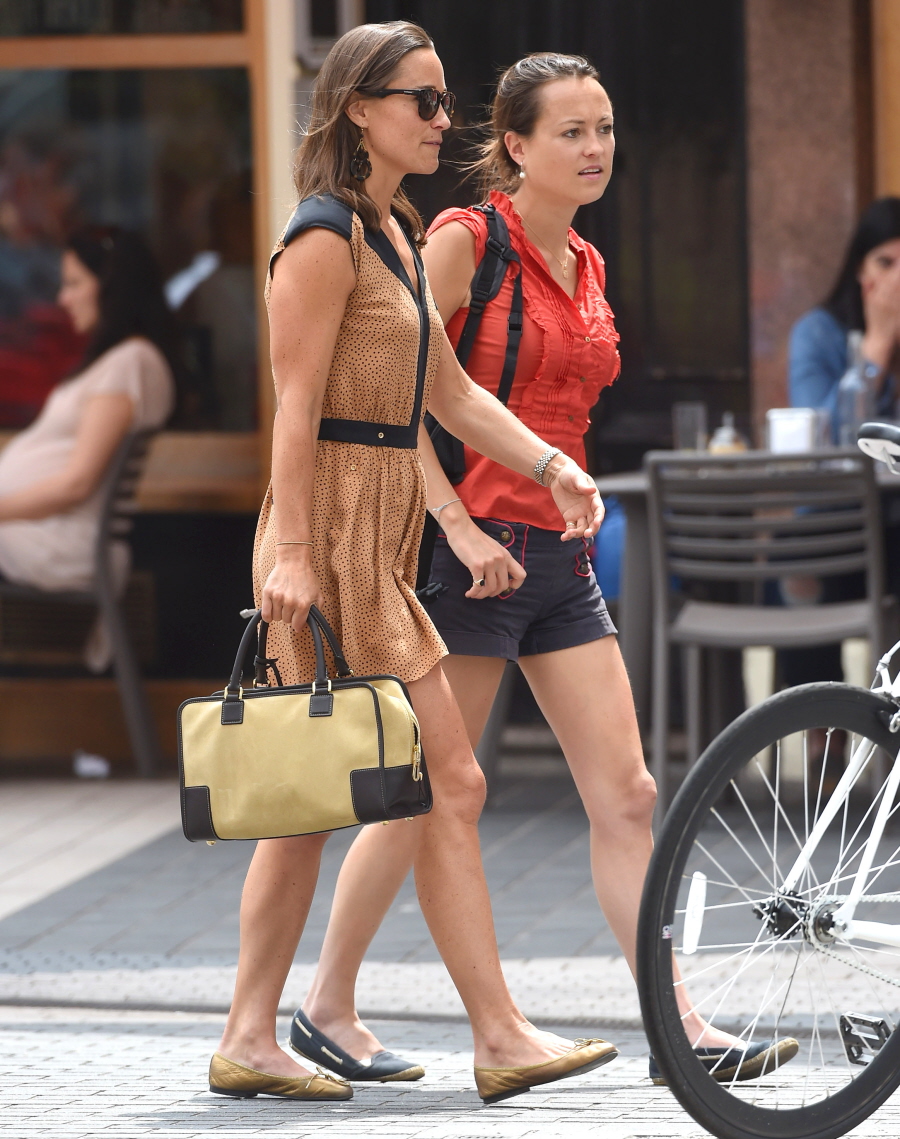 Photos courtesy of Fame/Flynet.