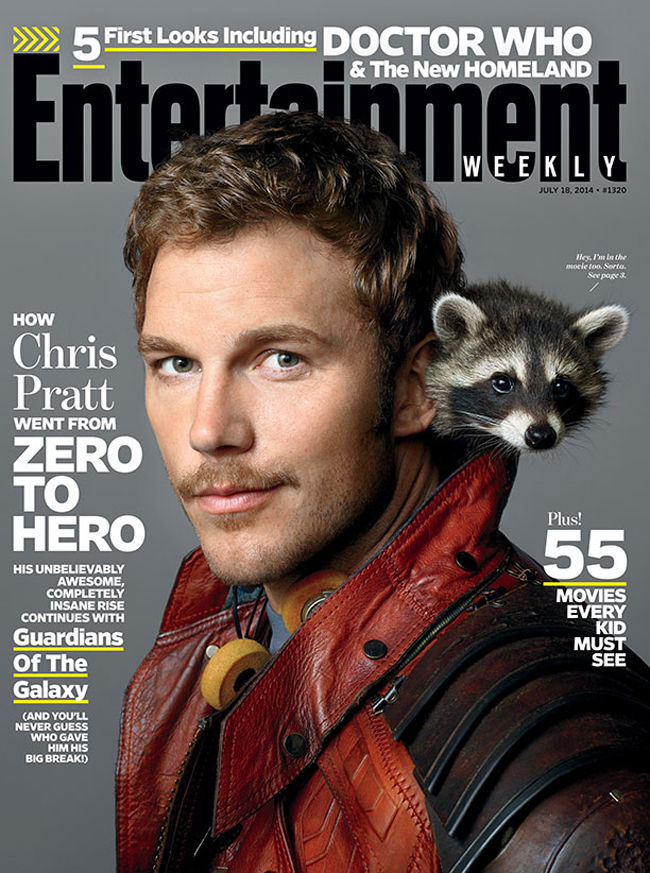 Chris Pratt covers this week's issue of Entertainment Weekly. He's dressed as his Guardians of the Galaxy character, Peter Quill/Star-Lord. There is a real-life raccoon on his shoulder, which is a stand-in for Bradley Cooper's character, Rocket Raccoon. Wouldn't it have been great if BCoop was sitting on Pratt's shoulder? That would have made for a crowded cover, so a real raccoon it is. A raccoon that has been properly domesticated (it's cuddling with Chris in one of the other pics) and has had its rabies shots.
Chris looks really good in this shoot. His body already looked good, but his facial expressions are out of this world. He looks self-assured and sexy, and I'd totally let him french braid my hair. Chris talks about his decade-long climb to leading man status:
Meeting with director James Gunn: "James said, 'Do you have any questions?' I said, 'Do I have any questions? Of course, I have questions! Marvel's not going to let me read the script, I have no f—ing idea of what I'm doing, I don't know this character, I don't have any goddamn sides. Do I have any questions? How long do you have?' And he was like, 'That's what Peter Quill would say.' 'There's definitely similarities in Guardians to James Gunn's other movies. They just happened to give him a couple hundred million dollars versus $2 million, so he gets to make a f—ing killer movie."

On being offered "douchebag" roles: "There were people I was working with on Everwood who were getting a lot of scripts, auditions, offers for movies. Outside of Everwood, I couldn't get anything. The only roles I could get were kind of the douchebag. You know, the guy in the movie that makes the hero look good–drives an Escalade, has spiky hair, gets kicked in the nuts. The kind of underwritten, douchebag bad guys. That was never something I was very good at."

Anna Faris is his "beacon": "Anna [Faris, my wife] gives me great advice on how to treat my leading ladies and just how to navigate all this stuff. It's nice to have a beacon in all this, someone who understands what I'm going through and what it means to have to make out with somebody that is not her. What it means to give up everything for this. She understands A.) what that means and B.) why I would do it because she's doing the same thing."

On becoming a leading man: "It took me 10 years to be ready for this. I've got a pretty good foundation of friends and family that will always keep me grounded no matter what. But I don't think I would have been ready for it 10 years ago. So I'm really happy with the way it worked out. You need to learn how to do this. You need to learn how to keep your cool, learn how to be a leader on set, learn how to act. F—, I still know I've got a ton to learn. It's all a learning experience. I'm going to school every day."

His weight loss plan has changed: "I had lost the weight for Moneyball and for Zero Dark Thirty all on my own, without the help of any professional people guiding me through it. And both times, as soon as I got done, I crashed hard and gained a bunch of weight back. But this time I didn't, because I did it right. I worked with a nutritionist who was like, 'Listen, you're eating 2,000, 1500 calories a day. You need to be eating 4,000 calories a day, you need to be eating 5,000 calories a day. You'll burn them all off, but you need to keep your metabolism going.' So now I can actually have a beer if I want to, or I can eat something bad if I want to, and I'm not going to immediately gain fat because I'm not starving myself. I'm just burning the fires really hot."
[From EW.com]
Chris sounds so humble. He's been working towards this sort of blockbuster, leading-man role for 10 years. Toiling away in smaller, less appreciated roles gave him a chance to observe the industry while being a part of it. That's a much healthier way to approach super stardom than being dropped into the lion's den. He's going to be fine. Anna Faris might be a little wary of her husband's ripped status, but they'll both be fine together. Chris sounds like he appreciates and dotes upon her a lot.
Some of you haven't been so wild about Chris talking about his new body in all these interviews, but that's one of the themes of this tour. All the journos want to hear about his transformation. I can't imagine eating 5000 calories a day and burning them all off too. That's a huge time investment, but it's all part of the job. Chris looks really amazing in this shoot with the affectionate raccoon and crazy beer shot. Enjoy!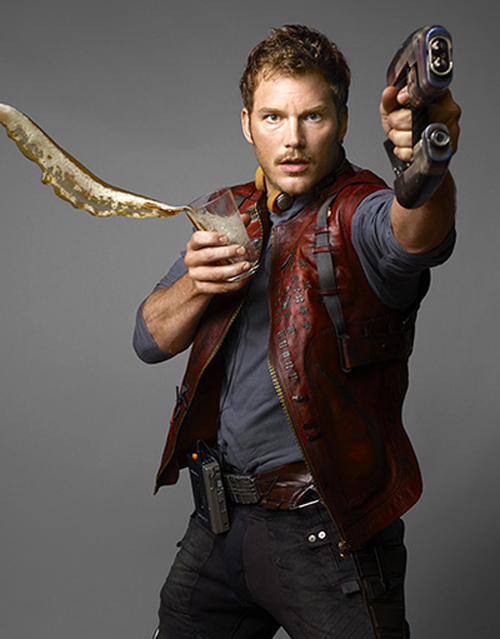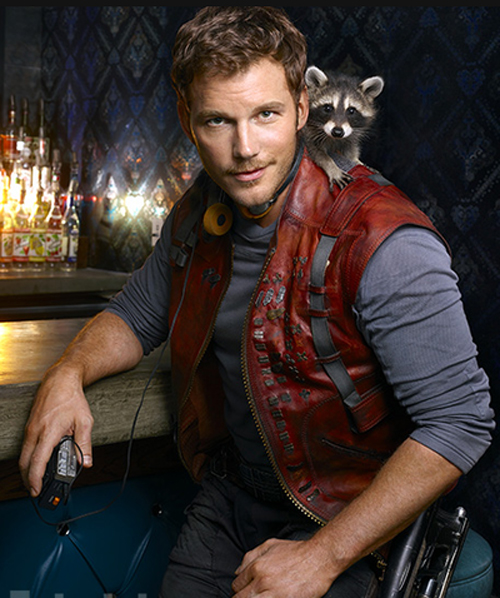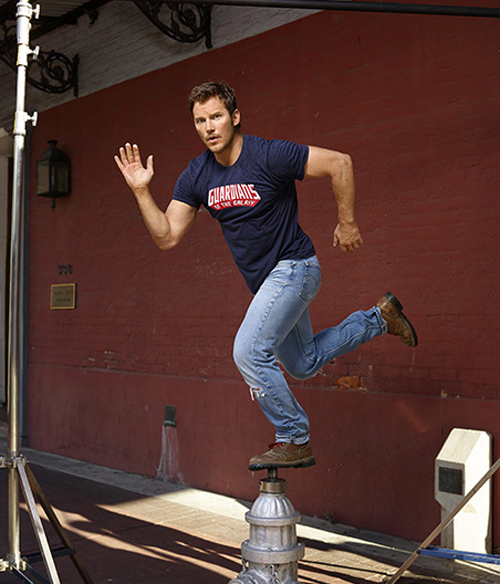 Photos courtesy of EW.com