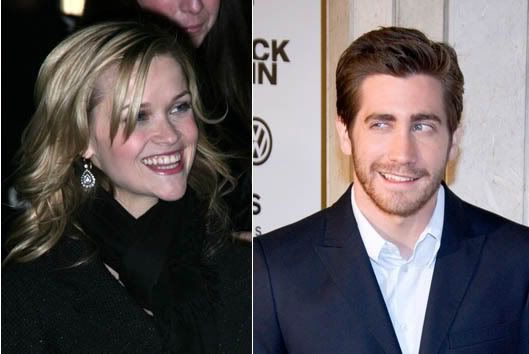 Despite a near complete lack of photographic evidence, Reese Witherspoon and Jake Gyllenhaal are said to be a real couple, with Jake wanting to take more of a role as a father figure to Reese's two children with estranged husband, Ryan Phillippe. Reese is said to be wary of their new relationship, though, and to want to take things slow.
Reese, 31, who got to know Jake on the set of their upcoming thriller, Rendition, is one of the main reasons the actor, 26, is ready to settle down. Jake confessed to Reese, "I really want to be a part of your family," her pal reveals. (On April 6, Jake even surprised Ava and Deacon in L.A. with Easter baskets.)

With a shared passion for running, romantic dinners and – above all – family, Jake and Reese "are very well matched," says the pal. Reese's mommy skills rate especially high with Jake. "He's told his friends how much he admires the good manners she's instilled in her kids," says a Gyllenhaal family friend.
[From Life & Style print edition, March 30, 2007 via Sammie's Effluvia]
All the news about the budding romance between these two has focused on eyewitness reports, and TMZ says that they're still together and that someone spotted them driving on the freeway talking and laughing while Reese ate a yogurt.
OK! had them broken up in another issue due to the fact that they spent Easter with their families. They claimed that Reese wanted to make sure her children weren't affected by her new relationship so soon after her split with Ryan.
They could be friends or more, who knows. I'm not really convinced about it, so we'll have to just wait and see.
Here's Reese with her son, Deacon, three and a half, on Easter. Pictures from Photorazzi and Splash News.