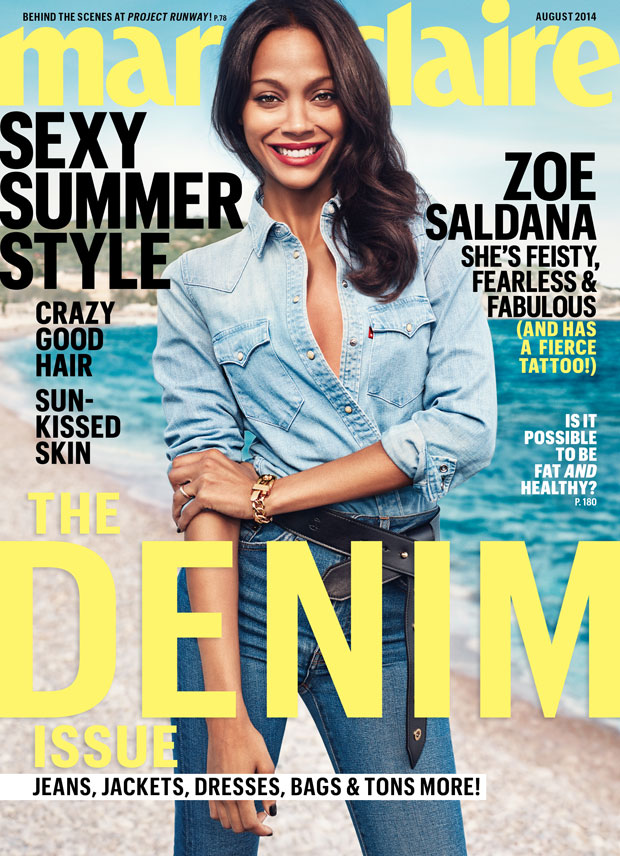 Zoe Saldana covers the August issue of Marie Claire to promote Guardians of the Galaxy. The photoshoot is very fresh and pretty. Zoe looks gloriously triumphant and like she's finally comfortable posing in front of a camera. I've noticed that photographers often don't know what to do with Zoe. They're often like, "Hey, pose awkwardly with this chair." This is a much more natural looking shoot. Well done.
The interview is a bit odd. The article promises that Zoe "will hand you your ass on a silver platter." Less talking, more doing. Zoe does a lot of talking here. She runs the gamut of topics to convince us that she's a badass. You know what? She is a badass in some of her films. Columbiana was a cinematic misfire, but Zoe was pretty fierce. She's playing the most notorious assassin in the universe, Gamora, in Guardians. So here are some "badass" quotes. I actually agree with a lot of what she's saying here:
On hubby Marco Perego: "I don't do the ABCs. I do what my heart says, what my heart feels. So from the moment I met my husband, we were together. We knew."

What she's learned about relationships: "Not to settle. If you're not happy with a person, leave. And wait until you find that one person who makes you feel good about yourself every single day and is not expecting you to change, but to grow."

On disrespect: "I have been in relationships where a man has disrespected me, and I don't need to be friends with that man anymore. I don't want to be the one going, 'I'm cool, because I'm friends with all my exes.' There's a reason why you're called an ex. I crossed you off my list. Moving on. You cross a line, you need to know that you're going to walk this earth knowing that there's an individual who has no respect for you."

Her dream roles: "I would love to play Nefertiti or Cleopatra or the Queen of Sheba. We preserve more male history than we do female. We have to preserve it. No more complaining. We have to do it."

Her personality: She describes herself as an "iron-fisted lady," a woman who "will not take any bullsh-t," and someone who was known during her teenage years as a "bad seed." "You cross me as a lady, it's over," she says, dark eyes flashing.

Growing up in Dominican Republic: "I had many female bullies growing up who wanted us to be submissive and to follow and to kiss ass, and that's the last thing any Saldana will ever do, honestly."

Her refuge: "I love coming to New York because my family is here. But I'm always busy working, so I make them all come sleep over with me. They bring their pillows, and we get extra beds. My grandma lies on the couch. It's just delicious."
[From Marie Claire]
Let's get the Cleopatra talk out of the way. Zoe will never play that character no matter how badly she wants it. There would be so much criticism from such casting news that it would never happen.
I do agree with Zoe about cutting off ex-boyfriends who disrespect. It's harder to cut off spouses in such situations. Marriage is always more complicated, especially when kids are involved. When it's just a boyfriend and there are no children? Cut that sucker loose and don't pretend to be friends. Zoe had a 10-year relationship with Keith Britton before she hooked up with Bradley Cooper. I don't know if Keith "disrespected" Zoe, but I have a hunch that she is talking directly to BCoop. Just look at what Jennifer Esposito had to say about him.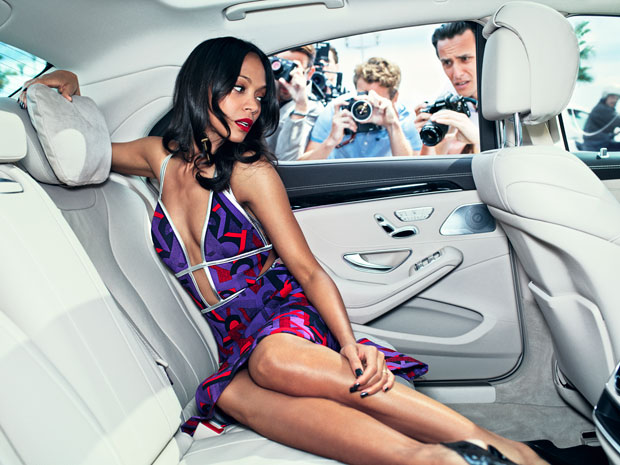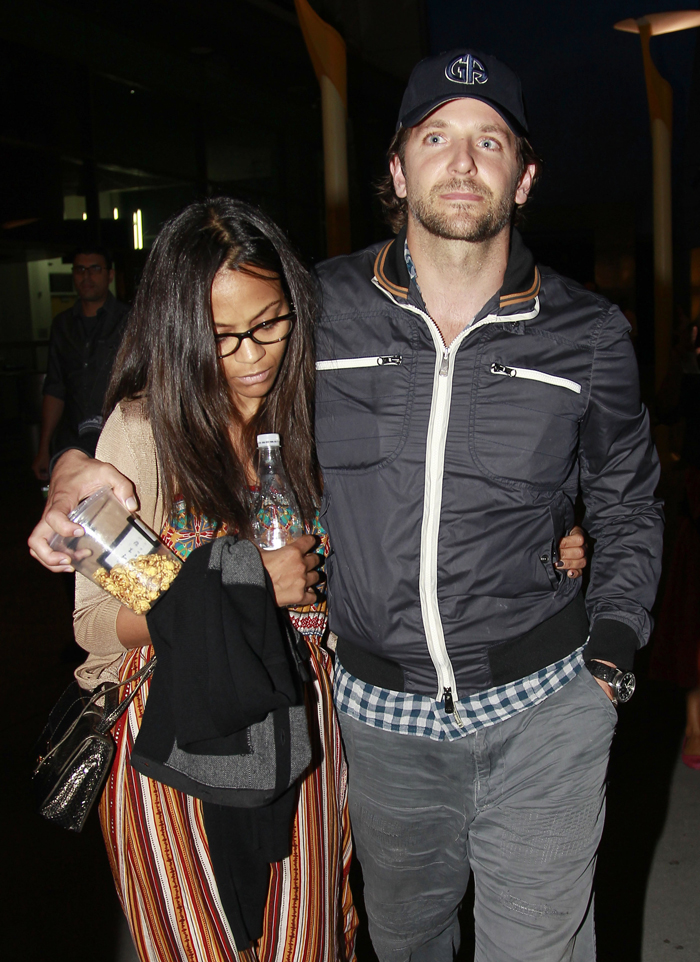 Photos courtesy of Fame/Flynet & Boe Marion/Marie Claire