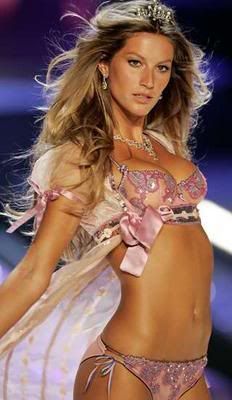 Gisele Bundchen is no longer a Victoria Secret model after the company allegedly refused to give her a pay rise.
Gisele is the world's richest supermodel according to the Guinness Book of World Records, having earned about $150 million throughout her career. Not bad for walking around in your skivvies all the time and ocassionally smiling at the camera. Give Lindsay Lohan a bottle of "water" and she'll do the same for free, I'm sure.
From E! Online:
Though the company did not elaborate on the reasons for the split, published reports suggested that Bündchen might have gotten her panties in a bunch while trying to renegotiate her contract.

The situation reportedly came to a head when Victoria's Secret refused to increase Bündchen's $5 million annual salary, leading to the Brazilian model's decision to turn in her Angel's wings and step down from the catwalk.

Bündchen's twin sister, Patricia confirmed to Brazilian Website glamurama.com that her shapely sibling broke off contract talks after the two parties were unable to come to an agreement. Meanwhile, the New York Post quoted a source who opined that the model may have gotten too greedy for her own good.

"Her demands were outrageous. She got a new lawyer who was unrealistic," the source said. "Victoria's Secret doesn't care. They have five new hotter, younger girls debuting next year. And they won't have to deal with any craziness."
I love that Victoria's Secret have to make a point about having hotter and younger models waiting in the wings (no pun intended). Gisele is only 26 years old! She's not exactly a dinosaur, is she?
I'm getting bored of walking into Victoria's Secret, with its pink and black decor like a Barbie Bordello gone wrong. At least now I won't have Gisele and her perfect twosome staring out on me on billboards anymore, like I don't belong in the store. That perks me up a bit (again, no pun intended).