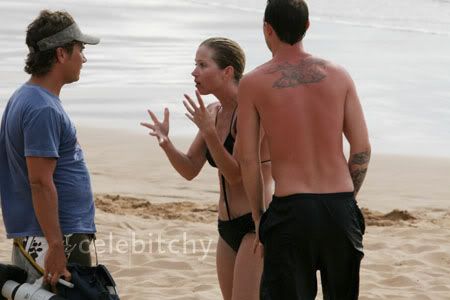 Christina Applegate, Alyson Hannigan and Kate Bosworth all invited multiple paparazzi agencies to photograph their respective beach bodies in Hawaii this week. It seems when a starlet is in shape and ready to get back to work she figures that some bikini candids will help move her career along.
Enough was enough for svelte Christina Applegate, though. She was seen arguing and trying to reason with a paparazzo. Splash captioned these as:
Christina Applegate fed up with a harassing paparazzo, flips out at him and begs him to not take any more pictures. Then she gives it up for the camera for just a few seconds.
Applegate has one project in the works, according to IMDB, a TV series with an unknown release date called "Sam I Am." Last year all she did was lend her voice to a penguin in the much-derided straight-to-DVD release Farce of the Penguins.
Thanks to Splash News for these pictures.