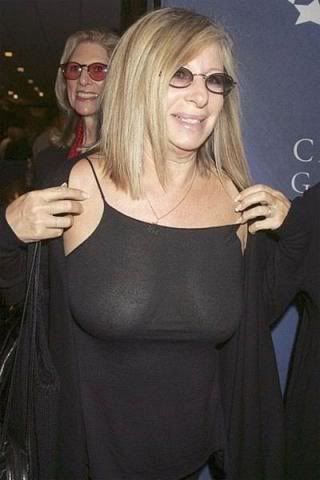 Barbra Streisand has seriously lost her mind. She thinks her new show is the second coming that everyone will sell their first born child to attend. How else can she explain charging a fortune just to watch her go on for two hours?
From The Daily Mail :
Fans wanting to see Barbra Streisand perform in the UK for the first time in 13 years will have to pay as much as £500 for the privilege, making the concert one of the most expensive ever.

The cheapest seats for the diva's show at London's O2 Arena – the former Millennium Dome – will cost £100, with top ticket prices more than three times what it would cost for the best seats at a Rolling Stones or Madonna concert.

Critics claimed Miss Streisand, 65, was exploiting her fans' goodwill.

But her camp defended the sky-high prices by calling a live performance by the singer a "momentous occasion" comparable to seeing Elvis or Sinatra.
A "momentous occasion" close to seeing Elvis or Sinatra? I saw Elvis sing live with Celine Dion last week for free on my local pub's plasma! American Idol brought him back from the dead, people! You can't get any more momentous than that!
Barbra Streisand must be crazy if she thinks that her old fans are going to sell their walkers and cash in on their pensions just so they can get £500 ($1000) to see her sing. It's not like she's going to do saucy choreography (eww… shudder at the thought) or sing any new material — just go to Blockbuster, rent Funny Face for a fiver and sing along in the comfort of your own home and still be entertained.