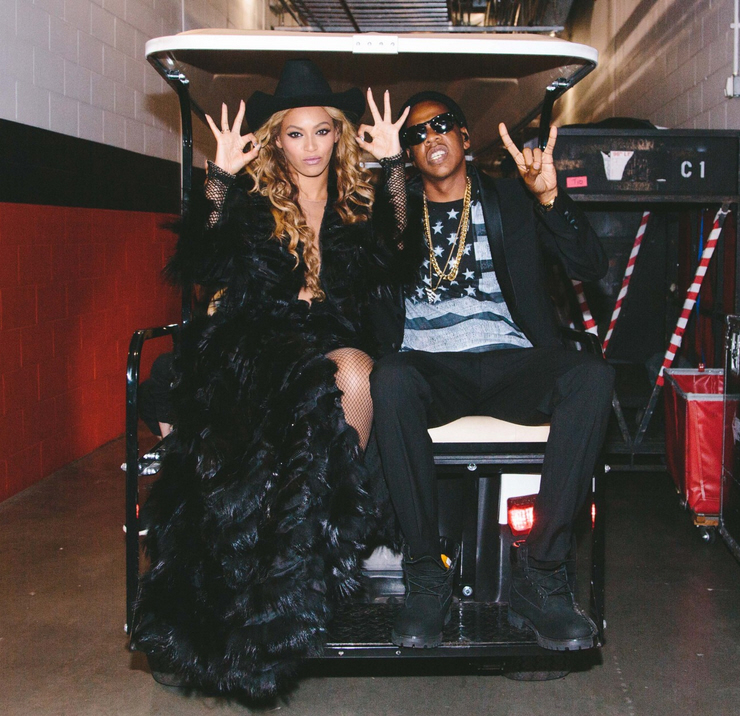 Here are some photos of Beyonce and Jay-Z, courtesy of Beyonce's Tumblr and Instagram. I actually think Beyonce's Tumblr is broken – it's sort of disorganized, new photos keep disappearing and she hasn't updated the "My Work" or the "My Life" sections in months. Instead, she just keeps posting (and deleting?) photos to the main page. And there's still a button for the "Mrs. Carter Tour" which ended months ago. Why hasn't it been changed to the On the Run Tour? Beyonce needs to hire some people to fix her Tumblr, that's all I'm saying.
Anyway, as we keep hearing from the tabloids, Bey and Jay's marriage is really rocky these days. Basically, everything that happened after Solange beat Jay-Z in the elevator is NOT GOOD. Some say "divorce in inevitable." Some say that they're just having problems and they're working through it with the help of counselors. Now Page Six says that Jay is the one fighting for this marriage to work:
Beyoncé and Jay Z have more than 99 problems and only "divine intervention" can save the troubled marriage, a source close to the powerful couple has told The Post.

While Jay Z seemingly is the one most at fault, he's also the one doing all in his power to keep the couple together, even hiring marriage counselors who are believed to be traveling with the super duo on their tour, the source said.

"They are trying to figure out a way to split without divorcing . . . This is a huge concert tour and they've already gotten most of the money from the promoters up front," the source said.

Despite the tens of millions the couple will pocket from the current tour, this will certainly be their last and the end of the tour could officially spell the end of the marriage, the source said.

"There are no rings, if you haven't noticed," the source said, admitting that he thought things would get better after the birth of the couple's daughter, Blue Ivy Carter.

"For just a split moment, things got real for them and she was even talking about adding to the family," the source said. "But, after a while, Jay was out doing Jay and Bey was out doing Bey. They made the classic mistake of thinking a child would change everything and help to rekindle the initial fire, and it didn't."
What still amazes me is that it only took a few minutes of grainy-ass security video to mortally wound a previously untouchable couple like Beyonce and Jay. Seriously, no one had anything bad to say about them because they were so controlled and controlling of their image. Now it's open season. Anyway, I'll buy that they're having issues and I'll buy that "Jay was out doing Jay and Bey was out doing Bey." I think that's their deal. I think that's how their marriage has always worked.
Oh, and I didn't realize that Beyonce was hired to do the song for Fifty Shades of Grey! She teased the song on her Instagram:
That sort of fits. If you've listened to her latest album, she's been doing a lot of sexually-charged, "I get my sexual power through submission" stuff lately.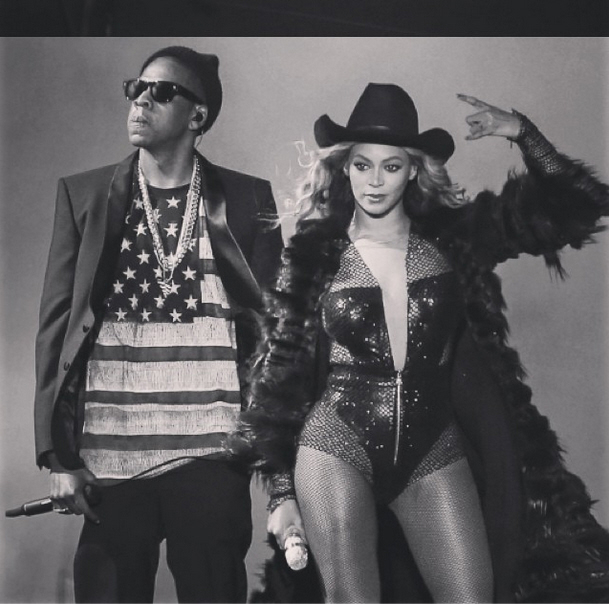 Photos courtesy of Beyonce's Tumblr, Instagram.