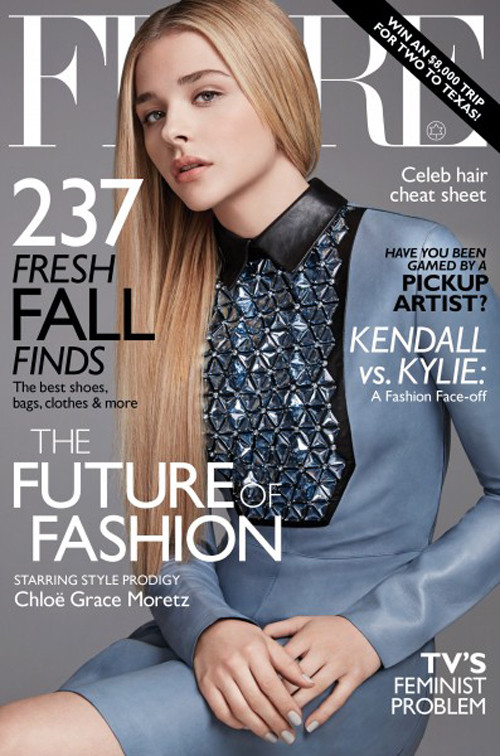 Chloe Moretz, film veteran at age 17, covers the September issue of Flare magaazine. She's wearing a magnficent Gucci coat. Chloe hasn't had any huge box-office hits (yet), but she's played several wiser-than-her-years roles. There was plenty of controversy over Chloe cursing up a storm in the Kick-Ass movies, but those films have been forgotten already. Onto brighter pastures, I say.
Chloe is promoting her new film, If I Stay, in which she plays a cello player. My daughter plays cello, so I know the is instrument prone to sounding like a dead cow. That's not an insult. I'm just saying that anyone (and their parents) who commits to practicing the cello puts up with a lot. Chloe is still very much a teenager, and she has some thoughts on dating. She's not into it:
Her dating fears: "It's a tough age to fall in love: people change so quickly…I don't want to have to feel like I have to watch my step, 'cause I'm 17 and I shouldn't have to…[To my friends] I'm like, 'Dude, you're wasting away your entire high-school years, and now you're going to waste away your college years. You're going to spend your entire life in a relationship and then you're going to get married…and then you're dead! So you lived your life in a relationship!' That's not my style."

Her family: "They know me the best, and I know that no one's going to try and mess me over, you know?""

Her style: "People say don't judge a book by its cover, but if someone wears a crazy outfit, they're automatically a crazy person."

Playing the cello for If I Stay: "It's a very intimate instrument. For a girl especially, you're wearing a dress and opening your legs and holding this instrument to your body, so it's an extension of your body. When you hear cellists play, it almost sounds like a wind instrument because their breathing is linked up to the bow strokes, so as they go down or up, they breathe with the down and up of the bow."
[From Flare]
Chloe has a great attitude about dating. I know several people from my graduating high school class who married each other, and they all divorced within a decade. They're all on Facebook now, stalking each other's profiles to see whom the other is dating. It's kinda awkward for people who knew them and see it all happening. Sometimes marrying one's high school sweetheart does work out, but I'm a big fan of wading through the pool of sharks before finding a nice swordfish to settle down with. Not that I'm an expert but in theory.
The rest of this Flare shoot is age appropriate with some stylish yet cute outfits. Chloe is very mature for her age, but I dig that she's not flashing the flesh yet. There's plenty of time for that in the future.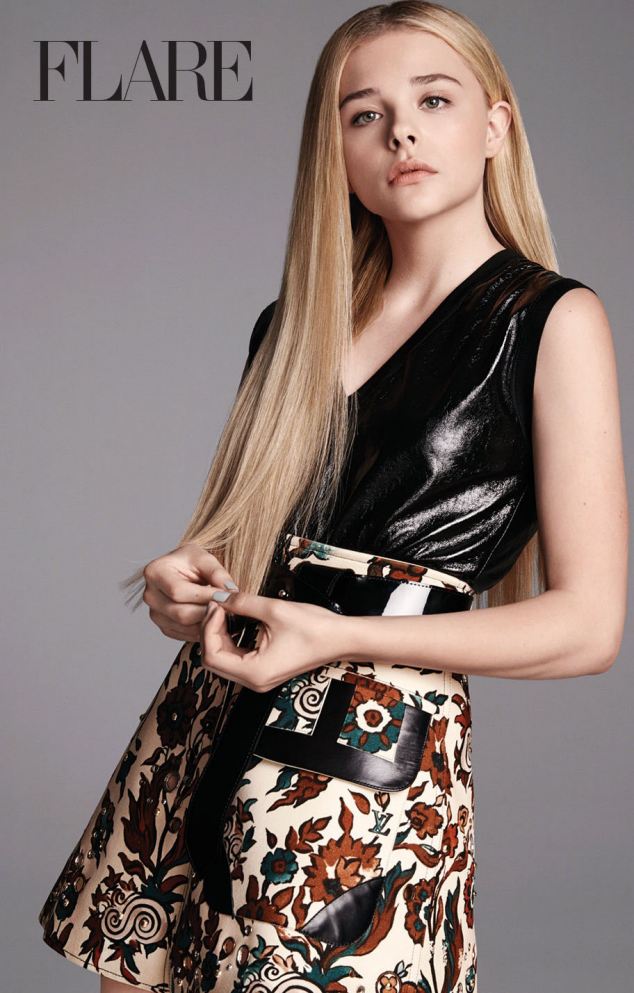 Photos courtesy of Flare