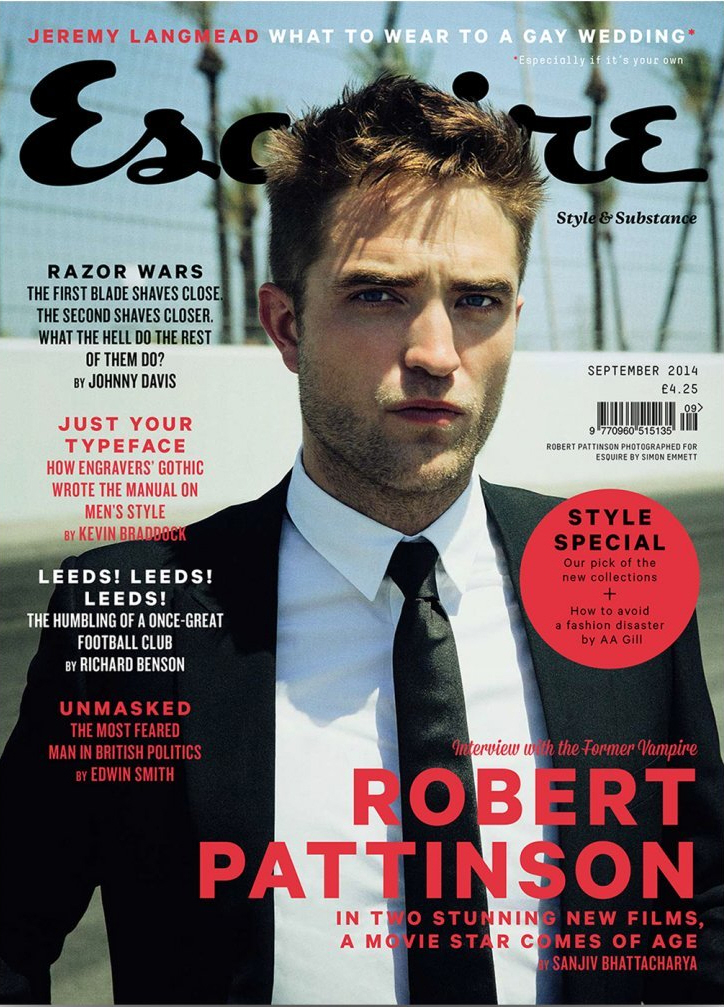 With this job, I read a lot of celebrity interviews. I'm here to tell you, most celebrities are pretty uninteresting. But there are a few gems out there, a handful of celebrities who know how to give a notable (notable bad or notable good) interview. Channing Tatum is one. Mila Kunis is another. Emma Thompson, Angelina Jolie, Robert Downey Jr, Samuel L Jackson – all notable interview subjects. I would add Robert Pattinson in that shortlist as well – nearly every print interview I've ever read with Sparkles is utterly charming. I ended up spending nearly 30 minutes reading every word of his September Esquire UK cover profile – you can read the full piece here. Some highlights (there are so many, he's so quotable).
Sparkles on manliness: "My ideal of manliness is to be incapable of doing anything… just anything. Be proud of your ignorance. 'Don't ask me, I'm a man! Get someone else to do it!' It's funny, the less and less you do, the more the mountain of doing something grows. These days, just making a phone call is exhausting."

The paparazzi: "I don't understand why [they follow me]. I think it goes through periods where you're assigned 'this is the guy to follow'. But whenever I see a bunch of paparazzi hanging out, I always think, 'Oh God, what have they found out!' Oh, THAT love child! I totally forgot!"

Why he's not going back into the franchise business: "A couple of offers, but with those things, if you express any interest, you have to do a screen test or whatever, and they make you sign a six-picture deal before you even know what the part is. It's crazy. And I didn't grow up reading comic books and stuff, so…"

Why he takes weird roles these days: "From my cod-psychoanalysis of myself, I think I do it for myself. I like to see if I'm capable of something, and I don't really care what people think, even though I read all the reviews. If it really mattered, it would have destroyed me years ago."

He's not the 'get' you think he is: "I tell every production company I work for, I'm probably going to f–k up your entire marketing campaign."

"Going Hollywood": "Well, yes, but it's not like you get away with it. This actress was doing a scene in the bath and she kept complaining about the temperature, how it was too hot or too cold. So everyone pissed in it and put a bunch of bubble bath in afterwards so you couldn't smell it! This stuff happens. That's why I avoid asking for anything. I don't want to get anyone's piss on me."

Why he lives in LA permanently: He thought about Toronto but "the winters are ridiculous". New York was a possibility, but "everyone honks their horns all the time, which drives me absolutely insane!" And London just didn't feel right anymore, not after seven years in LA. "My friends are all having kids and stuff, it's a totally different life. And I like people who want to actually make things and do stuff. In England, it's so difficult that most people just give up." So LA won out. "Just waking up when it's sunny every day means so much to me. I like the levity here."

His current neighbor is Suge Knight: "He's really nice! I see him playing catch with his kid and stuff. And he lives in this nice little cottage, it's really tasteful!"

Kristen Stewart's affair with Rupert Sanders: "S–t happens, you know? It's just young people… it's normal! And honestly, who gives a s–t? The hardest part was talking about it afterwards. Because when you talk about other people, it affects them in ways you can't predict."
I honestly could have pulled another page of just excellent one-liners and interesting observations from the interview. I really enjoyed it! You can tell that he has a love-hate relationship with Hollywood and the people, like he genuinely likes getting scripts and meeting interesting artists, but he doesn't have a lot of time for the a—holes in the industry. I think it's interesting that he's still living in LA and that he really has no desire to go back to England. Most English actors aren't like that at all! As for the K-Stew stuff… diplomatic, but he gave Esquire a good quote and he probably knows that everybody will use it as the headline.
Photos courtesy of Esquire UK.