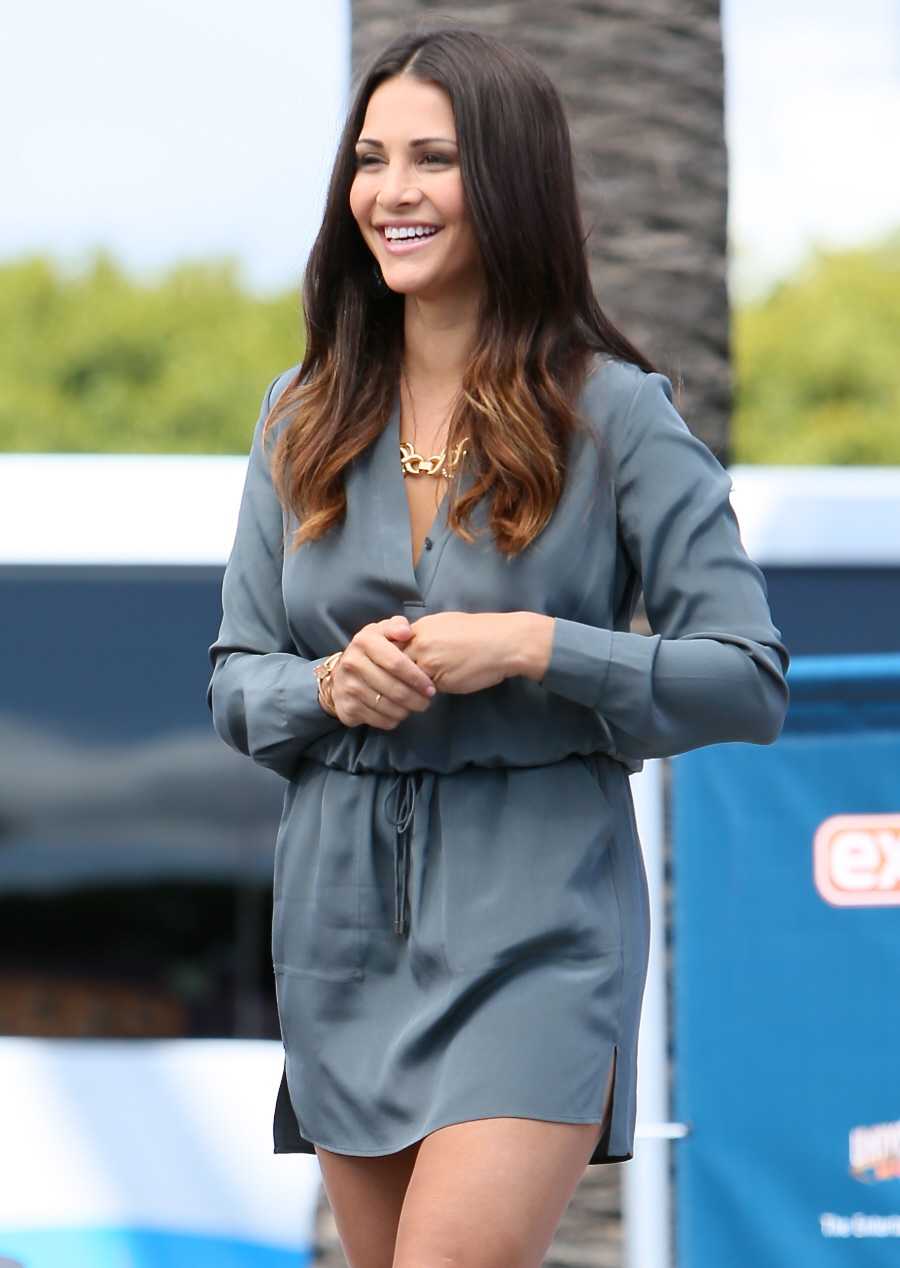 Y'all know I don't watch The Bachelor or The Bachelorette, but sometimes the headlines pull me in and I feel like I really should cover something, just a little bit. Apparently on Tuesday night's finale of The Bachelorette, (SPOILER) Andi Dorfman got engaged to Josh Murray and she declared that she loved him from the first moment they met. For what it's worth, it does seem like this match is a lot better than some of the other Bachelor/Bachelorette matches, and at least Andi and Josh live in the same town and they seem to genuinely like/love each other. But that's not the story.
The story is that Andi is a "slut" apparently. On both The Bachelor and The Bachelorette, contestants get a chance to bring some of their favorite people to the "Fantasy Suite" for sex. SEX SEX SEX. There's no big secret to this, and past contestants have talked about Fantasy Suite sex before. What's scandalous this time is that Andi spent some Fantasy Suite time with the runner-up, Nick Somebody, and Nick thought Fantasy Suite Sex = engagement, and he's been butthurt about it ever since Andi told him she wasn't choosing him and that he needed to go home. Nick brought this up on the "After the Final Rose" special, asking Andi: "If you weren't in love with me, I'm not sure why, why you made love to me." SCANDAL! As NY Mag writes in a piece called "Why The Bachelorette Wasn't 'Slut-Shamed'":
Debate all you want whether it was, as Andi retorted, "below the belt" for Nick to bring up their "private" Fantasy Suite interaction and the fact that they made love on live national TV, as her fiancé waited in the studio about to go on air, and as her parents were no doubt watching…

The more interesting debate is why we, collectively, seem to think that a woman should be humiliated for people to know that she had sex with a man she'd been dating non-exclusively for two months (on-camera!). Or that she'd had sex with him in the same week that she had sex with another man she'd been dating non-exclusively for two months (also on-camera!), with both men aware that she was dating more than one person.
Yeah, agree. Andi is a young woman with a healthy sexual appetite and if she wants to bang two dudes (one of whom became her fiancé), who cares? Angry old men care! Angry old men think Andi is a hussy and a slut. BURN HER!!
If Andi Dorfman thought Nick Viall went "below the belt," there's no telling what she'll have to say about Bob Beckel. During an episode of Fox News' The Five, co-host Beckel got very vocal about the Bachelorette and her nights in the infamous Fantasy Suite.

"She's a slut!" he declared. "I'm not kidding you. She sleeps with someone else, and then doesn't tell the guy about it. This is what America's come to, this crap."

Bachelorette fan and fellow co-host Andrea Tantaros quickly chimed in, "Are you kidding me right now? Excuse me, Bob! You probably sleep with a different woman every night."

"I'm not on some Bachelor, Bachelorette," he exclaimed.

"Those in glass boudoirs, Beckel, those in glass boudoirs!" Tantaros replied.
I'm including a poor quality video of the exchange below. I want you to think of this bloated a—hole the next time you think of doing something slutty, ladies, like being an adult woman in charge of her own sexual urges and getting your rocks off with whichever consenting adult you choose. The image of him belching out "she's a slut!" will be your birth control. Sluts.
Photos courtesy of WENN.