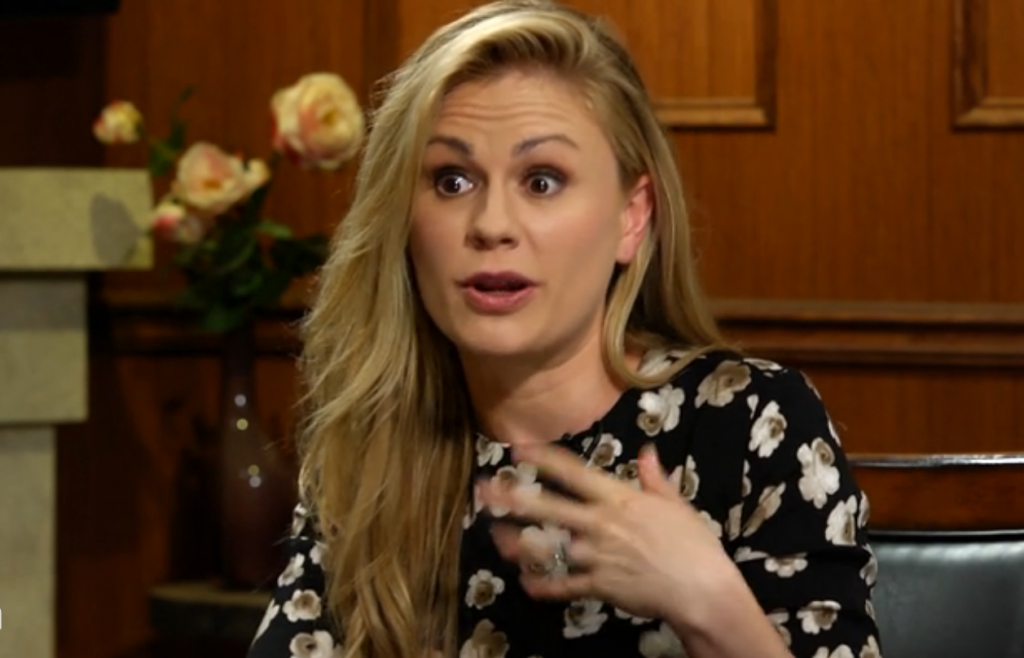 Anna Paquin was on Larry King Now a couple of weeks ago and US Weekly is just picking this story up recently. (As are we, thanks to US.) This just goes to show that no one is watching Larry King's show, which airs on an on-demand only network called Ora.tv. (You can watch Larry's show on Hulu.)
Anna was a little nervous but she was articulate and interesting as we've come to expect from her. Given how professional and smart she is I don't think she'll have problems finding another gig after True Blood. Unlike Anna, Larry King came off as kind of a dinosaur, though. He kept quizzing her about True Blood being a strange show and about all the sex scenes. Anna kept saying how it resonates with the audience and how she has fun filming it. When Larry was questioning Anna about her bisexuality, something she's been open about for years, he asked a lot of dumb questions about whether she's still bi and whether she's faithful to her husband. To her credit, Anna remained very matter-of-fact when explaining to Larry that no, she doesn't screw around just because she's bisexual. The whole interview made me want to face palm.
On all the deaths on True Blood
True Blood has a high body count so we like to kill people… especially people who the audience cares about

On if she thought True Blood would be a hit when she read the script
My taste is pretty skewed left of center so it was right up my alley.

On why True Blood is a hit
Because it's so out there and it's incredibly fun escapism and fantasy but also with aspects that are incredibly emotionally poignant and truthful… It's fun to watch.

On the sex scenes
We just do so much of it on the show… it's kind of become relatively mundane… it does become rather technical.

On the weirdness of the show
It's so much fun. That's some of the best stuff is the out so far detached from actual reality.

On why people like vampires
There's a sort of mystery and intenseness to their carnal and primitive drives… death and sexuality and ravenous desires being all mixed up and scary.

On how True Blood worked around their pregnancy
We tried to time it quite carefully. Up until the last couple of episodes there was a lot of creative… costuming. Then they CGIed the bump.

Larry King asks her "Are you a non-practicing bisexual?" (that's at 11:00 into the video)
I am married to my husband and we are happily monogamously married.

Larry King says "but you were bisexual"
I don't think it's a past tense thing. Are you still straight if you're with somebody? It doesn't mean you're not… it doesn't prevent your sexuality from existing. It doesn't really work like that.

Are you surprised at how quickly public perception of same sex has changed?
I think it's fantastic… the more people who are outspoken and advocate for same sex unions and LGBT rights… that does make a difference. The level of ignorance and hatred just becomes less acceptable.
[From video on Larry King Now]
At around 16:00 into the interview, Anna talked about how she was directed by Philip Seymour Hoffman in an off Broadway play in 2001, and how he really taught her how to act. She said he was tough but that she responded to that and learned a lot. She got a little choked up about him but held it together. As for her future career, Anna and her husband, co-star Stephen Moyer, are going to work on developing other projects with HBO but she said they're going to take a break for a bit first.
In terms of the headline, this is why so many people don't come out as bisexual, because of antiquated ideas that sexuality is a choice and that bisexual people are incapable of monogamous relationships. Anna has impressed me with her willingness to both come out as bisexual and continue to educate people about it. Ignorant people think that we are oversexed switch-hitters who sleep with whomever is around. The truth is that sexual orientation is on a continuum and some people fall in the middle. That's no more a choice than being straight or gay, and bisexual people are just as capable of fidelity as everyone else.
Spoilers for True Blood's last episode follow
I want to get off my high horse and talk about True Blood for a moment. There were some slow scenes, although I liked all the sex and romance this week, and the fact that we got to see Ryan Kwanten shirtless for the umpteenth time. I want Arlene to find true love, and I want Bill to get cured of his fast-acting Hep-V. Do you think that they're going to kill off Bill before the cure can be harvested from Sarah Newlin? I do, and I think that's why they're giving us so much of his back story. It makes me pretty sad, because the romance between real-life couple Sookie (Anna Paquin) and Bill (Stephen Moyer) is sweet to watch. I want a happy ending for them. A fan tweeted a question for Anna about whether there would be a True Blood movie and she said "I'm not sure where really it would go from where we wrap it up." Oh noes!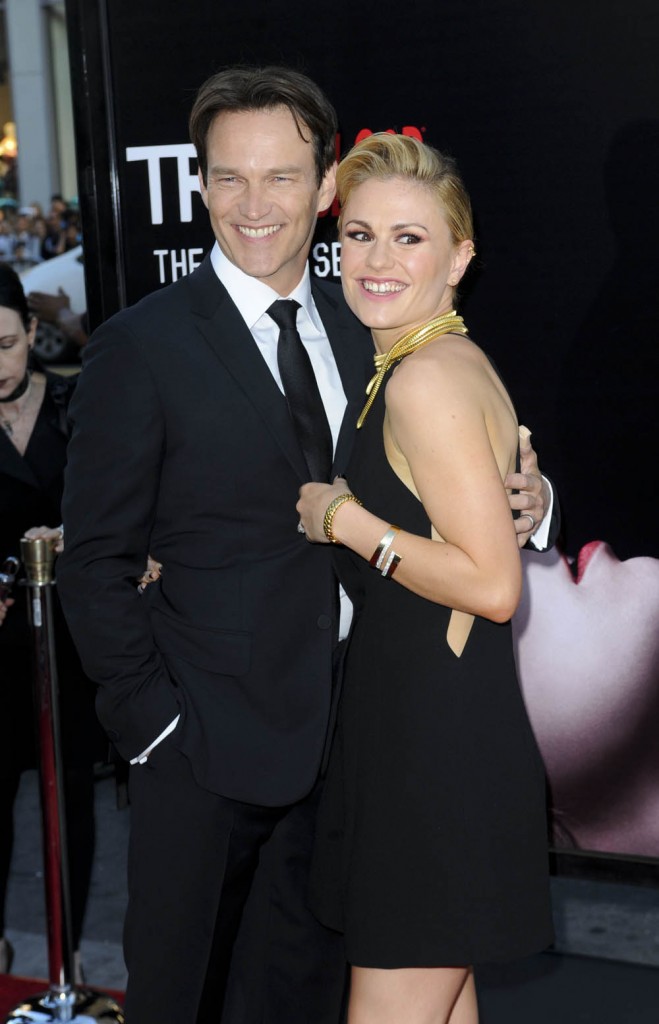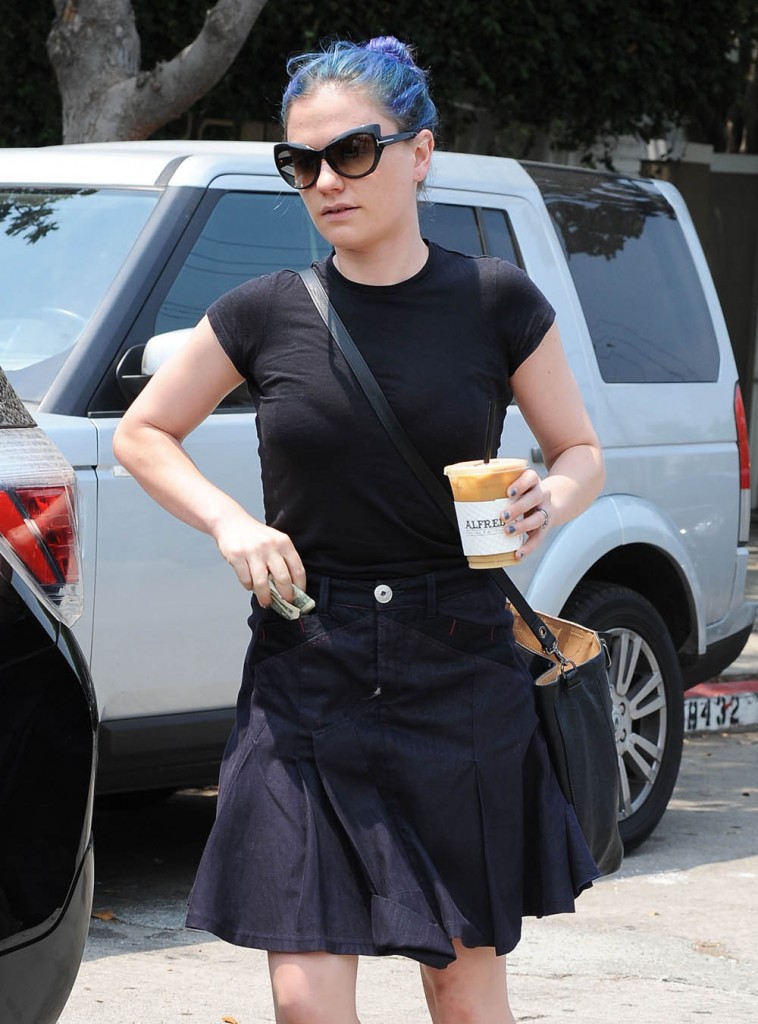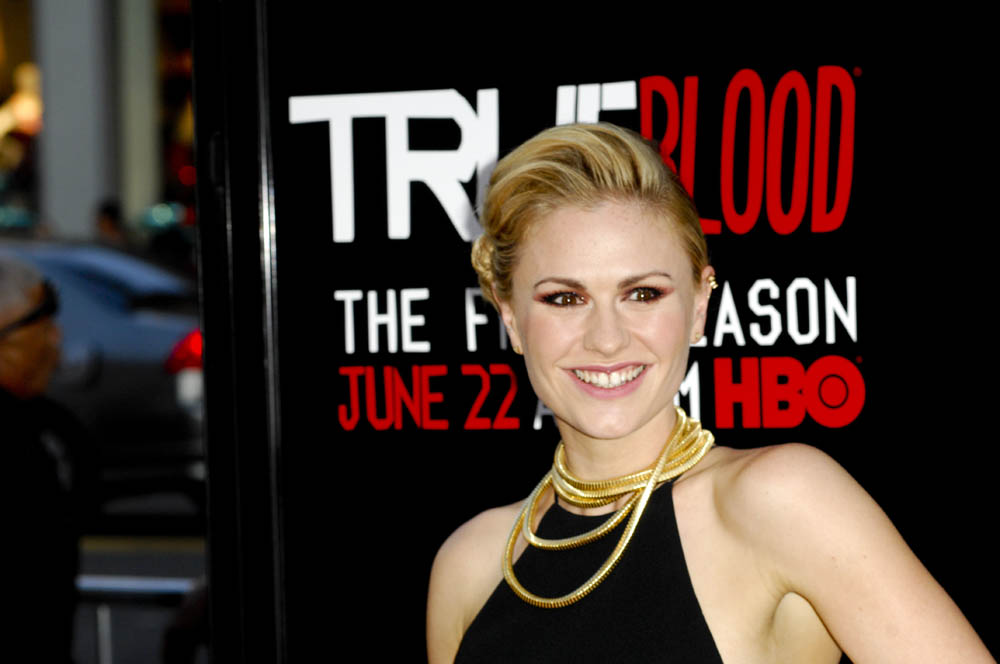 Anna is shown out with her blue hair on 7-29-14. She's shown with Stephen Moyer on 6-17-14. Credit: FameFlynet and WENN