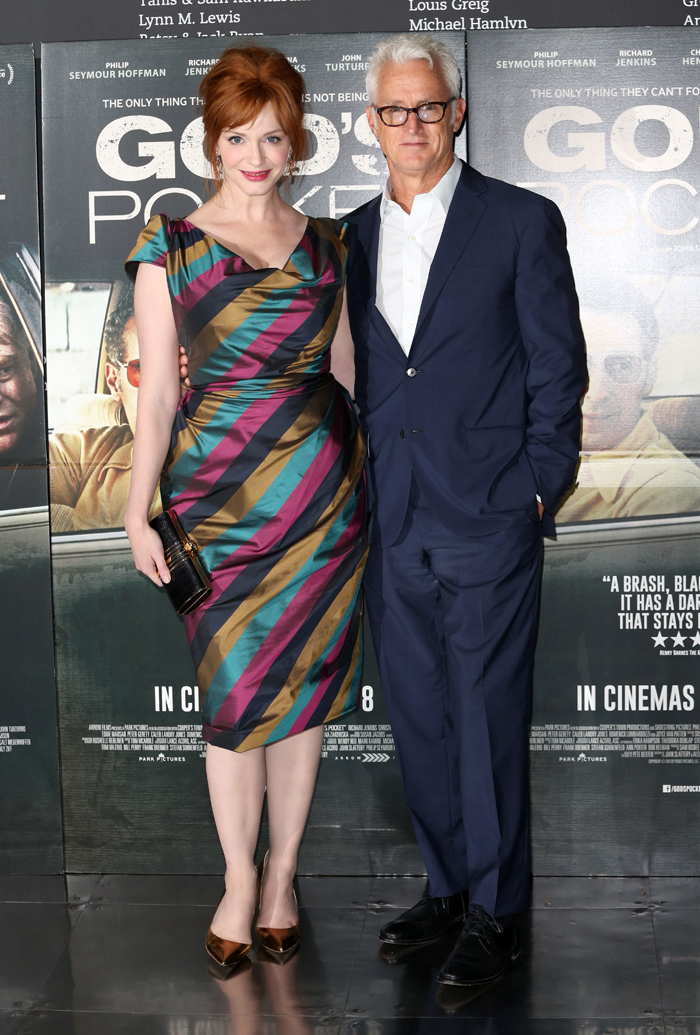 These are photos of Christina Hendricks and John Slattery at the premiere of God's Pocket. Christina's dress at the premiere is Vivienne Westwood. I always feel like Vivienne can really style Christina's body well. So many designers just push her boobs up and out, but Vivienne creates a silhouette that flatters the girls without making them look obscene. Christina works this dress like crazy.
Slattery directed this movie, which co-stars the late Philip Seymour Hoffman. His last few films feel like gifts for the public to unwrap. I still can't believe he's gone. Christina gets weepy about PSH in a new interview with The Guardian. She discusses a ton of other stuff here too. Christina talks more about how she's not interested in having kids. She says she gets sexually harassed nearly every day "at work." Oh, and she got dropped by her managers when she signed onto Mad Men. For real. I bet they feel pretty dumb right about now. Let's do this:
On the positive response to Joan: "I guess I was surprised. I watched what people responded to in Joan, and she's so many things, but I think it's her strength, resilience and confidence. My agency dropped me when I first agreed to play Joan in Mad Men. I had been on several shows that were meant to be the big ones, that would go on for ever, and they didn't. So there was no sure bet and I'd already taken a chance on them and I felt, why not do the one you're in love with and take a chance on that?"

Sexism in Hollywood: "You know, it's difficult in the arts to pinpoint it but there's sexual harassment at work every single day, all day long. Certainly in the respect and position [of women], you feel like, 'Am I allowed to ask these questions or contribute in this way?' … Society has conditioned you that way. As women, we feel we can't ask for things. There's been a lot of research done recently and, more often than not, if a woman goes in to ask for a raise, she'll get it. But she's thinking, 'Do I deserve it? I've got to give a list of why I deserve it.' Whereas a man will just go in and ask for a raise. It's so scary."

On Philip Seymour Hoffman: "I was saying to my husband [the actor Geoffrey Arend] that sometimes when you have a friend who passes, it feels very, very final," she says, and her eyes become filmy as she turns away and stares at the tablecloth. "But something about Philip … I keep thinking I'm going to see him again. I guess, when I watch the film now, I feel like it's a celebration of him. I feel lucky to have gotten to work with him. I feel grateful and I feel sad."

The last day of Mad Men shoots: "We didn't want to leave. I don't think it's fully hit me yet … We [the cast] all know each other more than most people on Earth know each other. A lot has happened these eight years. A lot of us have gotten married, bought homes, had children."

Did she ever want children? "I think in my mid-20s I did because I was moving around a lot and didn't have that sense of community, of being rooted. I know plenty of people who don't have children. And I also get a lot of people who say, 'Thank you for speaking out, my family don't understand why I don't want kids.'"

She has an anti-anxiety dog: "Service dog. So she can travel with me on aeroplanes. She's an anti-anxiety dog. She calms me down."

On her lack of privacy: "There's some horrible pictures of me chewing on meatballs [in London]. I've had more people come and say, 'Do you mind if I take a picture because my friend will never believe it.' Really? Why? Are you just a big liar? That's always the justification or excuse for it because it's not just a picture for them and their friend, it's a picture they're going to put on Facebook for their thousands of friends to look at."

The journo starts to ask about her body: "Don't do it," she says firmly, before I even get to the end of the sentence. She smiles but it's quite clear she means it. She finishes her raw steak and then places her knife and fork together on the plate. Just like Joan, there's a steely underwiring beneath that pale-skinned, blush-cheeked exterior.
[From The Guardian]
Christina also discusses more about how she was bullied in high school. I left that part out because people are tired of hearing celebrities talk about bullying. Her story does sound different than many. She wasn't just teased but also spit upon and sometimes in fear of being pummeled. Christina knows how to stand up for herself now. Look at how she shut down that journo for trying to talk about her body. You go, girl.
Christina wore a Temperly London jumpsuit before the premiere. This look is flattering, but it's nowhere near as fun as the Westwood dress.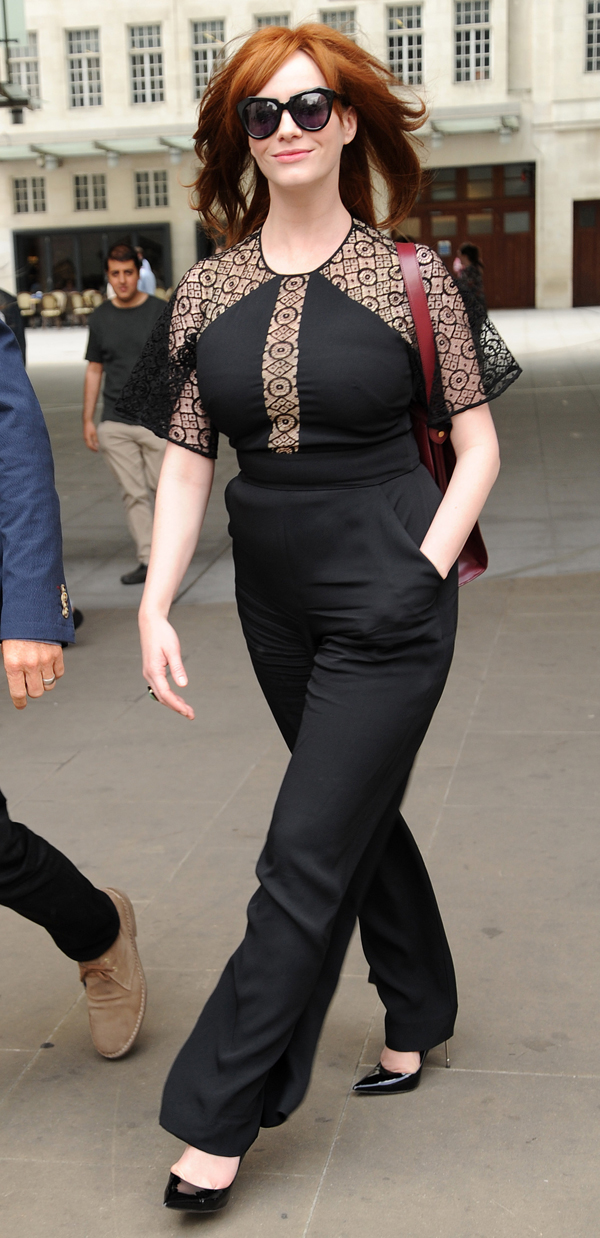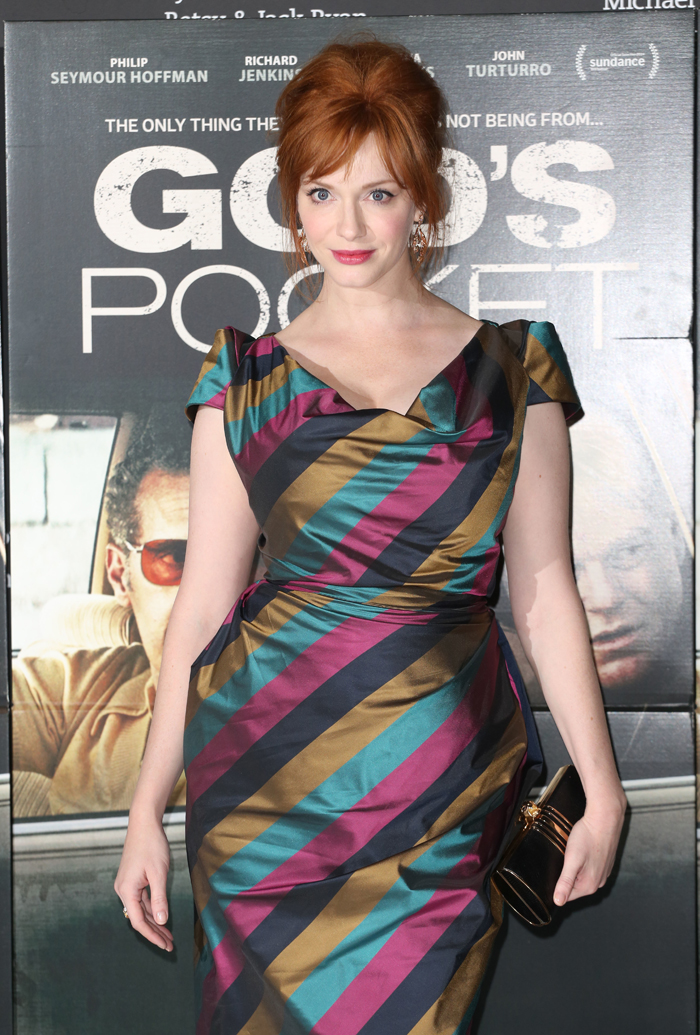 Photos courtesy of WENN