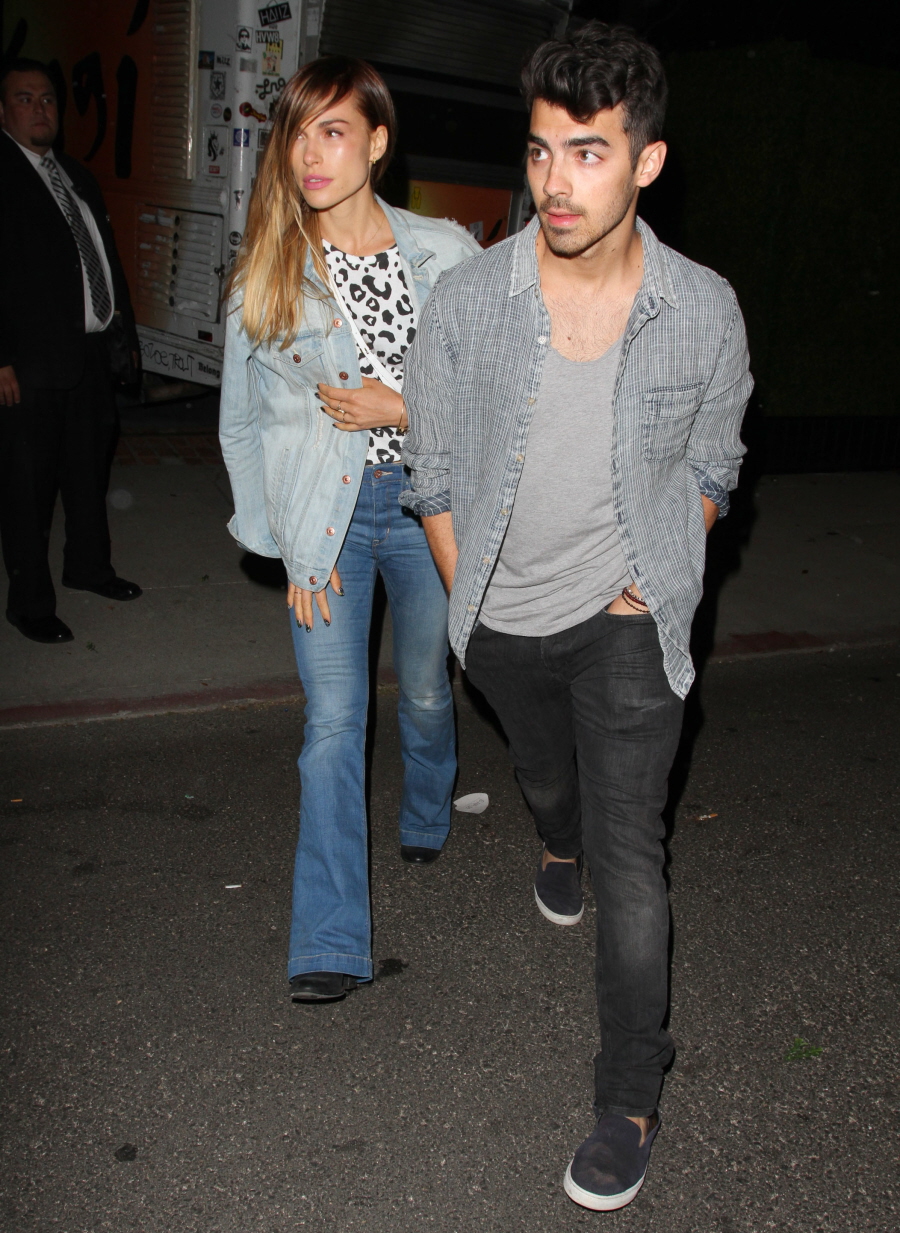 Don't ask me why, but I still sort of care about the Jonas Brothers' love lives. I'm sort of shocked that none of the brothers have publicly imploded actually – they were part of Disney machine, they publicly discussed their virginity, and their mother seems like a world-class nut-job. All necessary factors for any or all of the JoBros to implode. So far it hasn't happened, although I wouldn't really say they're the most well-adjusted young men. Let's take Joe Jonas. Joe has dated ladies like Camilla Belle, Taylor Swift and Demi Lovato. For the past year and a half, he's been with a young woman named… Blanda Eggenschwiler. For real, that's her name! Joe and Blanda have been loved up all over the place… but no more. They called it quits, as of this week.
No longer his lovebug! Joe Jonas has split from his girlfriend Blanda Eggenschwiler after 20 months of dating, his rep exclusively confirms to Us Weekly.

"Joe and Blanda have mutually decided to part ways," Jonas' rep tells Us. "The split was amicable and the two remain friends, with great respect for one another."

The former Disney star and Eggenschwiler, a graphic designer and model, started dating in November 2012 after being introduced through a mutual friend. In the following months, the Swiss-born beauty and her beau stepped out frequently together at parties and various Hollywood events.

The pair last attended the Cadillac & Refinery29 party together in Hollywood on Jun. 19, where an observer told Us that there appeared to be tension between the two. "He posed for photos by himself and then stormed inside," an eyewitness told Us of Jonas.

The relationship also had many high moments. In January, the pair traveled to Hawaii together with his younger brother Nick Jonas and his girlfriend Olivia Culpo after attending a pal's destination wedding. In May, they went to Nylon's music issue party, where an observer noted: "You can tell Joe and Blanda are happy together," adding that the couple seemed "to get along well" and were "light hearted" around each other.

Eggenschwiler, 30, is the latest lady to be added to Jonas' list of exes, including Taylor Swift, Camilla Belle, Demi Lovato, and his pal Ashley Greene. In an extensive, tell-all interview with New York magazine last December, the middle Jonas brother, 24, reflected on his former flames — and his sexual history.

"I did other stuff before then, but I was sexually active at 20," Jonas revealed. "I'm glad I waited for the right person, because you look back and you go, 'That girl was bats—t crazy. I'm glad I didn't go there.'"

Jonas — who was with Eggenschwiler at the time the interview was conducted — told the mag that he was happy with the relationship. "Now I'm with someone I really care about," he said. "We get each other."
I had forgotten that Joe talked about losing his virginity – Bedhead covered that interview last year. So, Joe Jonas had sex with Blanda. I guess. Do you believe that he and Blanda made sweet love to each other twice a week with the lights off? Or do you believe Blanda is the worst beard name ever? No, the worst beard name is probably Heteronormative McBeardy. Then again, at this point, I kind of think that if Joe Jonas was gay, he would just come out and talk about it, you know? Anyway… poor Joe. Hopefully he'll find some young C-list starlet who wants to be photographed with a Jonas brother at Coachella. Oh, and Taylor Swift is single these days too. Will the exes reunite? Hahahaha.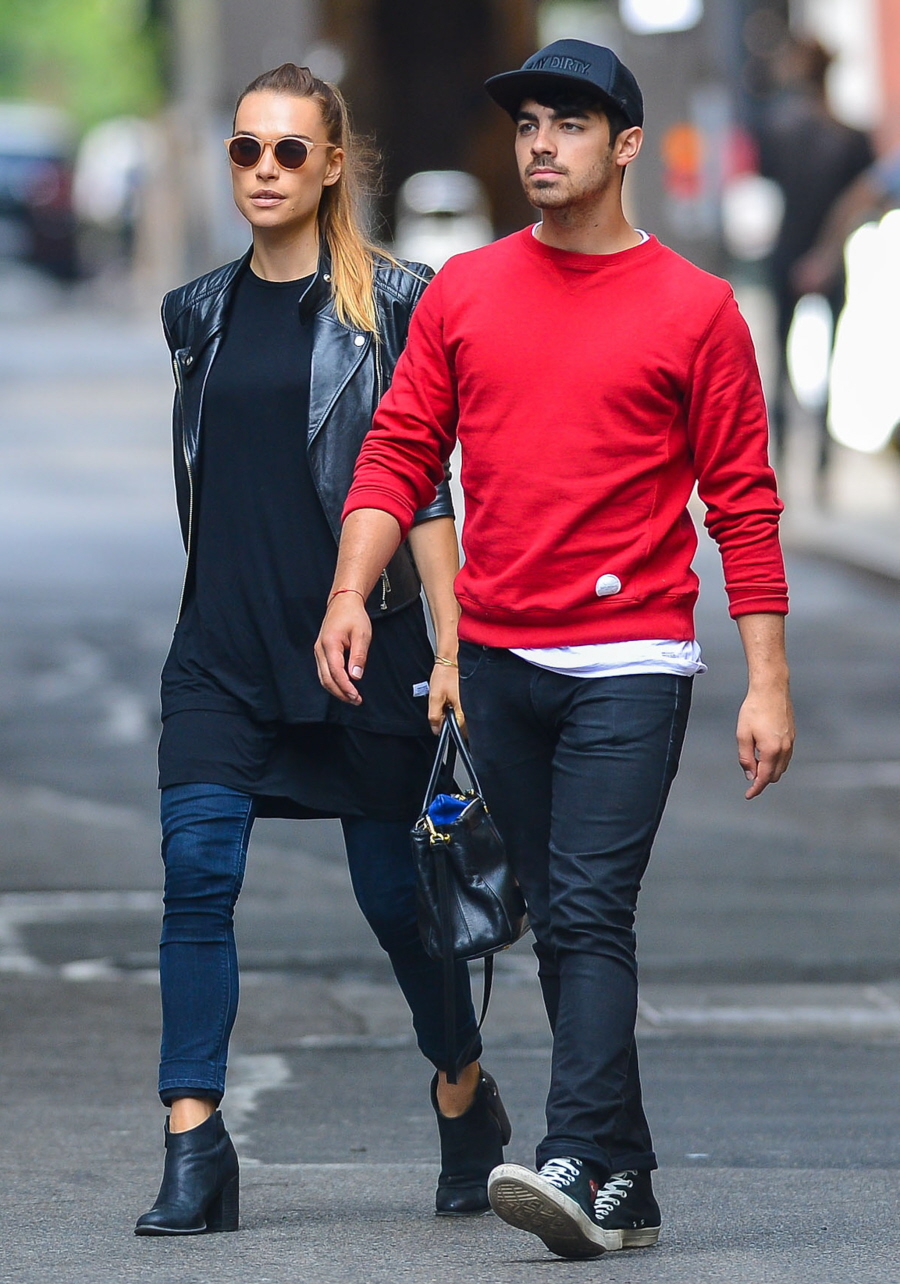 Photos courtesy of Fame/Flynet.