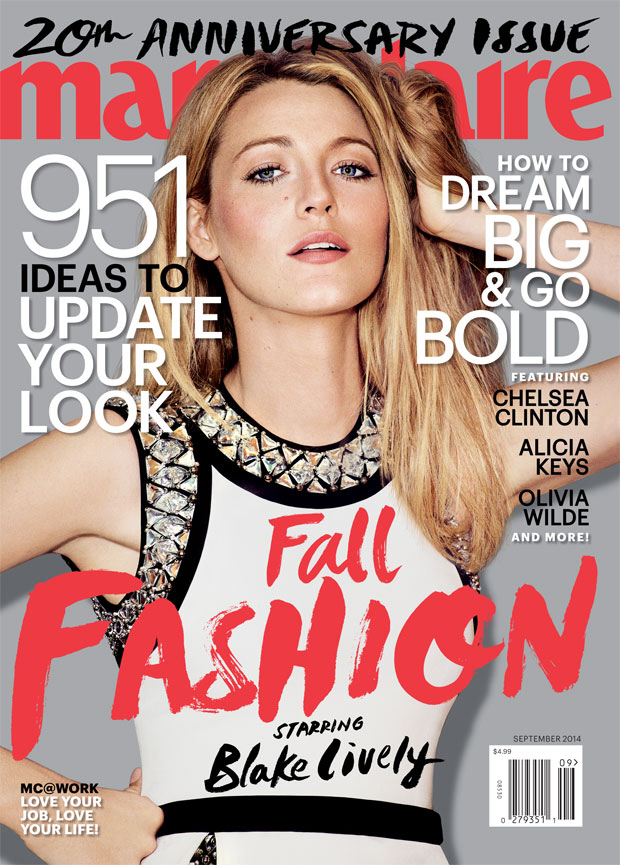 I wasn't surprised to see Blake Lively on the September cover of Marie Claire, even given the fact that she literally has NO film or TV project to promote. She managed to get a Vogue cover even though she was only promoting Preserve (her shopping site). So, obviously, she got another major fashion cover. And it's terrible. The cover is bad – her head is at such an awkward angle – but the interior shots are really awful. Anyway, you can read Marie Claire's excerpt here and here are some highlights:
She isn't surprised by her life at all: "I always knew I would do something like this."

Random details from the interview: The interview is conducted at NYC's Bowery Hotel, with 10 flavors of Il Laboratorio del Gelato ice cream on the coffee table. She has a white MackBook and she got a Disney sticker of Snow White to "go" with the Apple logo. And "Her go-to curse word is 'gosh.'"

Working with Chime for Change, courtesy of her Gucci contract: "I was so excited, because I knew [Gucci] could help me realize some of the desires I had," says Lively. With other charities, she explains, "you can send them your donation, but it's hard to track the progress of what you've given, so it's hard to stay emotionally invested." Also, a lot of organizations have seemed mostly interested in getting a good photo op with Lively … which is kind of a bummer. "It brought a moment of attention to them. But I don't want my picture taken. I want to do something."

On her relationship with Ryan Reynolds: "We've never gone a week without seeing each other. There's no major decision that I make without him. The best part is when we turn off our phones and just talk and hang out. He's my best, best friend. What do you do with your best friend? You do nothing."

On her past claims of wanting 30 kids of her own: "I gotta get started. If I could spit out a litter of kids, I would."

On her new venture, Preserve, an immerse lifestyle e-commerce website: "I went straight from high school to Gossip Girl, and both were very structured, scheduled environments, so I never had freedom to explore and carve my own path. When I finished my show, I wanted to take a break from acting and try what I would have tried if I hadn't acted, and that was this."

On Reynolds' favorite meal: "Honestly, all he wants to eat is hot-fudge sundaes."
Blake has been using similar lines about baby-making for the past few years. She either really wants babies or she really wants people to believe that she wants babies. Which is it? I think it's probably both. She wants to be a mom and maybe it's slower going than she expected, but I think she also wants to check off that box – "Blake can't wait to be a mom!" headlines on People Magazine, etc. As for Ryan's desire to eat hot fudge sundaes all the time… there's some sort of sex joke in there but I can't work it out.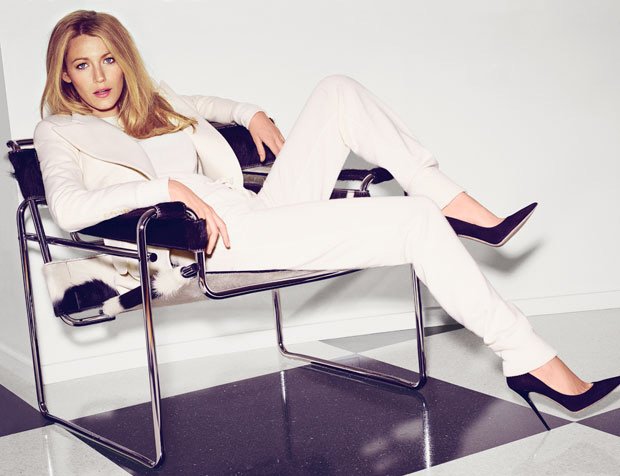 Photos courtesy of Guy Aroch/Marie Claire.