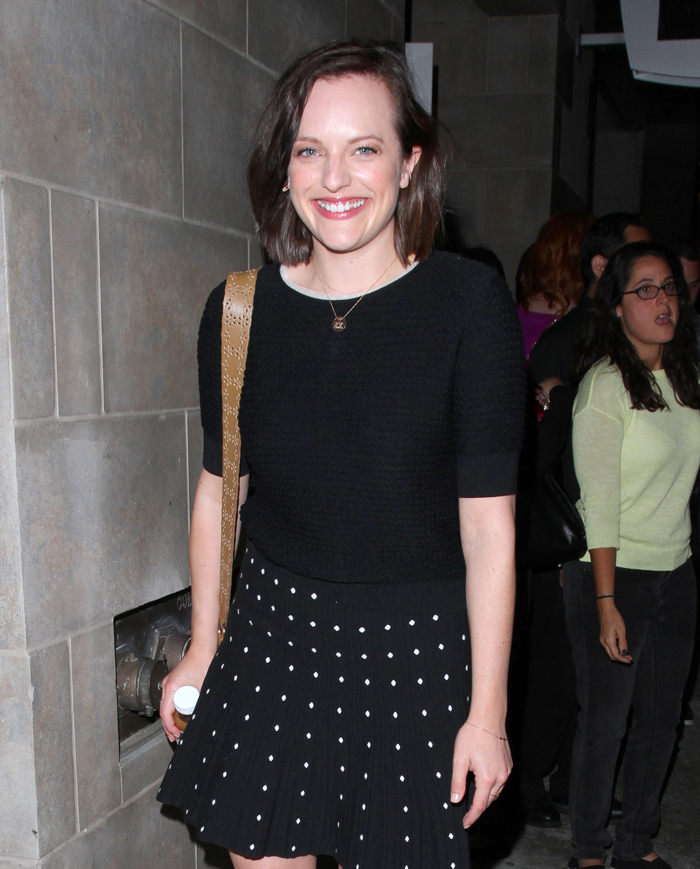 Elisabeth Moss is currently on tour to promote The One I Love, which is playing on demand. It's also hitting theaters on Aug. 22. That's a new strategy for studios (a near simultaneous online and theater release) and usually happens with indie flicks. This movie looks depressing, so I don't know how well it will play in theaters. Elisabeth's the standout name in the cast unless you count Ted Danson or a brief appearance by Marlee Matlin.
Elisabeth has big things on the horizon in her post Mad Men time. She will be working with Tom Hiddleston on High Rise. Lizzie is also reportedly in talks to star with Vince Vaughn in True Detective for season 2. For now, she's promoting her indie film and did a 25 Things feature with Us Weekly. She sounds quirky but doesn't disclose anything huge. Like, she doesn't talk about Scientology. Let's do this:
1. I have an extraordinary amount of shorts. I wear them all the time.
2. I can't swim underwater without holding my nose.
3. I love showers and take them twice a day.
4. I like traveling alone.
5. Red wine is my friend.
6. I swallow my gum. Like, all the time.
7. I don't like tea.
8. I dry-clean my pajamas so they stay soft and perfect.
9. New York is my favorite city in the world.
10. I'm a great napper.
11. My least favorite thing is having to get up early.
12. J.D. Salinger is my favorite author.
13. I love TV and watch a lot of it.
14. I contemplated being a country singer when I was about 11 years old.
15. I am obsessed with sushi.
16. I don't have any tattoos. I think about getting one every day, but then I get scared.
17. I prefer brunet men to blonds, but I prefer being blonde rather than brunette.
18. Every two years, I take up knitting. I've never finished a scarf, but I love buying yarn.
19. Disneyland makes me extremely happy.
20. I have two cats, named Lucy and Ethel. They are sisters, and I adore them.
21. I love the sound of rain, and I love lying in the sun.
22. It's best not to speak to me pre-morning coffee.
23. I want to live inside an Anthropologie store.
24. I text way too much.
25. I love flowers and wish I owned a flower shop.
[From Us Weekly]
Elisabeth sounds fun, right? She sounds as "normal" as one can be for being a celebrity, but there are some semi-interesting quirks. Red wine is amazing, and getting up early is a bummer. Imagining Elisabeth as a country singer is so strange since I'm used to seeing her in 1960s Mad Men regalia. Does she really always swallow her gum? That's a weird habit. Swallowing gum has been proven to be relatively harmless (except in extreme situations). If she's really swallowing it "all the time," that could be a problem.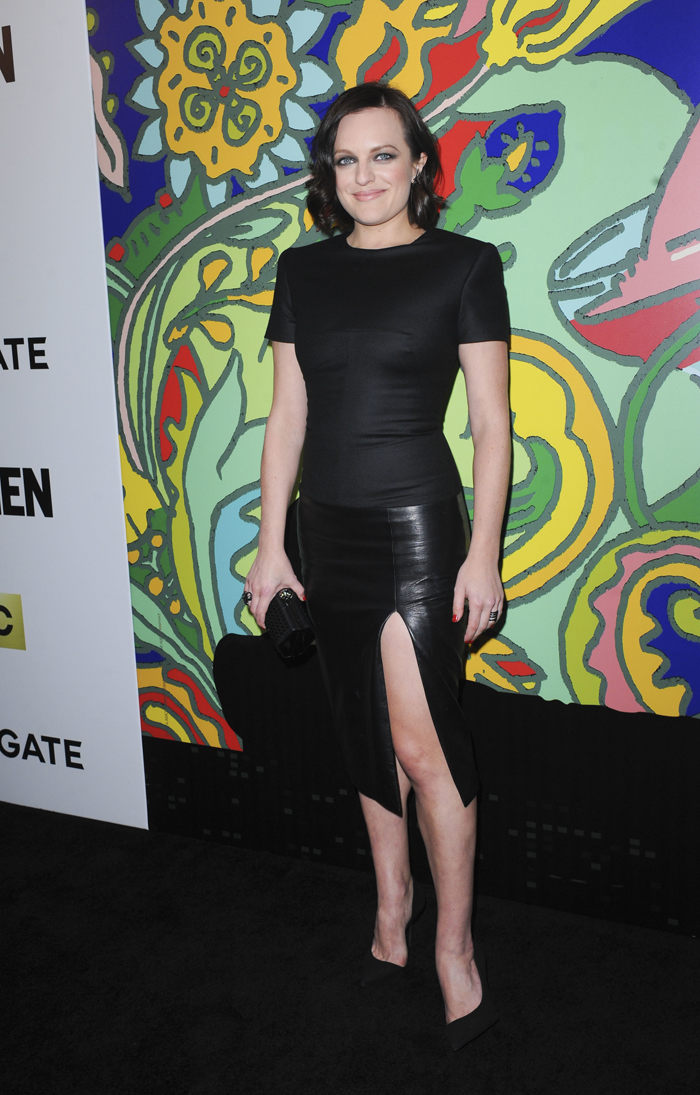 Photos courtesy of Fame/Flynet & WENN