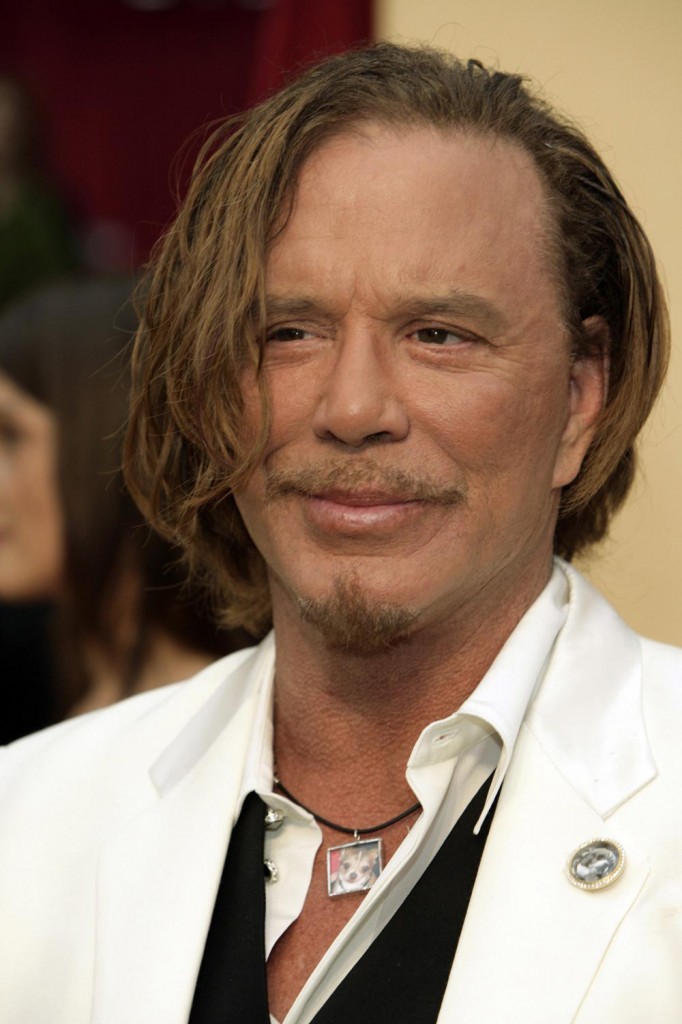 Many who saw Mickey Rourke on the Independent Spirit Awards stage on Saturday night, or on the Oscar red carpet on Sunday, felt real sympathy for hime. On both occasions, he wore a small pendant necklace with a picture of his beloved dog, Loki, who died last week – six days before the Oscars.
When Rourke was talking to Ryan Seacrest on the Oscar red carpet, Rourke said a line that made me tear up: " I'd rather have Loki back for another 2 years than an Oscar." I don't know if Rourke took his Oscar loss to Sean Penn well (he seems to, as there are pictures of the two men embracing at the Vanity Fair party), but the Oscar experience has made Mickey want to get another dog – and he's going to name this one "Oscar".
Mickey Rourke is getting an Oscar after all!

The Academy Award-nominated star, who recently lost his beloved dog Loki, says he's getting a new Chihuahua this week and he's going to name it Oscar.

"The Wrestler" star may have lost to Sean Penn last night for the Big Award but he's telling friends that he'll have his Oscar regardless.

"Mickey has other dogs but he misses Loki terribly," a friend of the star tells RadarOnline.com. "He doesn't want to wait long either – he wants to get his new pooch this week."

On Saturday night Mickey took home the Independent Spirit Award and in his colorful acceptance speech he dedicated his win to Loki, saying, "This is for you, baby!"

"The new dog won't replace Loki but by naming it Oscar Mickey says he'll make his comeback year even more special," added the friend.
From Radar Online
I think it's a great idea for Mickey to get another dog. Those puppies are his babies, and he seems to just be the greatest, most loving dog owner ever. But maybe wait a little bit, grieve for your pet, then in about a month go out and get another animal. That's just my opinion, though. Mickey has like seven other dogs, so maybe he really just wants another little dog to care for right away. And Oscar is a really cute name for a dog!
Mickey Rourke is shown out with Loki on 1/22/09. He is also shown at the Oscars and the Vanity Fair Oscar party. Credit: WENN