I've just looked on the Daily Mail website, and it looks like Cate Blanchett is back to looking like her normally glam self. The pictures of her looking like Marc Anthony's long lost Aussie sister that appeared of her at the gala for New York's Metropolitan Museum of Art in New York were thankfully just a result of bad lighting, bad make-up, and a bad dress choice.
Cate is whippet thin and I still think a trip to Pizza Hut is still in order, but at least the black dress that she wore to "Time Magazine's 100 Most Influential People In The World" party covers up her collarbone and her shoulders, giving her a slim look without making her look like she's the Crypt Keeper's stunt double. The gold dress in the Met gala picture is completely wrong for her — it would look better on a curvier body type with a bit of a tan, in my opinion. If she has indeed lost the weight for a film role, then let my eyes water after I've seen the movie knowing her painfully thin collarbone is the result of Cate being really committed to her craft, as opposed to committed to not eating Kraft. Seriously, I reckon I can juice an orange if I put it on those bones jutting out of her shoulders.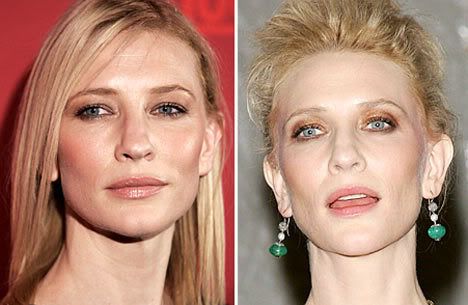 In the Met Gala picture, Cate's face looks severe with her hair pulled back, and her make-up makes her look ghostly pale, emphasising the cheekbones resulting from her weight loss. In the Time party pics, you can see she is using much rosier colors on her cheeks to make her face look warm, not gaunt.
I'm glad to see Cate is back to looking like a million dollars. If I were her, I would really consider firing the stylist who shamed her at the Met shindig. Dawn of the Dead is never a good look to go for.