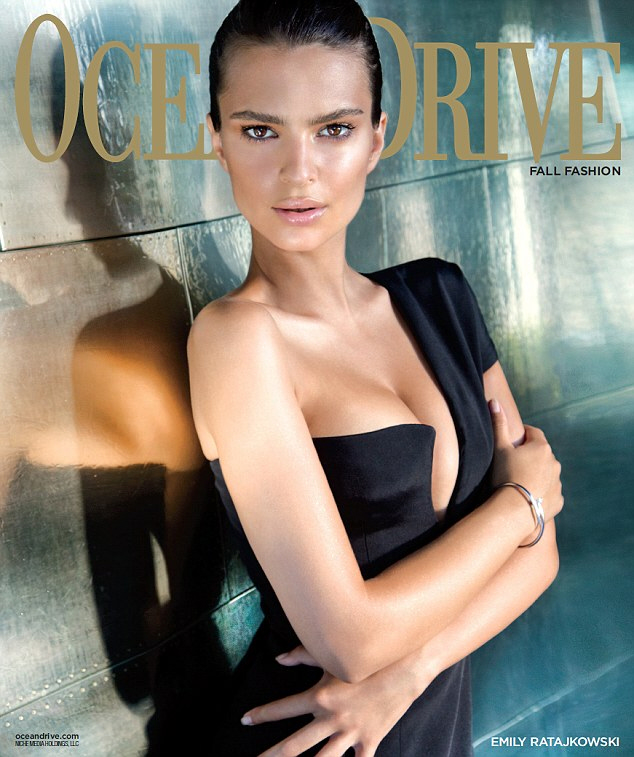 Emily Ratajkowski covers the new issue of Ocean Drive. At this point, I can safely say that she has done more press for Gone Girl than Rosamund Pike. Granted, I love Pike but she's kind of a snooze. Everybody is still talking about or to Emily though. And she has thoughts! Thoughts about declining European power. And feminism. And the importance of nudity. Or something. You can read the full Ocean Drive piece here, and here are some highlights:
Dancing around naked in the "Blurred Lines" video: "Anything that's in pop culture and involves naked women and dressed men should be criticized or at least inspected, so I felt glad that it was criticized, because it gave me an opportunity to say the things that I felt about feminism today and about women in general in pop culture."

And just what did she have to say? "There's a larger thesis that I carry with me in general and that translates over to work like Gone Girl that I've been doing. We're at an interesting time where women have been told to take the pill is cool, to sleep with whomever you want, or wear what you want. But if you're naked, it can be offensive or sexist in some way. That's the last step our culture needs to deal with. We have this culture of men, especially, watching pornography, but then offended by a classic nude portrait or photograph, and I've never felt that way."

She gets naked for women, to empower women: "The female body is a beautiful thing, and it should be embraced and celebrated, and there's nothing wrong with being comfortable in your own skin. If anything, it can be really beautiful. And the way that I was dancing, sort of sarcastically and I felt silly, it wasn't for men—it was for myself and for other women, just like you would dance around your apartment."

Her mistress character in Gone Girl: "Some viewers are going to think, I see why he was cheating on his wife: Not only was he unhappy, he has this sweet, beautiful girl that totally loves him. And then a lot of women are going to go, That little slut!"

Ben Affleck suggested her for the role: "I came to the audition in Los Angeles and not only were the casting director and David there but also Ben Affleck, and I realized that they were pretty serious about me. We sat for 45 minutes running the scene and just talking about Gone Girl as a story, and Andie as a character. I left feeling pretty confident but also knowing that it was Sunday of Labor Day weekend and I probably wouldn't hear for a few days. But an hour and a half later, my agent called and said that they were offering me the part."
Just like with her GQ interview, my radar pinged when she talked about Affleck. In this Ocean Drive piece, she also said that the whole cast and crew were staying in Cape Girardeau, Missouri, but that she and Ben were kept "in a bubble" because that's what their on-screen relationship was like – none of Nick Dunne's friends or family knew about the mistress either. When she's asked if she bonded with Ben on a personal level, she refuses to answer the question. Huh. I'm not saying anything untoward happened between Emily and Ben. Seriously, I'm not. I'm just saying… Ben seems to choose his romantic/sexual co-stars very carefully. He's looking for something specific. Big boobs, sexy, comfortable with nudity. Huh.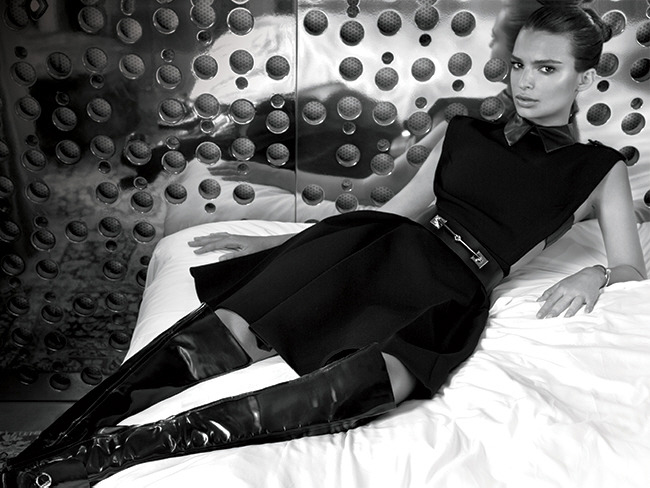 Photos courtesy of Ocean Drive.