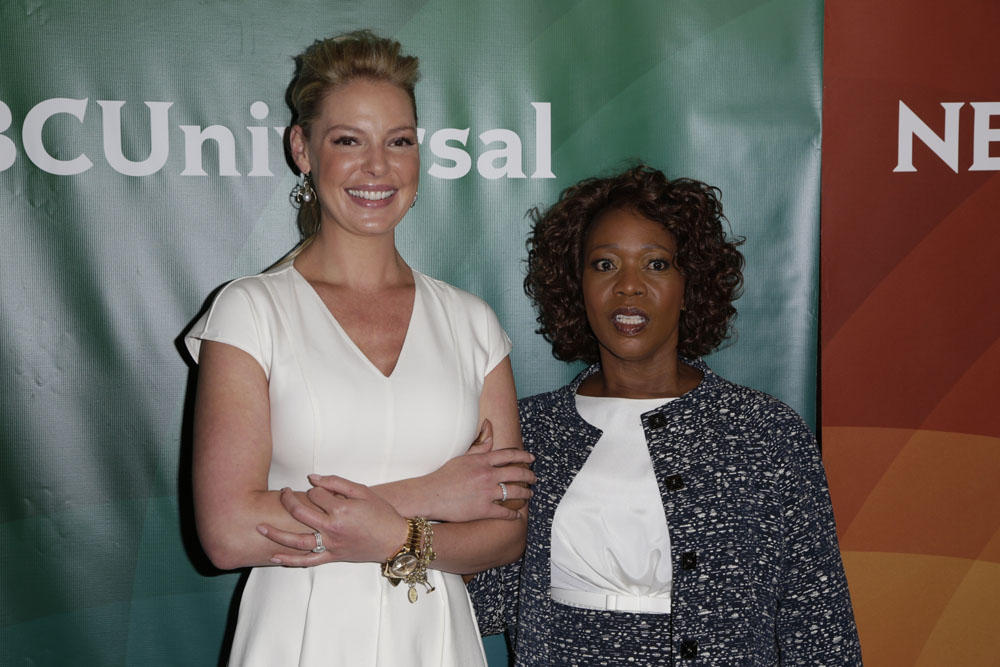 About a week ago, news came out that showrunner Ed Bernero (Criminal Minds, Third Watch) was exiting Katherine Heigl's upcoming TV drama, State of Affairs. Sources were careful to tell EW that "the exit doesn't have anything to do with the show's star." This was a necessary but unconvincing clarification, given Heigl's well-earned reputation as difficult to work with. (Which she denies despite all evidence to the contrary.) EW's story didn't mention Katherine's momager, Nancy, at all, who is an executive producer on the show and is likely to be a royal pain in the ass to deal with.
Here's an anecdote from Mike Walker in the National Enquirer which again cements Heigl's status as difficult. Walker has run previous insider stories on Heigl, and I think he has a source on the State of Affairs set. He claims that Heigl made producers reshoot an entire scene because she didn't like the way her butt looked. This was eyeroll-inducing for her more professional co-star, Alfre Woodard, who suggested she just use a butt double if she had a problem with it.
Katherine Heigl – viewing dailies of her new "State of Affairs" TV series – suddenly screamed at producers: "Look at how you filmed my BUTT!! My #*%$ ass looks like the size of Nebraska!" Said my on-set spy: "Katherine's notorious temper's infuriating people – especially her Emmy Award-winning co-star Alfre Woodard, who got particularly upset when she demanded a reshoot of an entire scene because she felt they hadn't done a good enough job of flattering her posterior! And when Miss Woodard suggested bringing in a body double with a smaller behind to stand in for Katherine, the proverbial 'fit really hit the shan.' Katherine exploded, shrieking, 'I've got the best butt in Hollywood!'
[From The National Enquirer, print edition, Mike Walker's column, September 1, 2014]
If the facts of this story are true, that Heigl demanded a reshoot of an entire scene because she didn't like the way her butt looked, that's ridiculous. Even if she was humorous and self-deprecating in the way she asked for a reshoot (and this story claims she was arrogant and egotistical), it still must cost tens of thousands of dollars to reshoot a scene, not to mention the time and frustration factor. (Breaking Bad cost around $3 million an episode to make, so it's not a stretch to assume $2 million or more for this show.) Heigl must know how expensive it is to film a scene so you would think she'd try to keep her ego in check.
I'm interested to see how State of Affairs, a thriller and Homeland knockoff, fairs when it stars airing on NBC in November. Halle Berry's very decent NBC scifi series, Extant, is struggling in the ratings and was moved to a later time slot. (I'm still watching it, I really enjoy that show.) It's still not known whether it will be renewed. When an actress as captivating and skilled as Berry can't ensure a TV show's success, the chances that failed romcom queen Heigl can are incredibly low.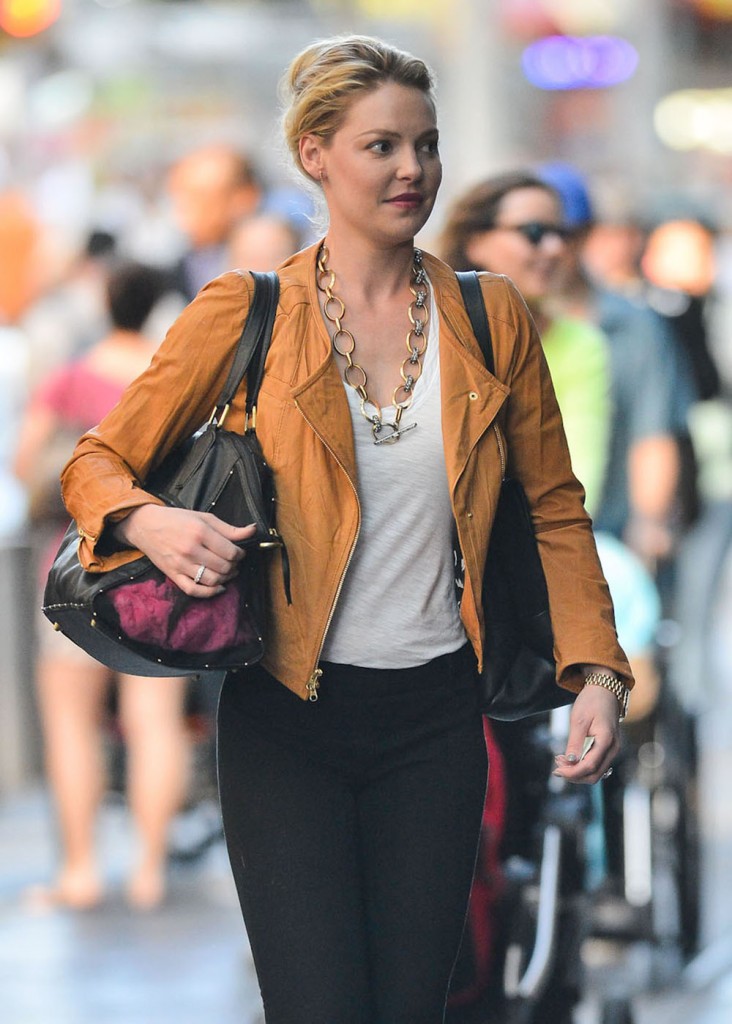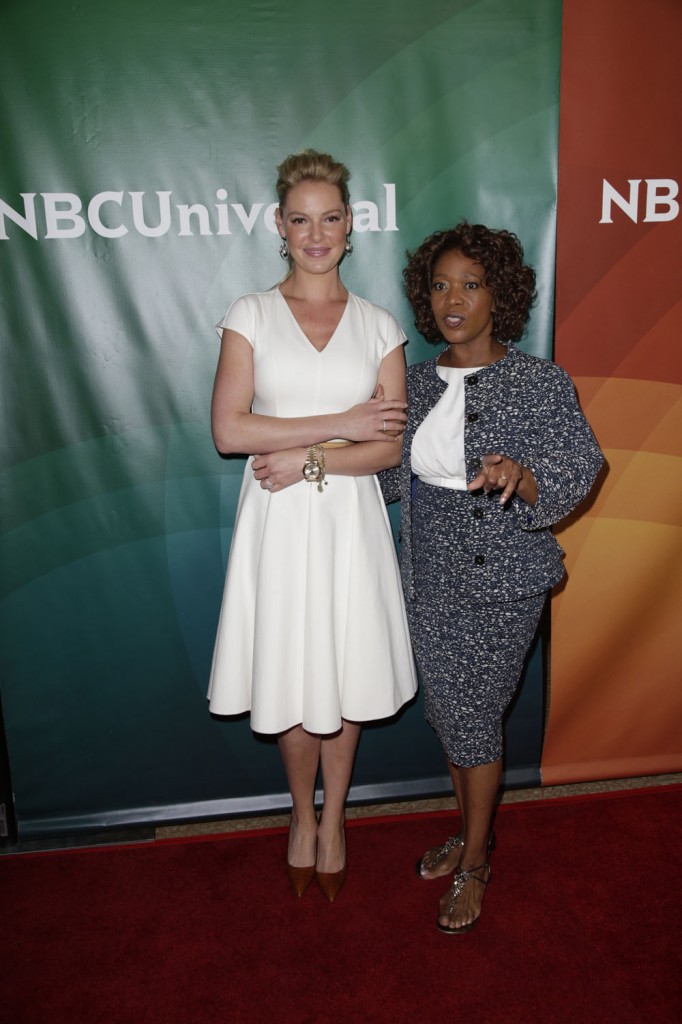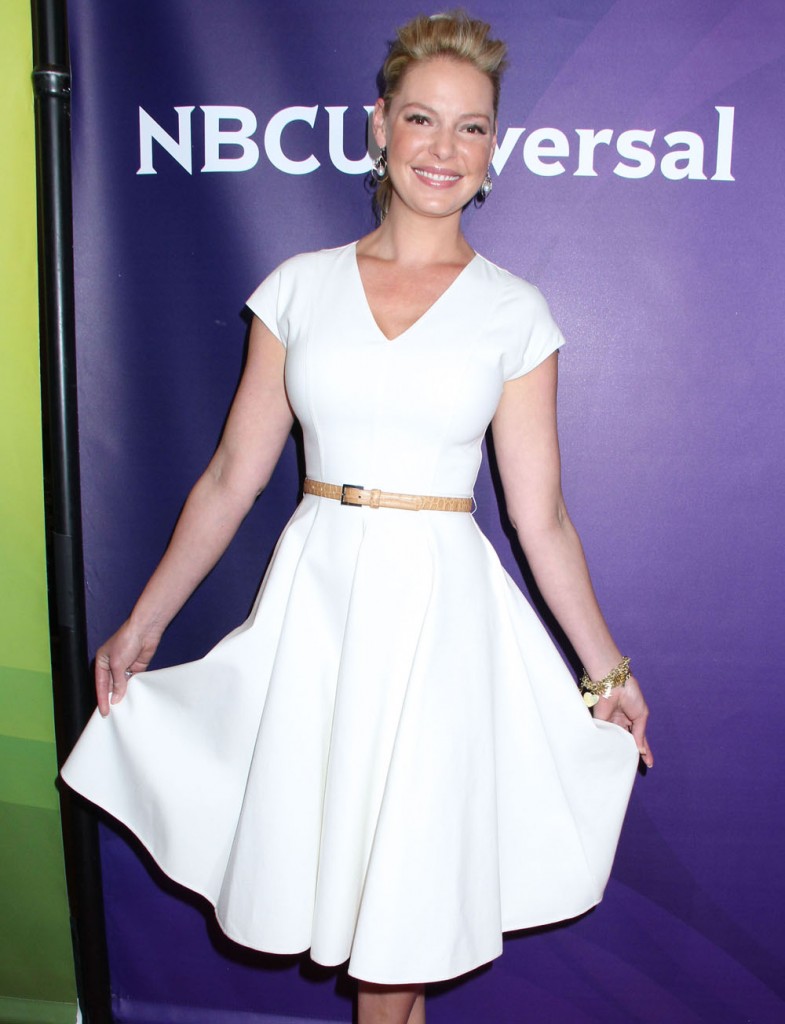 These are photos of Katherine Heigl and Alfre Woodard on a press tour in July. Look at their body language. Heigl is also shown out in NYC in May. Credit: WENN.com and FameFlynet