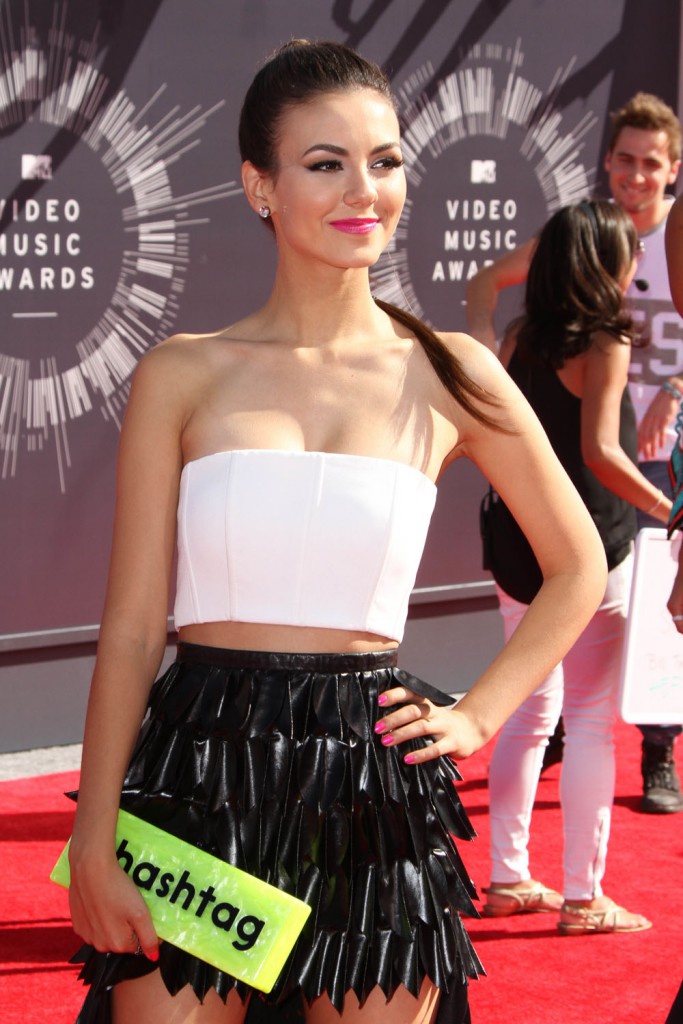 We'll be bringing you fashion from the VMAs this morning, which aired last night on MTV. I enjoyed the performances, which were pretty raunchy and entertaining as a whole. There was no host but Jay Pharoah told some raucous jokes and did a great Kanye impression. Plus there were some good speeches, particularly Miley letting a homeless young guy go up to bring awareness to the cause. Kaiser will have a recap a little later.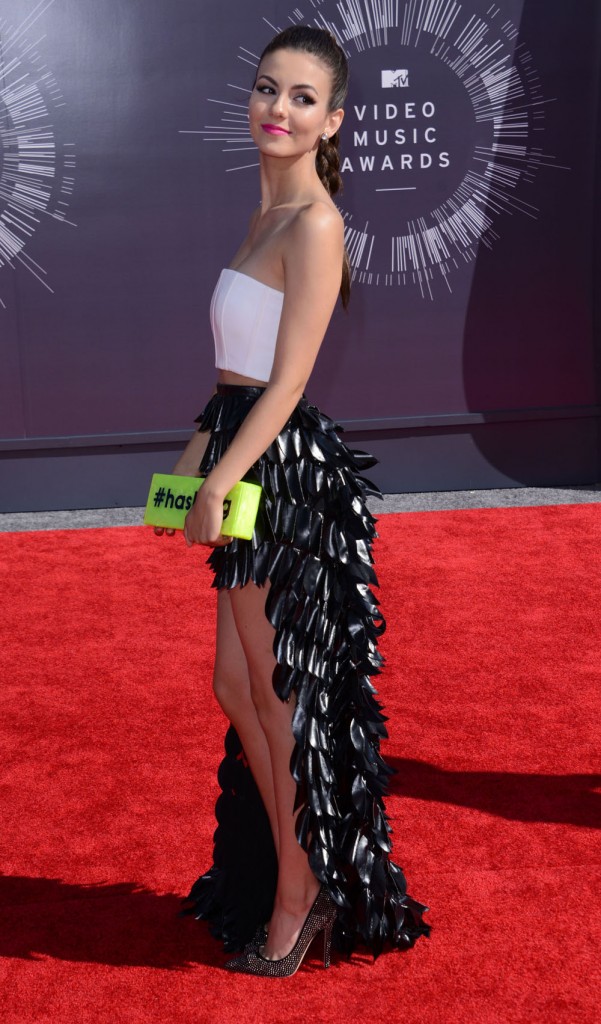 First off we have Victoria Justice in a Alice + Olivia white tube top paired with a custom made LUBLU Kira Plastinina skirt, Jimmy Choo heels and an Edie Parker clutch. They like this skirt at Red Carpet Fashion Awards and say that Victoria gets a hall pass because of the VMAs. This looks like a craft project made of Hefty bags and reminds me of the prom dress made out of Starburst wrappers. Yes Victoria can pull this off somewhat, but why?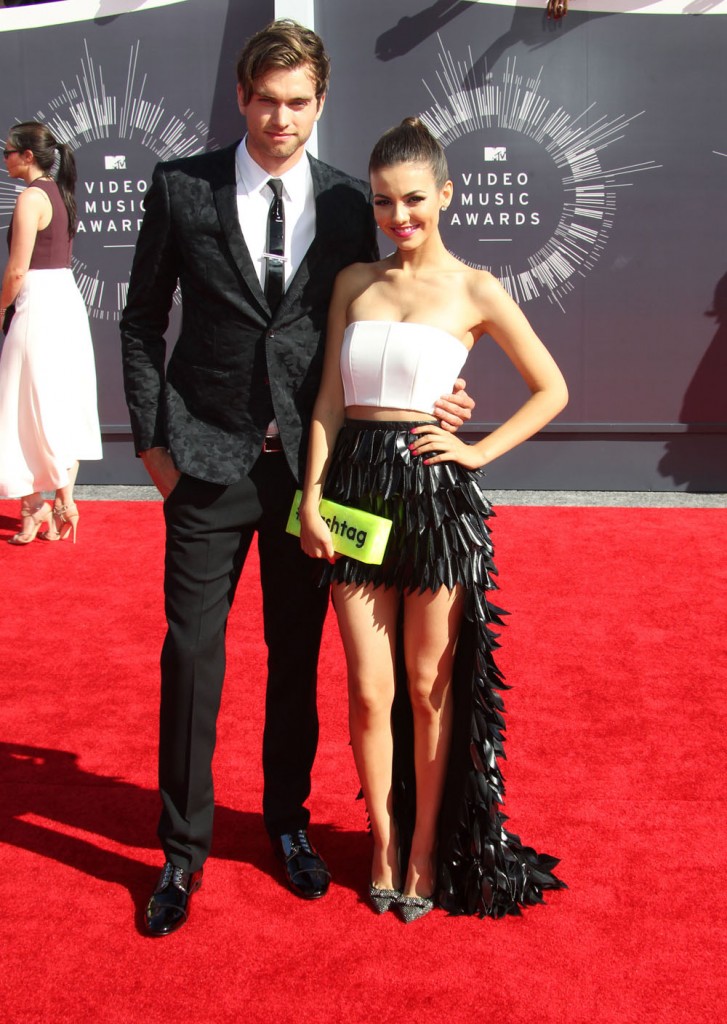 Victoria was there with her hot boyfriend, Pierson Fode. I do like her styling, and that's a cute clutch.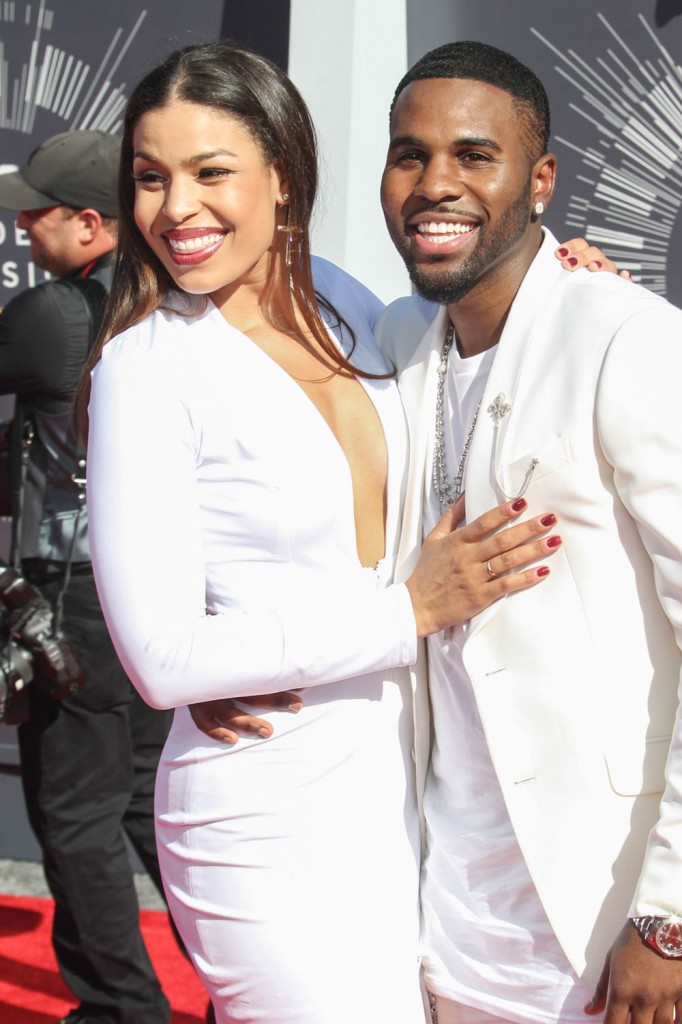 Jordin Sparks and Jason Derulo were another super cute couple. They donned matchy white outfits. People mag reminds us of Posh and Becks' all white Dolce & Gabbana look at the 2003 VMAs. Unlike Katy Perry and Riff Raff, Jordin and Jason toned this homage down, assuming it was intentional.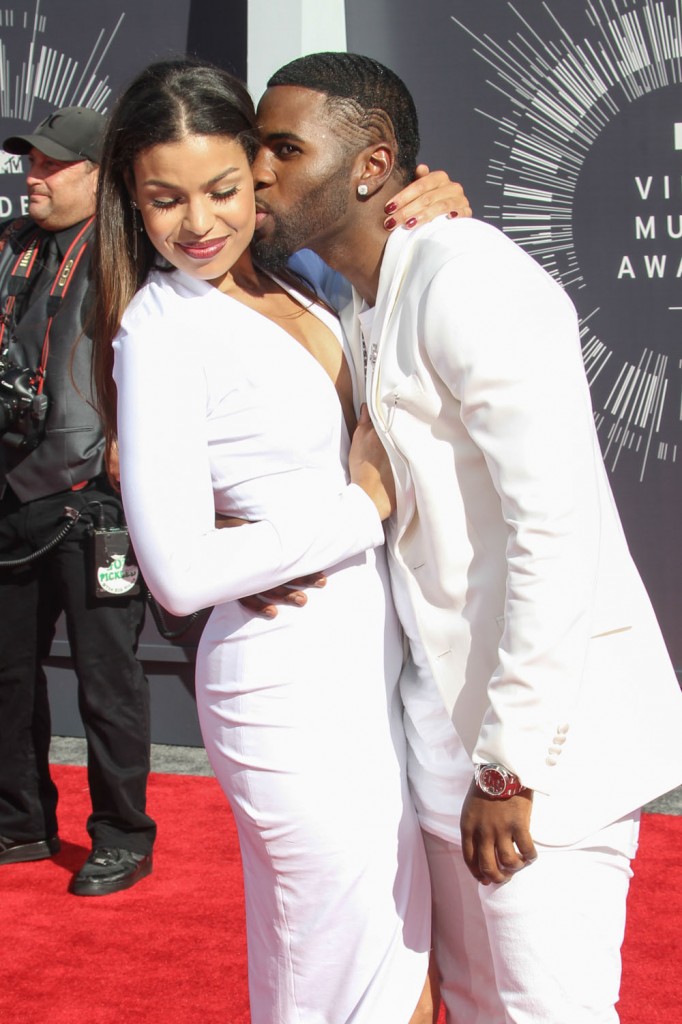 Look at how into each other they are! I wonder when they're getting married already, they've been engaged for at least a year. Jason was nominated in a couple of categories for "Talk Dirty," but he didn't take home and moonmen.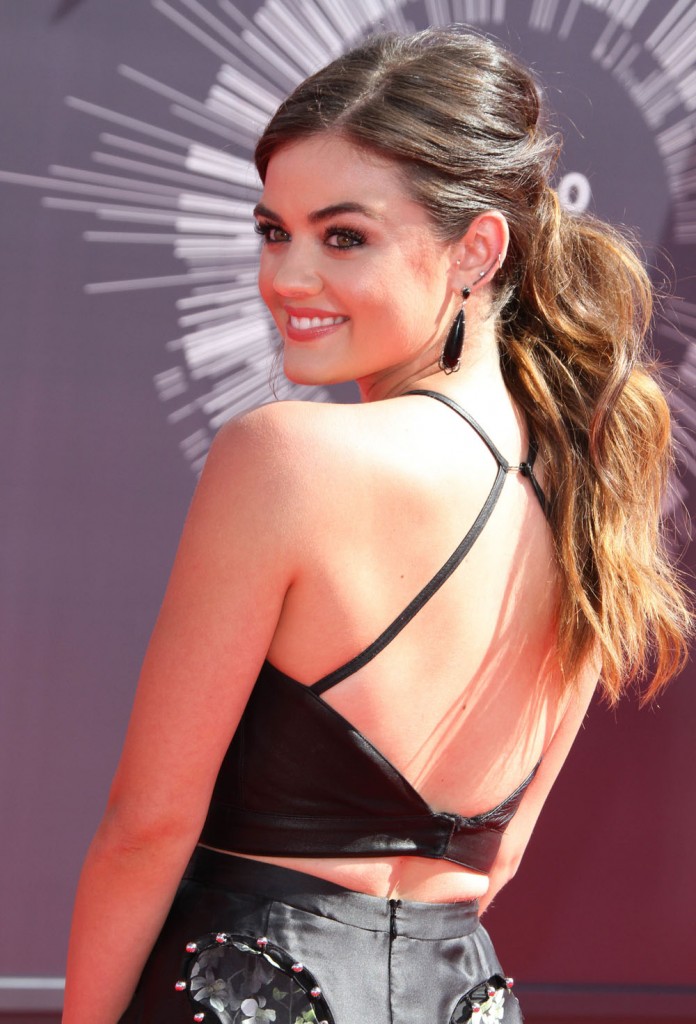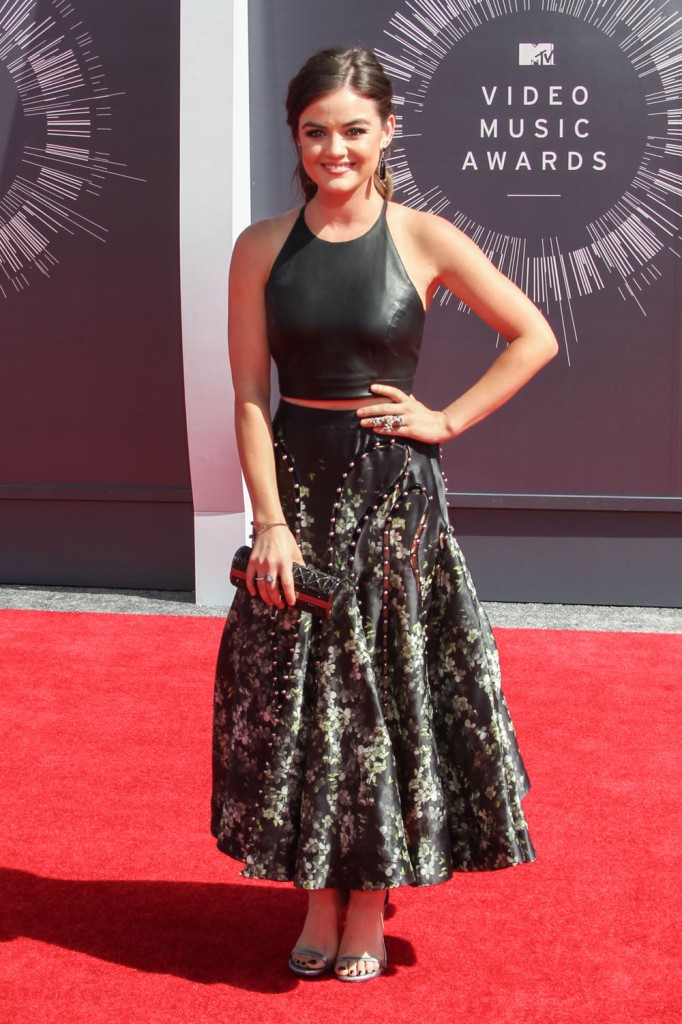 Lucy Hale had two looks on last night's red carpet. To start, she was in a Sachin + Babi halter top with a Zimmermann full skirt. This is cute, if a bit boring.
I much preferred Lucy's interview look, a pink and black Oscar de la Renta dress with a bold print and a flared structured skirt. She was good during the interview portion. She met Taylor Swift for the first time and bonded with her, and reminisced a little with Miley Cyrus, whom she said she had known for ten years. I was surprised at how short she looked next to Taylor, but Taylor is 5'10" and was wearing heels. Lucy is just 5'2″.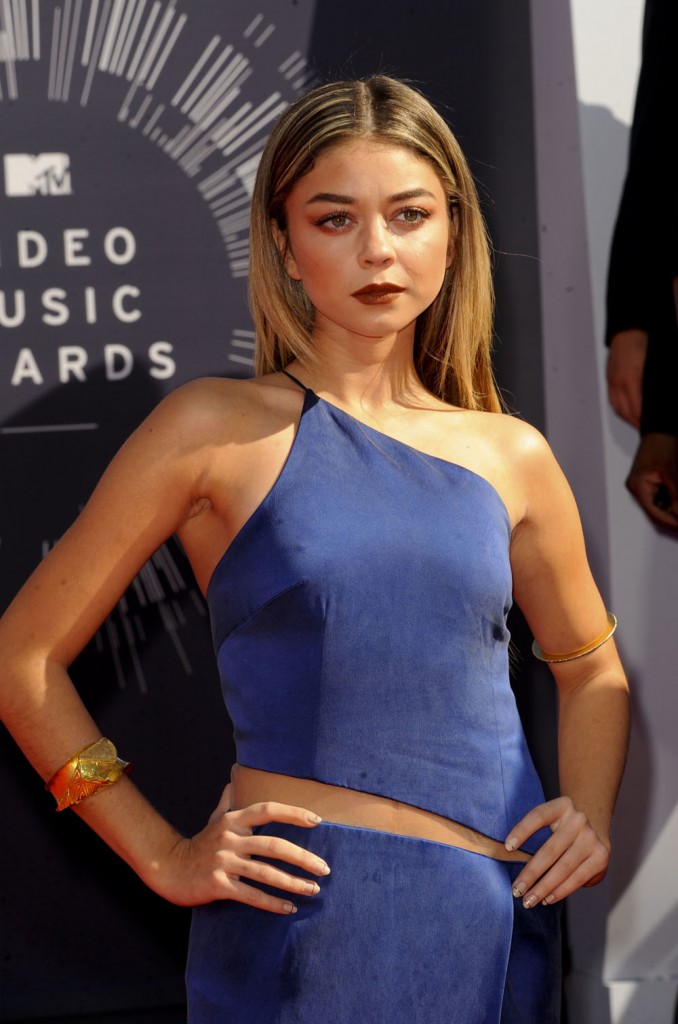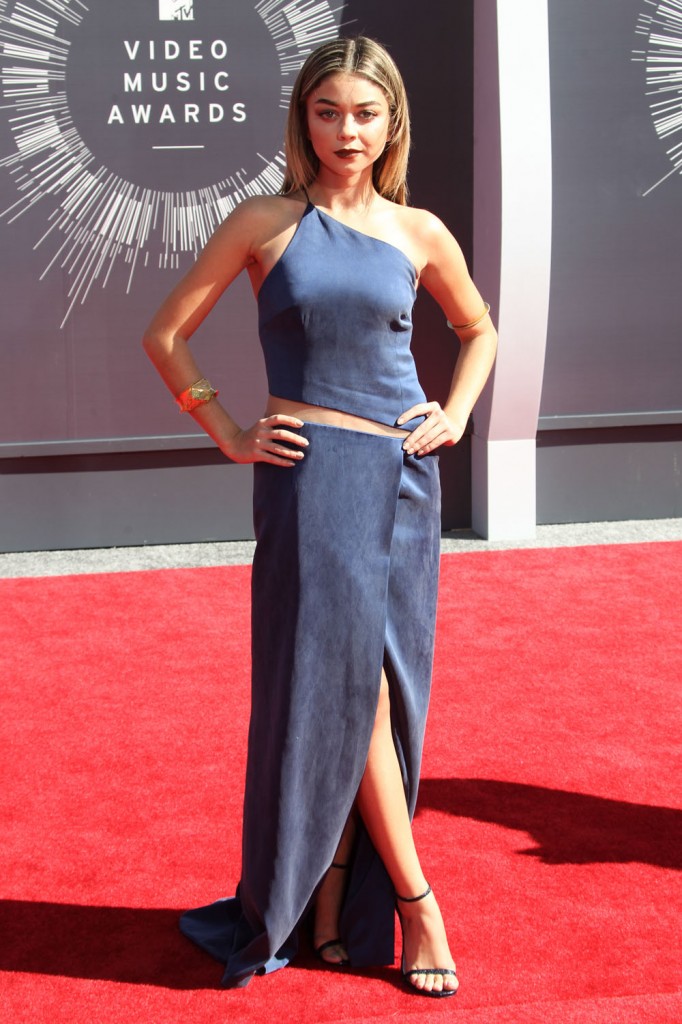 Sarah Hyland sported a much-shorter bob with highlights, we're used to seeing her with longer hair and extensions. This style looks great on her, and I love her elegant, solid color Kaufmanfranco cutout gown, there's something very modern and cool about it and it has an open back too. Her makeup is too dark, though, the dark eyes and lips drag this look down.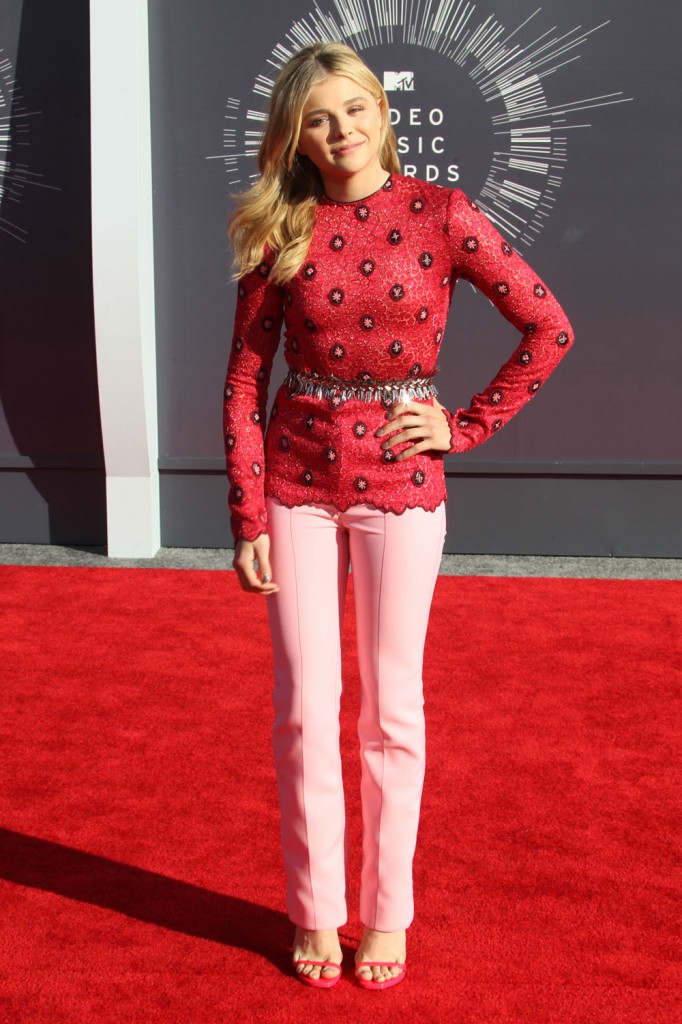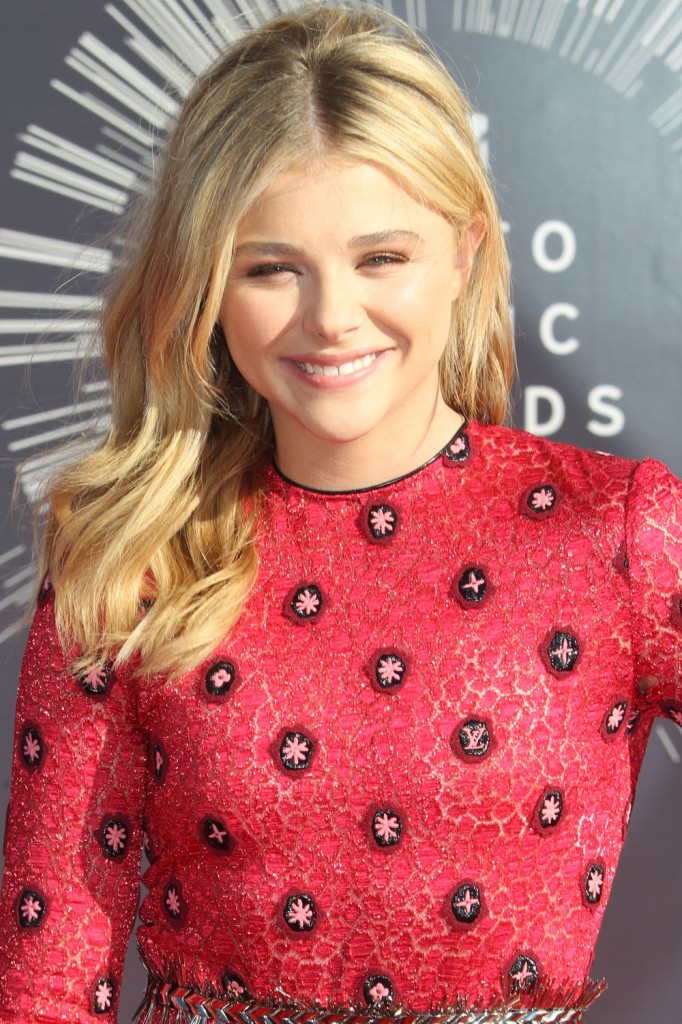 In contrast, Chloe Moretz kept her styling light and young and her fashion older. She wore a Louis Vuitton pantsuit with a magenta top, pink pants and neon magenta shoes. Apart from the shoes, this outfit is straight from the runway. I like that she's covered up, but the top and pants don't look suited for each other. Plus she's very covered up, that looks uncomfortable. (Thanks to RCFA for helping with the fashion and color IDs)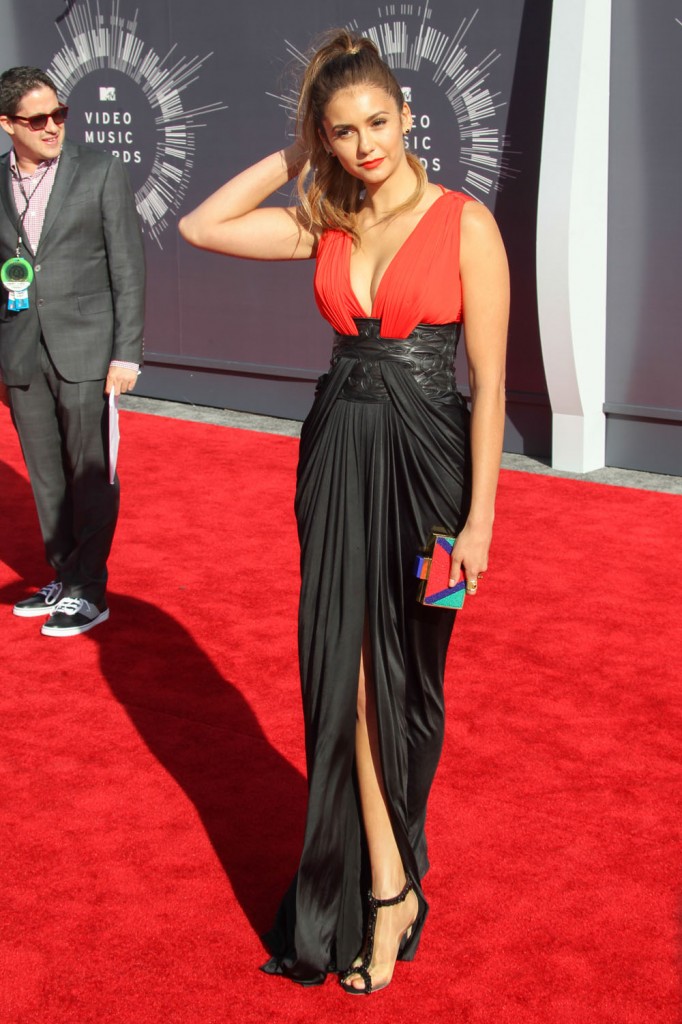 Nina Dobrev was in a split top Zuhair Murad gown with a draped skirt. This is a fashion departure for Nina, and a rare miss. She usually wears more body-conscious dresses. Kaiser tweeted that it looks like Nina had a boob job, but I bet she's just using some inserts to push her girls to the middle. I feel guilty for looking, but I swear I see the outlines of inserts. If she did get new boobs, I'll be disappointed.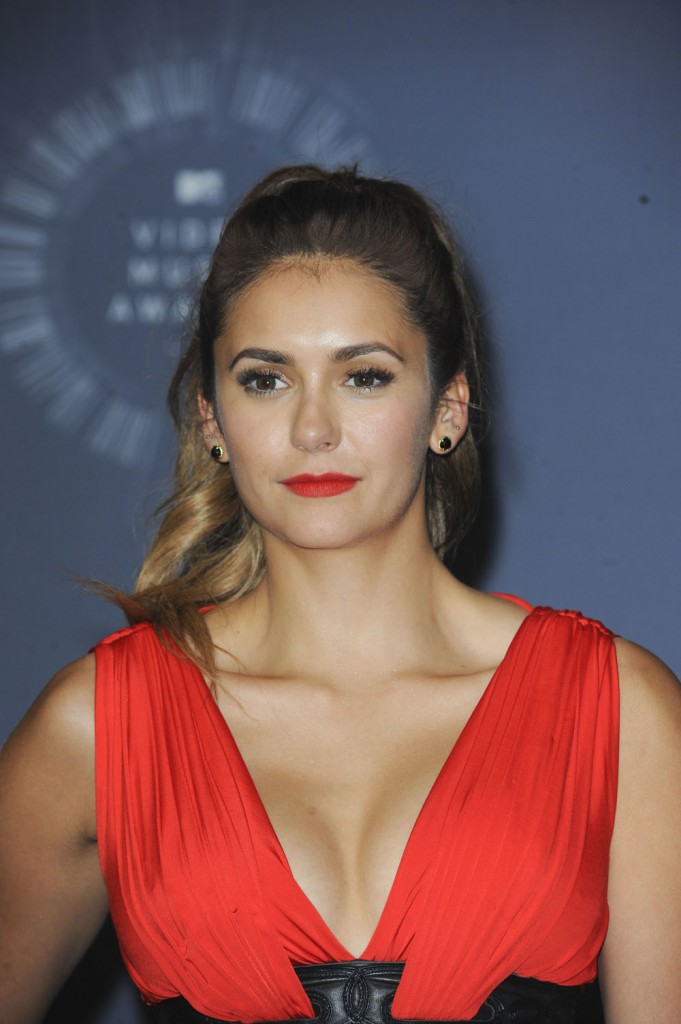 photo credit: WENN.com and FameFlynet