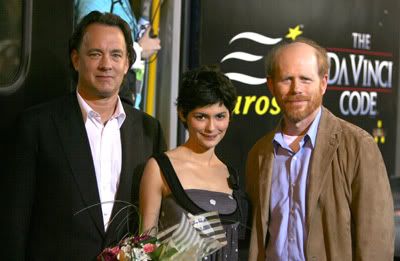 When The DaVinci Code was screened at Cannes, people laughed at a key dramatic scene and hissed and booed at the end. Critics are saying it's hard to follow and really boring:
At Cannes, one scene during the film, meant to be serious, elicited prolonged laughter from the audience, and when the credits rolled, there was no applause, only a few catcalls and hisses.
Things were no better Stateside, where the film screened for critics in New York.
The Hollywood Reporter headlined its review, " 'Da Vinci Code' an unwieldy, bloated puzzle."
"No chemistry exists between the hero and heroine, and motivation remains a troubling sore point," wrote reviewer Kirk Honeycutt, panning Tom Hanks' "remote, even wooden performance." Only co-star Ian McKellen managed to avoid criticism.
Director Ron Howard has blown off bad reviews, saying he hasn't read them and hopes additonal reviews will be "slightly more upbeat." He wants "Da Vinci Code" to be a crowd pleaser, and seems nonchalant about the religious controversy over the film's content. He told people that if the content would upset them, they should just stay away.
Author Dan Brown suggests that Jesus Christ was married to Mary Magdalene and had a child with her. Everyone from the Opus Dei cult to the nation of India is boycotting the film. All the protesting won't matter once the news gets out about how terrible the film is. No one will want to see it anyway.
I haven't seen the film yet of course, but I thought the book sucked. The writing was terrible. I don't remember any of the details because there were so many crammed in there. The action scenes were decent, but they couldn't save the lousy writing.
My favorite review comes from TimeOut's London edition:
If ever there was a movie marriage made in hell it was that between novelist Dan Brown and film director Ron Howard. Brown's clunky, awkward prose is well matched to Howard's frighteningly earnest, spoon-feeding approach to cinema.
Here's the trailer:
DaVinci Code currently has an unprecedented 0% rating on Rotten Tomatoes. That will probably raise slightly as lesser critics are wined and dined by the studio.