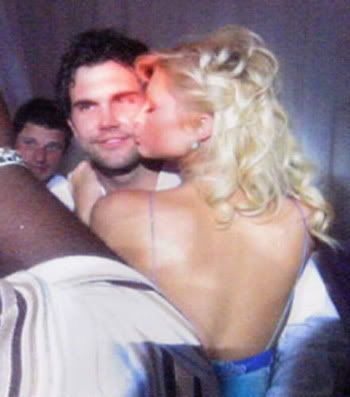 Yesterday we mentioned that Paris hasn't been spotted with her new boyfriend, NFL quarterback Matt Leinart, since last Wednesday morning when he did the walk of shame outside of her place. There may be a good reason for that – Leinart has supposedly taken flack from his teammates for getting so much press by banging Paris:
Paris Hilton's new sweetie has been warned to do something that might be difficult: stay out of the spotlight. New Arizona Cardinal quarterback and former USC star Matt Leinart was warned by his team that if he's serious about football, he shouldn't be photographed out late at night dancing and drinking with his partying heiress girlfriend, according to the Star. "Matt took it very seriously," a source told the tab, "almost to the point of tears."
The National Ledger has more quotes from the article:
"They think his Hollywood lifestyle and dating Paris Hilton may be distracting him," an insider tells Star. They especially do not want him photographed drinking in public!"
The guy was just recruited by the Arizona Cardinals and he needs to prove himself. His contract details are not known, but his deal is said to be around $12 million. That seems like a lot of money, but he may have lost out on about $10 million more. He was the number 10 draft pick after falling in the rankings by losing a national title game, so he's probably worried about his football career. He's obviously taking his teammates seriously and probably won't be seeing much more of Paris.
Update: video of Paris kissing Leinart at his NFL draft party and trying to sing. She can't dance, either.
And here are some pictures of Leinart at Arizona Cardinals Minicamp on 5/5/06: