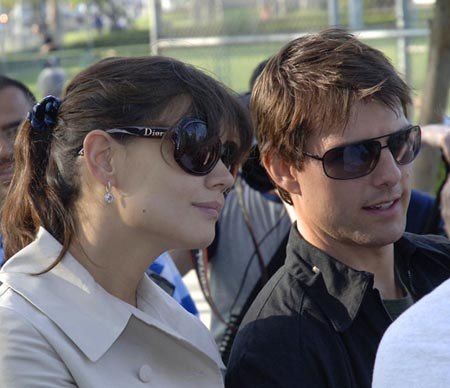 This sounds like something someone would make up just to get back at Tom Cruise for bashing Brooke Shields for her antidepressant use, but Katie Holmes is supposedly suffering from a case of the baby blues:
NEW mum Katie Holmes has been "constantly in tears" say pals — sparking fears she has the baby blues.
Tom Cruise's fiancée "seems emotional and very tired" since the birth of their daughter Suri a month ago, it is claimed.
When visitors call at Cruise's Beverly Hills mansion, Katie appears red eyed.
One friend said: "Katie told pals it's natural for new mums to experience strong emotions."
Scientologist Tom, 43, has criticised anti-depressants.
He rapped Brooke Shields last year for admitting taking the drugs for her post-natal depression.
The sources add Katie, 27, has been working hard to keep up with Tom's energetic schedule.
The Mission Impossible actor has put her on a fitness regime to get her in shape for their wedding this summer.
We know this last part about Tom putting Katie on a "fitness regime" is not true, because it's based on a quote from Buff Brides founder Sue Fleming that is made up. The quotes from Katie's "friend" may be made up as well.
If this is true, it's not much to worry about and is totally normal for new mothers. I cried and was sad for about the first ten days after my son was born. After about a month, things brightened up and I felt a lot better. The hormone levels drop considerably after childbirth, and a little sadness post-birth is very common. If it lasts much longer for Katie, then she should get help. Unfortunately Tom is never going to let her go on antidepressants. If she's breastfeeding, it wouldn't be a good idea anyway, although her health and happiness are what's most important for the baby.
Here are pictures of Katie and her stretch marks at Tom's son Conner's baseball game on Monday. [via]
They must be keeping Suri at home to drive up the cost of the first pictures.