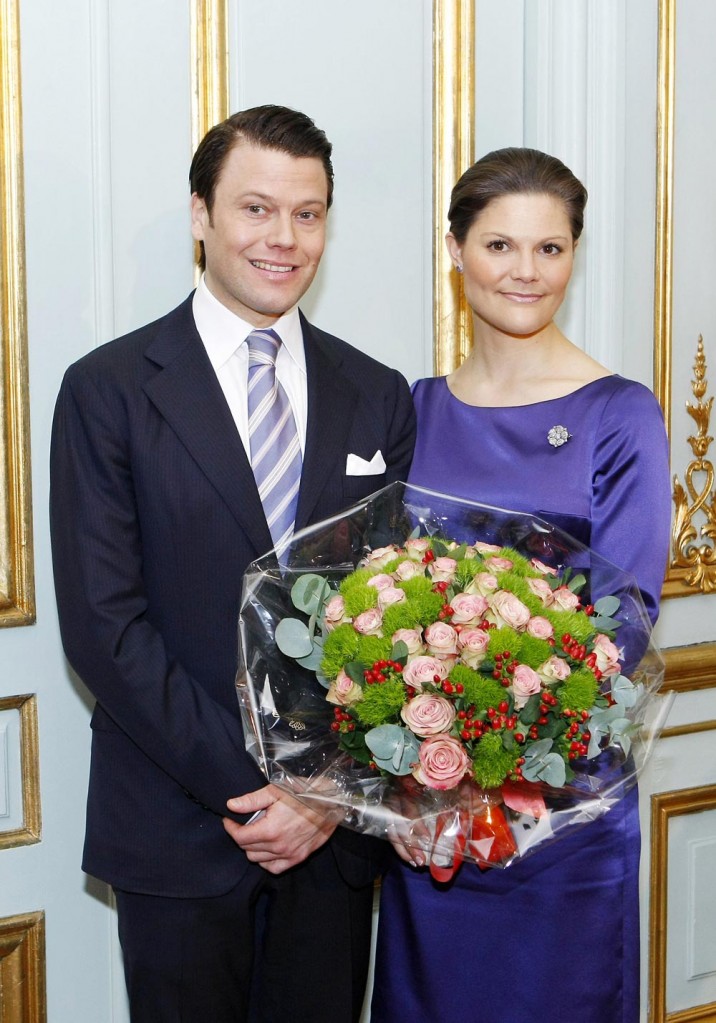 As an American, I know I shouldn't care about European royalty. I should be focused on the rigorous study of America's founding fathers – and the founding mothers, but more research needs to be done about them. There's something about royalty, though, that peaks my interest. Especially when it involves commoners and royals, palace intrigue and the struggle of feminism versus tradition. Sigh… and I just love princesses.
Such it is for the Crown Princess of Sweden. Princess Victoria has been with Daniel Westling for seven years! Seven long years with the gym owner and commoner. That's longer than Kate Middleton has been waiting for Prince William to propose! It seems like the Swedish people have finally come around to their beloved crown princess marrying a commoner, and a gym owner at that. Princess Victoria just announced her engagement to Daniel – in an internet clip! The Daily Telegraph has more:
Sweden's Crown Princess Victoria has announced her engagement to a former fitness trainer after a seven-year romance. The 31-year-old daughter of King Carl XVI Gustaf and Queen Silvia will marry Daniel Westling, the owner of a chain of fitness centres in Stockholm, next year.

The smiling princess told her future subjects via a video clip on the internet that she and her fiancé would now prepare to start a family.

Seated with Daniel, the king, and her mother Queen Silvia, she addressed the Swedish people directly. "With Daniel by my side I feel safe. You have surely seen that in recent years I have grown stronger and happier, and now we can begin preparations to start our own lives and start a family," Victoria said.

The news immediately topped media broadcasts across the Scandinavian country, where the royal family is hugely popular. The palace announced the nuptials after the king informed Prime Minister Fredrik Reinfeldt and his government.

"In connection with the wedding Mr. Westling will be invested with the title Prince Daniel, Duke of Vaestergoetland," the palace said.

Westling, 35, met the princess in 2002 when she began working out at one of his gyms in the capital. He owns two luxury by-invitation-only gyms as well as several high-end fitness centres in Stockholm.

The brown-eyed princess with long brown hair is admired both at home and abroad for her natural ease with people, her broad smile and the popular impression she makes in her duties representing Sweden despite her relative youth.

She has spent most of her adult years preparing for her future role as regent with a specially-tailored education, which has included two years of studies at Yale University in the United States, stints at the United Nations, the European Union, and internships with the Swedish government and military.

During the internet announcement, her fiancé said his most important task was to "support the crown princess in her important duties for Sweden … In time, I hope that I too can help serve Sweden in various ways."

Victoria and Daniel are often seen running errands or visiting cafés in Stockholm.
Her casual, down-to-earth style has made her very popular among Swedes – her love of nature is well-known and she is often seen sporting jeans and sneakers, her long dark hair in a ponytail.

Daniel, who comes from a middle class family in the small town of Ockelbo, however received a chillier reception from Swedes, at least initially. Media criticised him for his preppy, slick appearance and accused him of arrogance, and questioned whether a gym owner was an appropriate spouse for a future queen.

She was not born crown princess but Sweden's royal succession law was changed after the birth of her brother.
From The Daily Telegraph
I've actually read quite a bit about Princess Victoria and Daniel – their relationship was Swedish tabloid fodder for several years. But they stuck with each other for seven years, and I guess Daniel just grew on everybody through perseverance.
As far as the whole "the gym owner becomes a king" – why not? The seem to really love each other. In any case, Victoria's younger sister, the "beauty" of the family, Princess Madeline is the real spark plug. Madeline's the tabloid star, and whoever she marries, it will a bigger tabloid story.
Crown Princess Victoria of Sweden and Daniel Westling are shown announcing their engagement on 2/24/09. Thanks to WENN for these photos