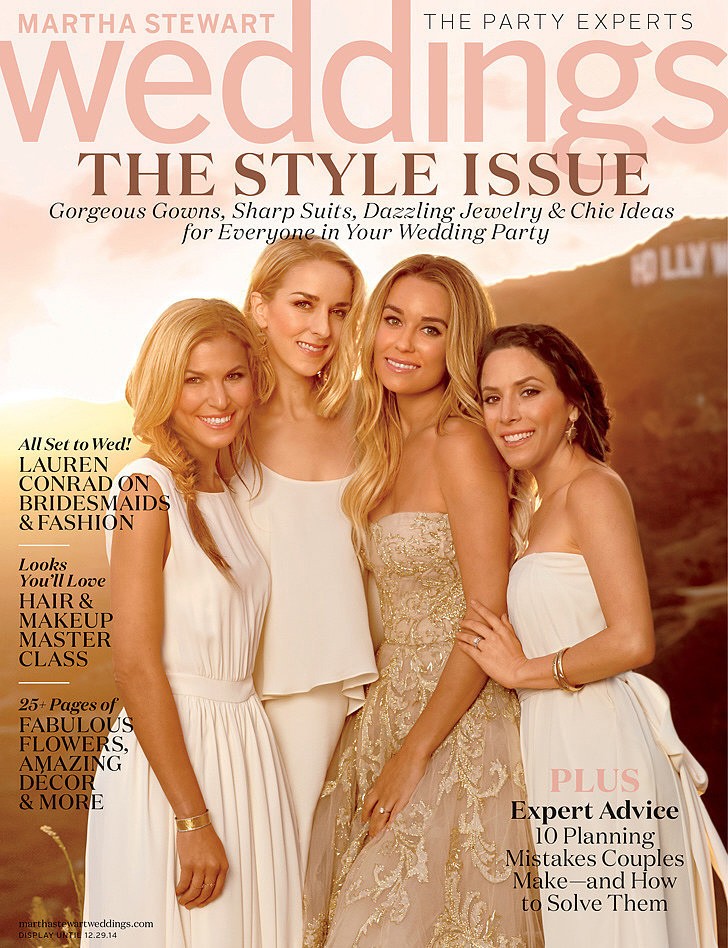 I was reading about Lauren Conrad last night (don't ask) and I made a mental note of the fact that she's gearing up for her wedding to some guy. As I said during the coverage of her engagement announcement, it's possible that she's marrying Some Guy because they're really and truly in love. It's also possible that she's getting married because she wanted to do a line of weddings gowns, bridal jewelry and bridesmaids dresses. With that in mind, LC covers the new issue of Martha Stewart Weddings and they've done a big article about LC's new line of bridesmaid dresses, LC's plans for her NINE bridesmaids and if you can find a reference to Some Guy in here at all, I'll pay you ten dollars.
On Asking Her 'Maids: "My jewelry team at Kohl's made me necklaces. We found this little diamond ring piece that looks just like my ring, so I did rose gold necklaces for everybody and then sent it with a will-you-be-my-bridesmaid' card."

On Choosing a Dress Style: "I sent them all the different shapes and let them pick from two colors. I don't mind if there are a few girls in the same dress, or if people are all in different ones. It's too difficult to take a group of girls and put them in the same color and silhouette; everyone has their own style."

On Picking a Palette: "They're all wearing the same two colors, so it's all the same color scheme. I don't think it needs to look too cohesive. They're all individuals, so it's nice that it doesn't look too uniform."

On Skirt Length: "I'm okay with different lengths—it just depends on the look that you're going for. In our collection, we're only doing a few dresses that aren't long. We're doing full-length, a couple midi, and then we have a couple to-the-knee. We didn't really go shorter than that because it doesn't really feel appropriate, and if that's what you want, then you can always shorten the dress."

On Day-Of Hairstyles: "I'm letting the girls do whatever they want. Again, I think that weddings are about celebrating, and you want everyone to feel comfortable, so I think it's about whatever is going to make them feel pretty. Understated is always best, so I think trying to go more classic is always a nice choice because you don't want anybody to stand out in a negative way."

On Bridesmaid Nails: "I was thinking about doing a gift bag and just including a pale pink or a nude in there. We'll see if I get around to that. I think that's a nice way to suggest, like, 'Here's a pretty color for you.' Yeah, that might actually be a good call because some of my friends will probably have navy or dark nails!"
[From Martha Stewart Weddings]
To her credit, the bridesmaid dresses are cute and I'm sure they're pretty affordable. LC shilled her line on her website too – go here to see. Nothing too fancy, nothing too trashy. Perfectly nice. And I like the detail about sending her bridesmaids diamond necklaces too – that's a really nice touch. So… congrats to LC overall. But I still think it's sort of funny that she cares more about her girls and her business than her groom. Maybe that makes her sort of awesome.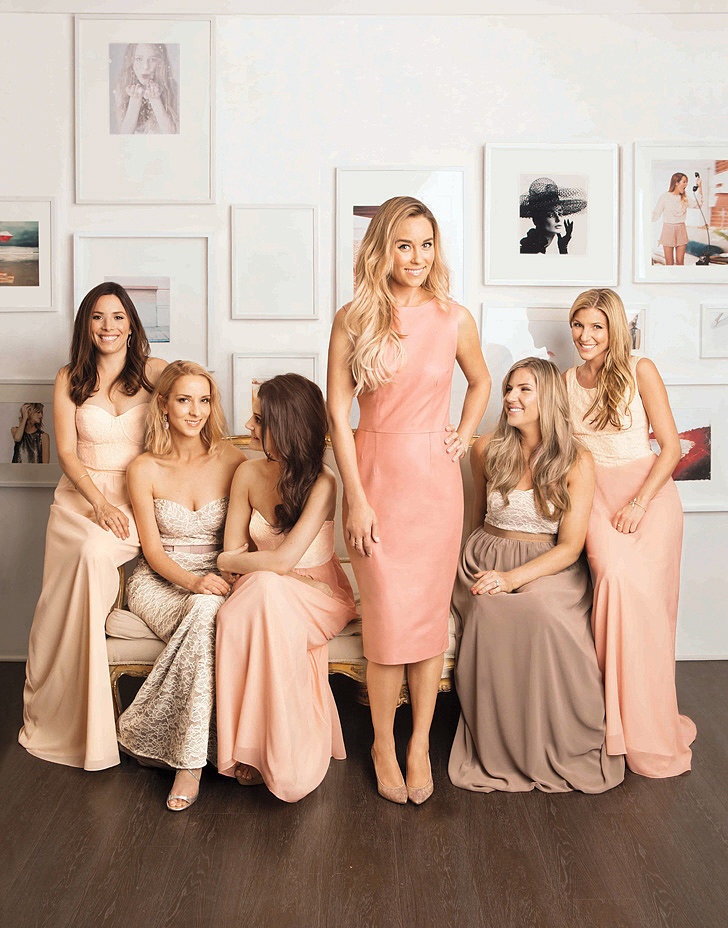 Photos courtesy of LC's Instagram, Martha Stewart Weddings.