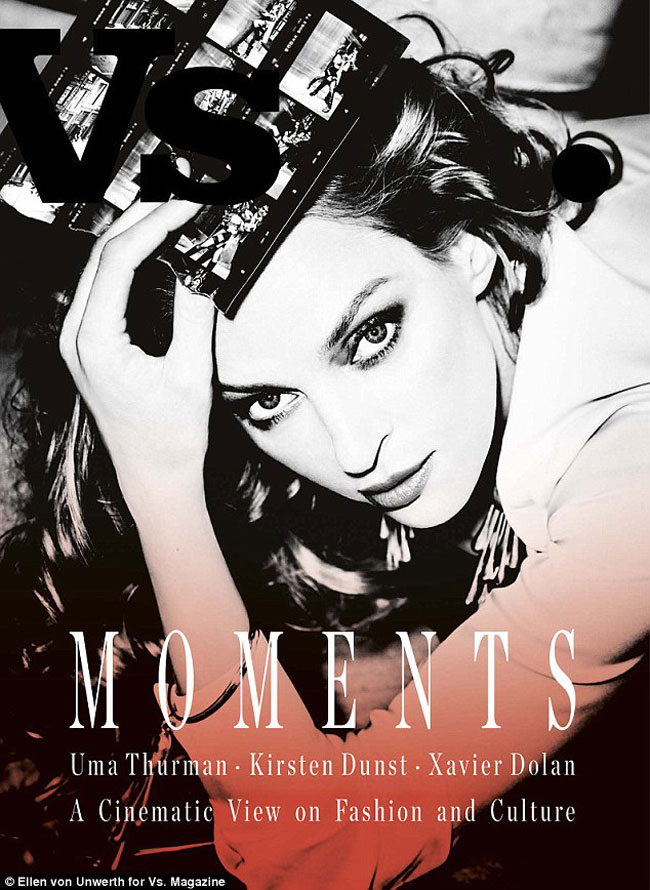 Uma Thurman covers the Fall/Winter issue of Vs magazine. I don't know what she's promoting. Uma doesn't have any movies coming out this year, but she's currently filming that mysterious, untitled restaurant movie with Bradley Cooper in London. Uma is photographed in this shoot by Ellen von Unwerth, whose distinct style flatters the heck out of offbeat Uma. This is a Faye Dunaway-inspired spread. Uma looks like a queen.
Did you know that we're coming up on the 20th anniversary of Pulp Fiction? That ought to make you feel old. I was just rewatching Kill Bill: Vol. 1 last weekend with my teenager. It was her first time watching that movie, and she suddenly realized, "Quentin Tarantino sure puts a lot of barefoot people in his movies." Much of the time, the barefoot person in question is Uma. These two have been close for decades now, and rumors have always swirled about their relationship. Are they friends, lovers, or both? They reportedly shared a villa in Cannes this year. Uma talks about the gossip. She also discusses her career break after giving birth to daughter Luna two years ago:
Are she & QT hitting it? "I was discussing [the rumors] with Mr. Tarantino last night. He was angry at me for not calling him back because, as he said: 'According to the papers we are practically married!' and he laughed hysterically. So our relationship is pretty much what it's always been; people are just having fun with it."

On dealing with media gossip: "I think media is part of the career of an actor. There is no career for an actor who is in some way not in the media, unless they are unsuccessful."

Her career break: "I've kind of been on a hiatus for a while, and I just started getting back to work right now. I had a baby and I also wanted to take a step back, and so I did. I think it's important to have this time to take a step back, analyze things and just breathe."
[From VS magazine]
What do you think — are Quentin and Uma doing it and playing dumb? Ethan Hawke suspected that Uma and QT may have been hitting it during Kill Bill. The two of them clearly adore each other. If I had to make a call, I'd say they are just really good friends. Quentin probably worships the ground Uma walks on, but I think she thinks of him like a brother. I also gather that QT tends to date women who are less powerful than he is (with the exception of Sofia Coppola, but that was ages ago). Uma is too much of an "equal" in status and stature. She's not as powerful in Hollywood as QT is, but I feel like Quentin sees her that way. So nope. If Uma and Quentin ever started hitting it, the experience would probably break both of their hearts.
Although I could be wrong.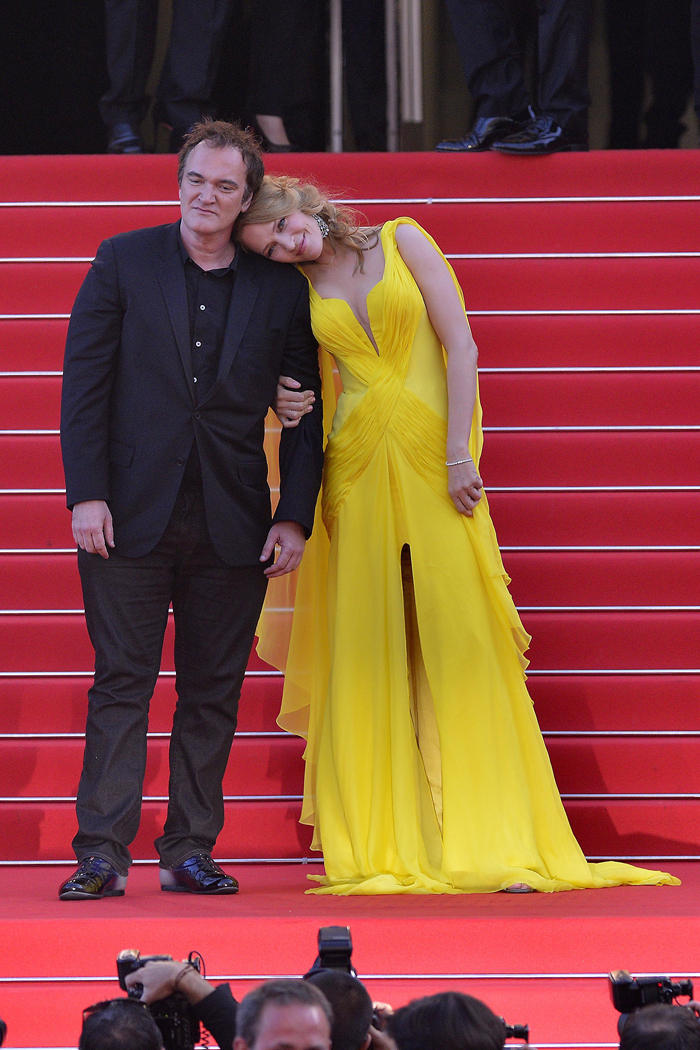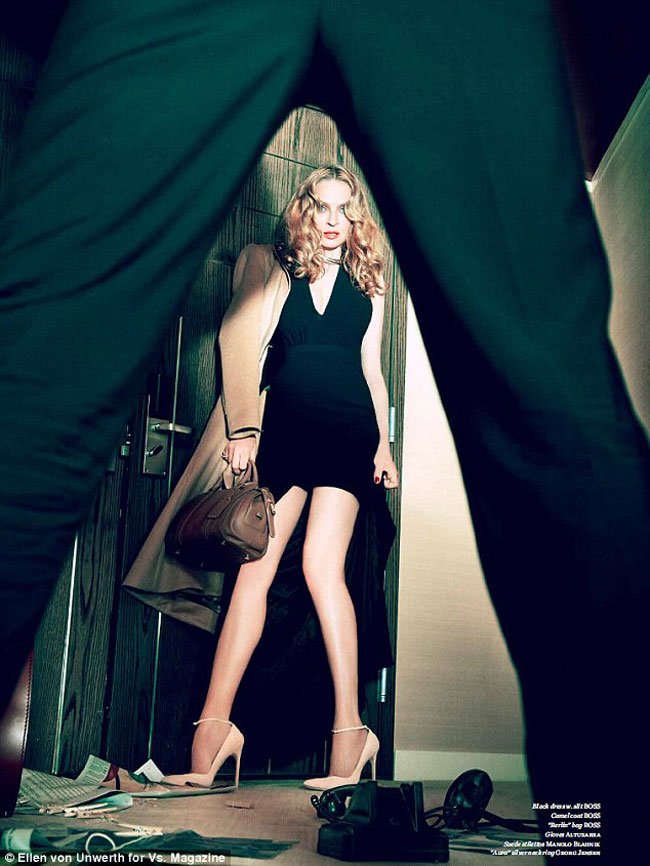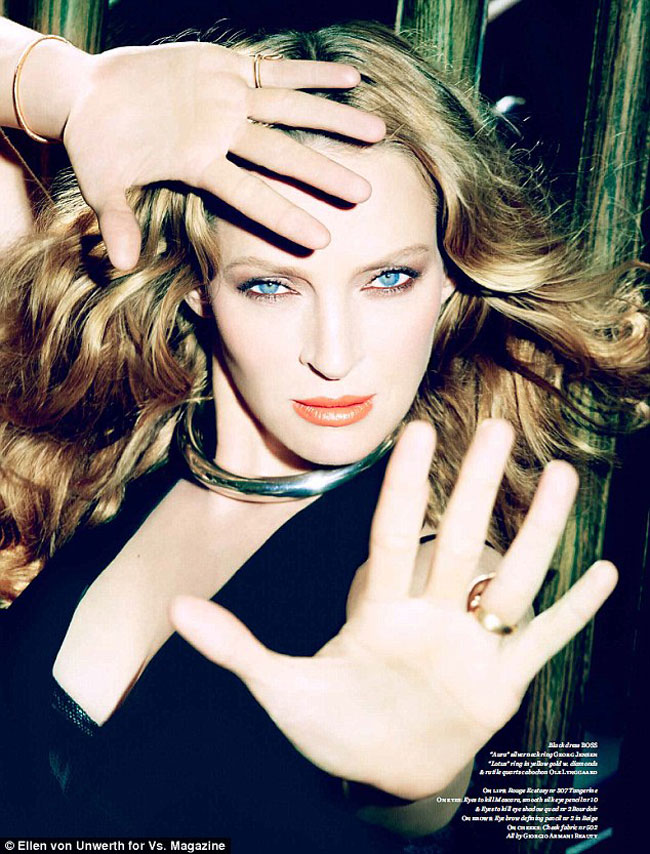 Photos courtesy of Vs magazine & WENN