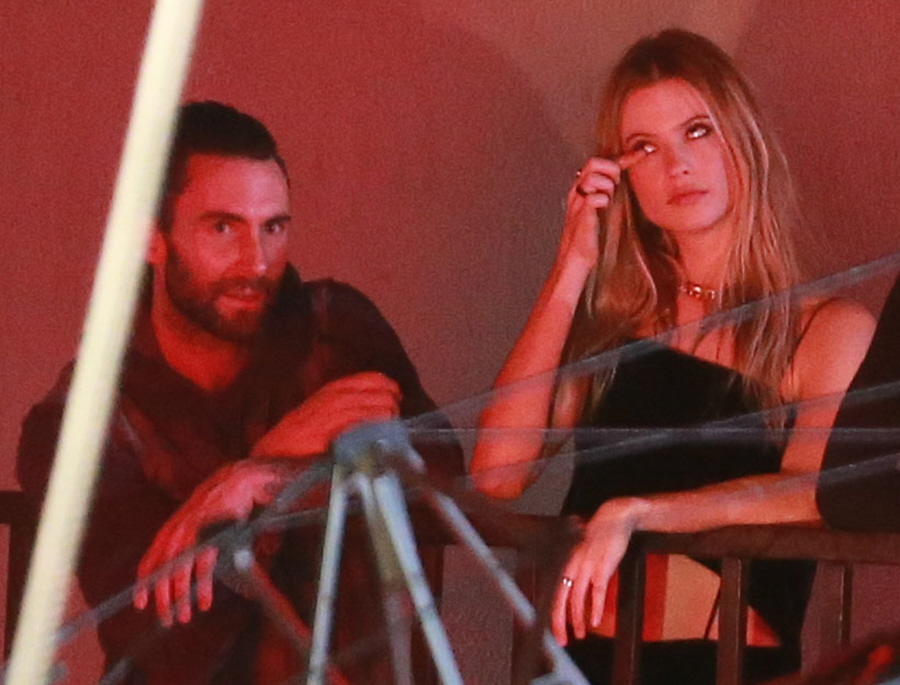 I almost feel a little bit sorry for Adam Levine. He went to the VMAs and the Emmys, he performed with Maroon 5 and presented with a drunk-faced Gwen Stefani and he made his big married-man debut with his new wife Behati Prinsloo. And… nothing. Behati and Adam barely got any press. It was almost like no one cared. Did anyone actually care? I can't figure it out. I guess you might care about him if you watch The Voice, but it feels like people aren't really paying attention to his music OR his marriage these days. Which means Adam is going out of his way to talk about Behati and how she makes him feel like more of a man (???).
You won't find Adam Levine complaining about the ol' ball and chain. During an interview with Ryan Seacrest Friday morning, the Maroon 5 frontman opened up about his six-week-old marriage to supermodel Behati Prinsloo, saying wedded bliss has changed him forever.

"The relationship doesn't change," Levine, 35, told Seacrest, but he himself had – "in a great way." Marriage, he said, makes you feel "slightly more masculine."

"If it's the right marriage, if it's the right person, the guy feels a little bit more like a man," The Voice coach explained.

Seacrest, himself thinking about settling down, also asked Levine the infamous "kids question."

"I want to have 100 kids," Levine joked. "I want to have more kids than is socially responsible. We can't do it right now, but it's in the works."

As he starts a family, PEOPLE's reigning Sexiest Man Alive says that his work with Maroon 5 may slow down.

"We want to tour, to a certain degree, forever," he said, "but at which point does this start to interfere with other things in life that you want to do? There's probably a day when I'm working a lot less and enjoying my job a little more."

The veteran rock band will release its fifth album, V, on Sept. 2. Levine told Seacrest that fans should expect "more depth."

"This one has hits that mean a little more," he said.
I think I know what Adam is talking about but he's describing it in a weird way. In the old-school, male-dominated Mad Men-era of business, being a married man meant you were more successful. It meant that you weren't a "freak" (or a homosexual) and in the old business world, it was seen as a good thing when men became fathers. It meant that they had a reason to stick around, a reason to go to work (to support their family). I think that's what Adam means when he says he feels more masculine – he feels like he's joined The Mad Men Club, the boys-will-boys club where marriage makes you better at your job and no one judges you for your sidepieces. He feels more "masculine" because his marriage has helped solidify what he believes in gender norms/the heteronormative world. Am I overthinking this? Probably.
I'm including some photos of Adam and Behati shooting a new video for Maroon 5. She looks so bored. Girl, I feel you. But you married him.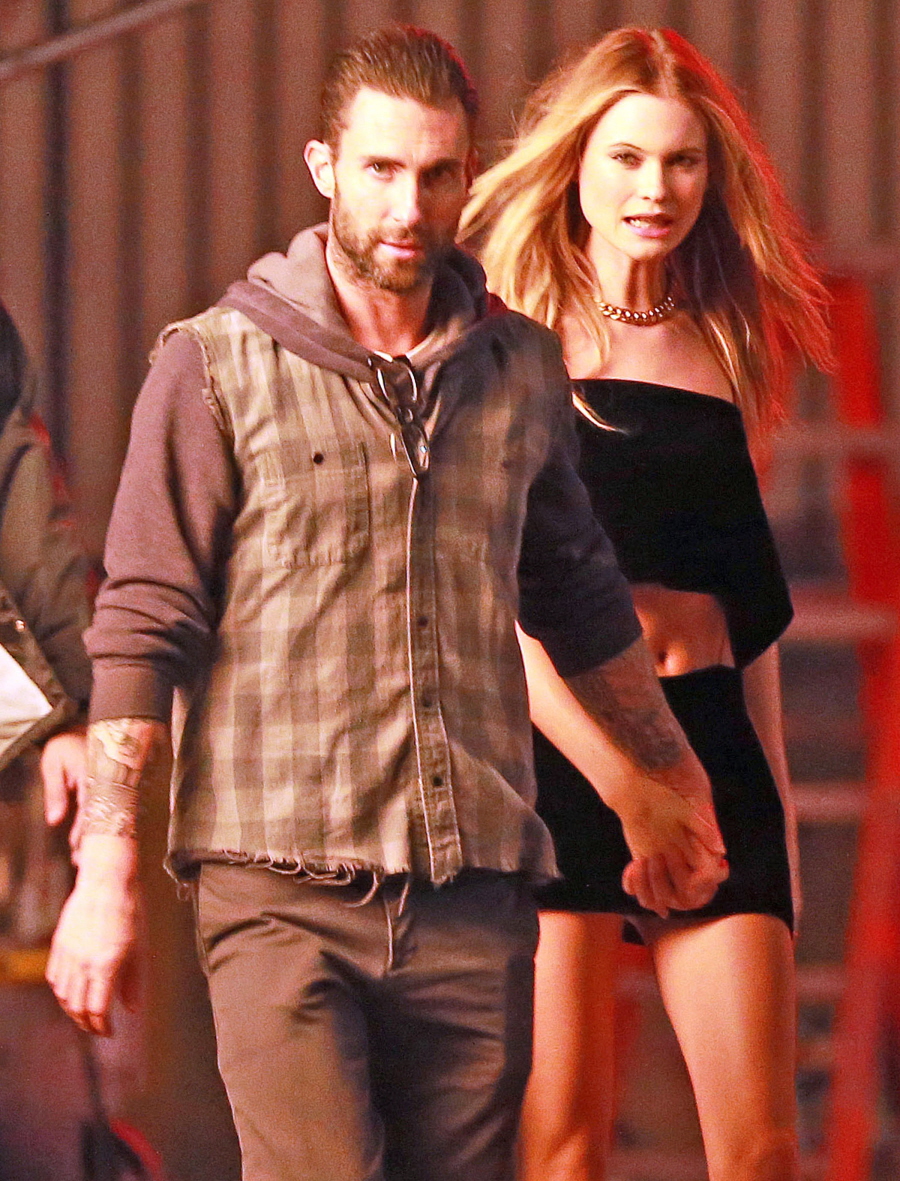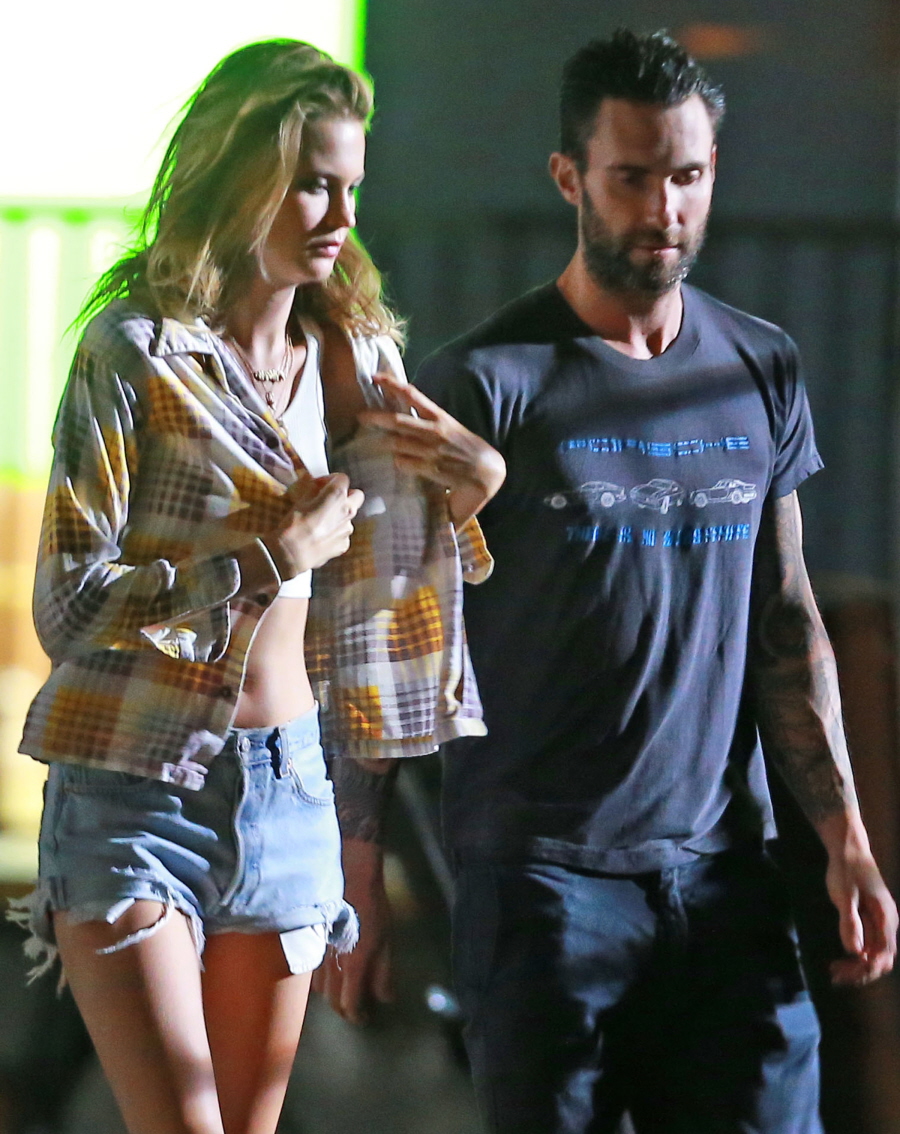 Photos courtesy of Fame/Flynet.