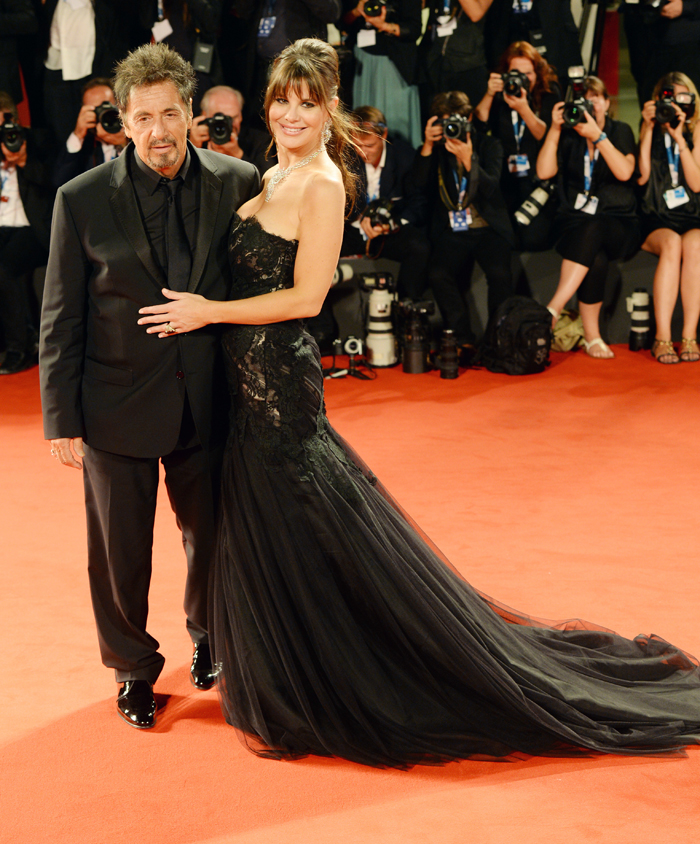 These are photos of Al Pacino at the Venice film festival. He's flanked by his girlfriend, Argentinian actress Camila Sola, for The Humbling premiere. He's 74, and she's 34. They've been dating since about 2009. So five years. I can't even imagine dating a guy 40 years older. I guess they're making it work. Ladies do love Pacino. He's nowhere near the dreamboat he used to be, but the man still attracts his fair share of attention. Page Six says women have been falling all over him in Venice. Here's some photo evidence of Pacino's very female fanbase at the festival.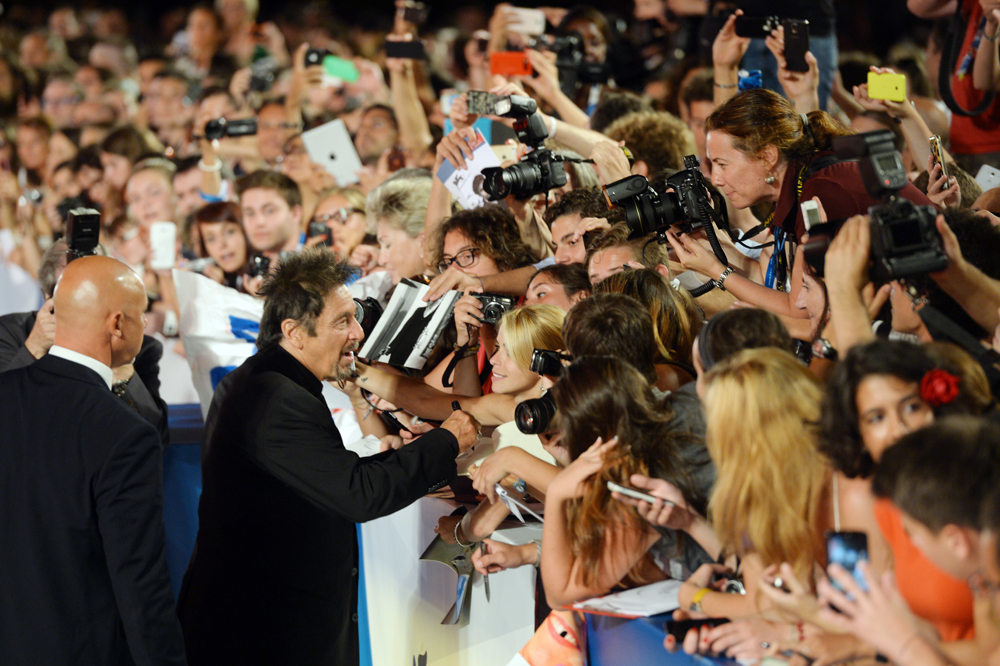 Pacino has two films debuting in Venice. Both of them are roles where he gets to break out the tears. The Humbling features him as a suicidal theater actor (the The Wrap says he achieves "late-career greatness" in the role). In Manglehorn, Al stars as a man trying to cope with losing his great love. Pacino answered questions about how he was able to vividly portray depression:
He approaches the topic lightheartedly: "Fortunately, I may be depressed, but I don't know about it. I don't see how I could not be depressed, some of the time, but I don't know about it. How does it go? You say I'm depressed? Life is sort of like all over us. Things make you sad. Basically you'd like to be a little happier sometimes. But 'depressed' seems so ominous. It's really in all of us. We all relate to it. I probably have been, and I'm glad that I don't know about it, but now that you mention it maybe I'll give it some thought and be depressed."

Seriously, though: "People go into depressions and it's very sad and it's terrifying. I've had bouts with that, that comes close to that, but nothing that deep. I feel spared and I'm lucky. What you look for are the similarities in character that are similar to you. I understand depression and that's part of what we do, is to go out and understand the character."

What makes him happy: "I have three children. That's been a real source of enlightenment for me, plus the friends I've had, the people I've met over the years, the relationships I've had. All of it has contributed to an amazing, shocking journey I've had so far. I feel as though I'm doing OK."
[From Hollywood Reporter]
Pacino knows he's lucky to have never experienced major depression. He's an incredibly talented actor, and it sounds like these new roles will put some of the old Pacino magic back on the screen. I long for the days before Pacino used to make brunch out of curtains and scream every bit of dialogue. Don't even talk to me about Jack & Jill.
Pacino's discussed depression before in 2013 with The Express. (I keep tabs because The Godfather is still my favorite movie, okay?) He said, "I was not prepared for fame. It hit me hard and I did not have the capacity to cope. I've never liked the recognition, the questions, the publicity. I have often felt like running away and hiding. There has been a lot of self-doubt and unwelcome events in my life." He then went on to describe his "downward spiral" of alcoholism. Pacino had a deep well to draw from for these two Venice films even though he escaped long-term depression.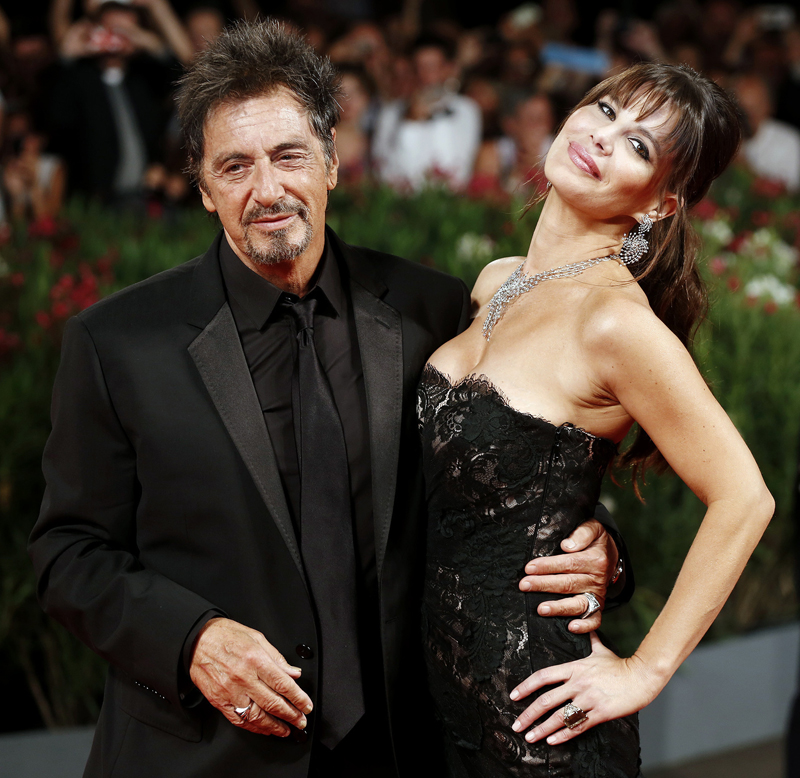 Photos courtesy of WENN