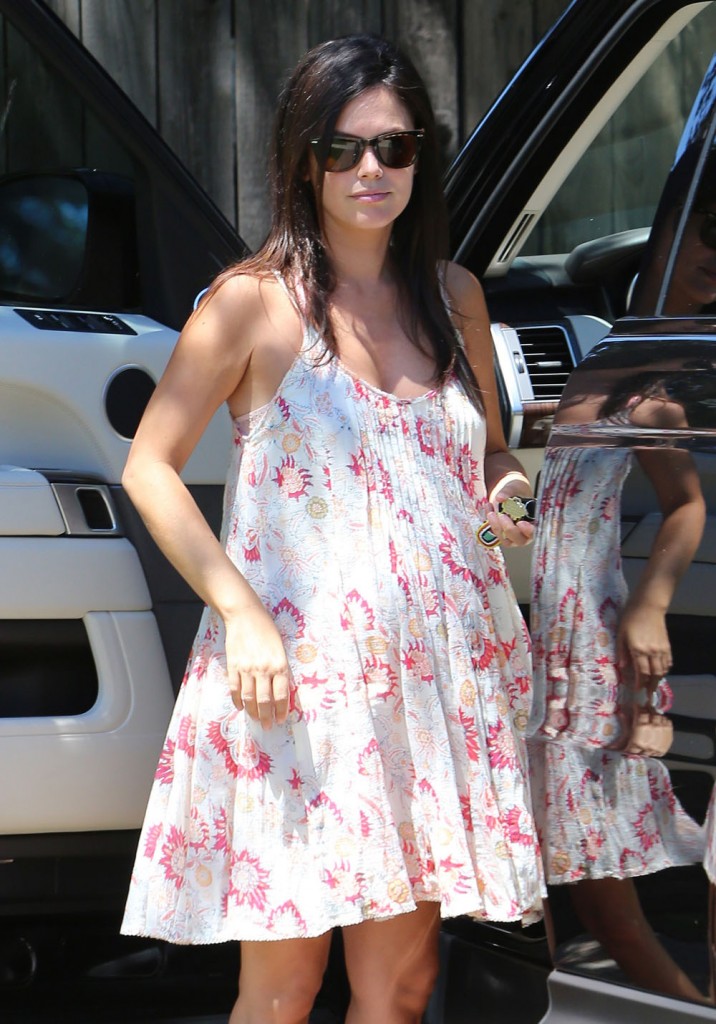 I know like 5 people are going to care about this story but my brain needs a break from some of the horrible things that are going on lately. I want to pretend I'm at Rachel Bilson's baby shower giving her advice.
Bilson, 33, is due to have her first baby, with boyfriend Hayden Christensen, also 33, sometime this fall. Bilson announced her pregnancy in late May, and assuming she was around three months along at that time she'd be about seven months pregnant now. I could be wrong, she could be due sooner than that.
Anyway US Weekly has details of Rachel's baby shower over the weekend. It was attended by her Hart of Dixie costar, Jaime King, along with Natalie Portman and some of Rachel's family and childhood friends. Instead of gifts, guests gave Bilson a bead that will go on a special necklace she'll wear while giving birth. With the bead, each guest gave her a piece of advice. I like that tradition! How have I never heard of that before? Here's more, including the detail that Rachel is having a girl:
The Hart of Dixie actress, 33, was feted on Sunday, Aug. 31, at a private home in L.A. According to the source, guests included Bilson's high school girlfriends, family, and a handful of celebrities including fellow moms Natalie Portman and CW co-star Jaime King.

Bilson's shower gifts, however, veered away from the traditional. "Instead of gifts, everyone brought a birth bead," the insider tells Us. "Each person gave her a piece of advice and a blessing along with the bead."

The beads were to then be stranded together into a necklace for Bilson. "She will use the beads for strength during labor," the source explains.

In return, guests went home with party favors including tea and mints that came in boxes affixed with a tag reading "Rachel & Baby, Mint to Be."

As for the woman of the hour herself? "She's so excited to be having a baby girl," the insider says. (Us Weekly exclusively revealed in May that The OC alum is expecting her first child with boyfriend Hayden Christensen. The two went glamping most recently to celebrate Bilson's 33rd birthday on Monday, Aug. 25.)

"She's wanted it for a long time and is going to be an amazing mom," the source adds of Bilson's pregnancy. "Everyone is ecstatic for her."
That's lovely and a great idea. I googled "Birth Beads" and I guess this is a baby shower thing that people are doing. Here's part of the explanation from WhatToExpect with more at the source. Birth beads are "an African tribal tradition. Those close to the mother make a wish for the baby and another wish for the labor. Each wish is represented by a bead. The mommy-to-be will find comfort in wearing the necklace or bracelet during labor. It reminds her that she is not alone and there are many people projecting good thoughts at this time."
I really like that, especially for celebrities who are probably gifted countless items from baby companies and who are so wealthy they can buy exactly what they want. Why bother getting them gifts they will barely use? It sounds like it takes a lot of the pressure off too. I wonder if you could use this concept with music, for example. Like each guest could pick a song that's relevant to her and add the song to a shared spotify playlist for the mom-to-be. Advice, ideas or music are a great gifting idea for so many other occasions too, like weddings or anniversaries. It's much more meaningful than a typical gift, especially for established people who don't need money or things. Graduates would probably still appreciate some cash, but for other occasions this would work.
Congratulations to Rachel and Hayden! I bet she'll be a great mom.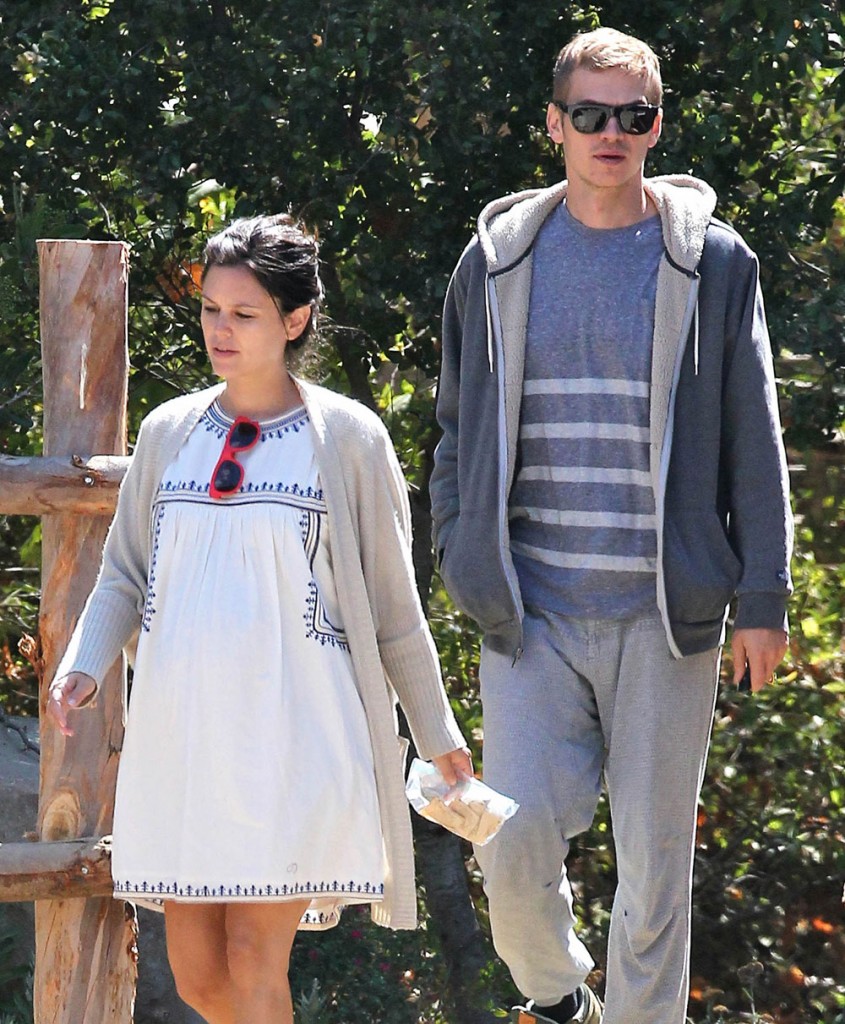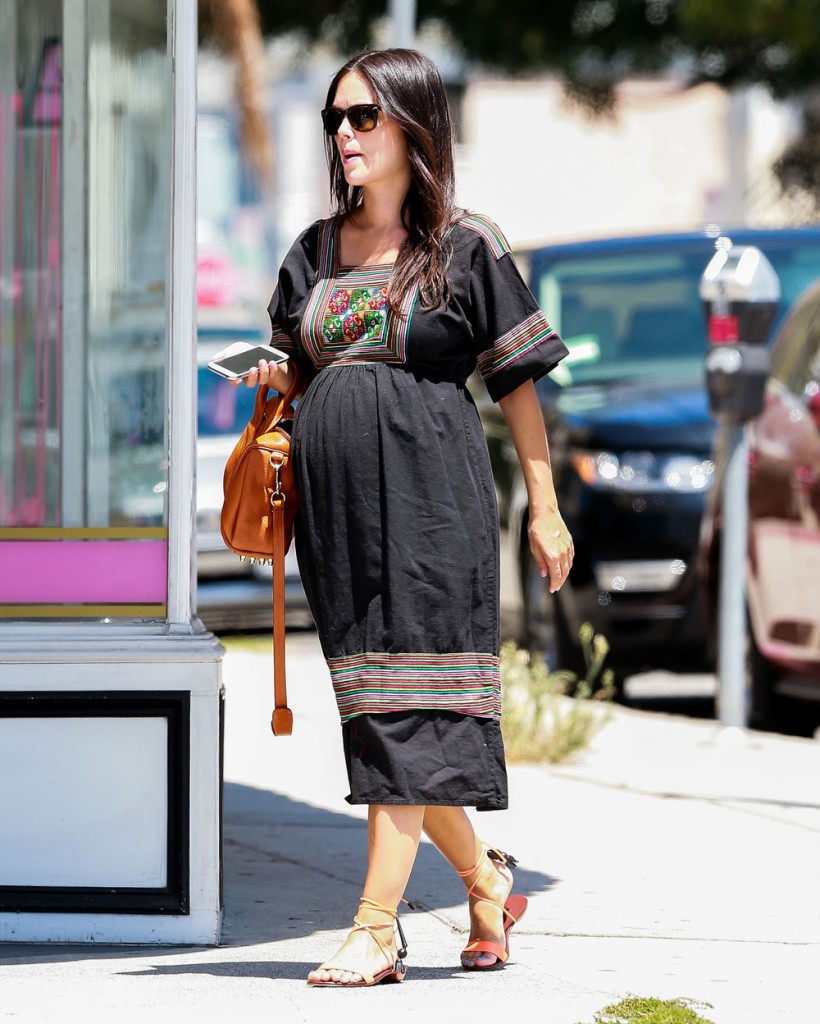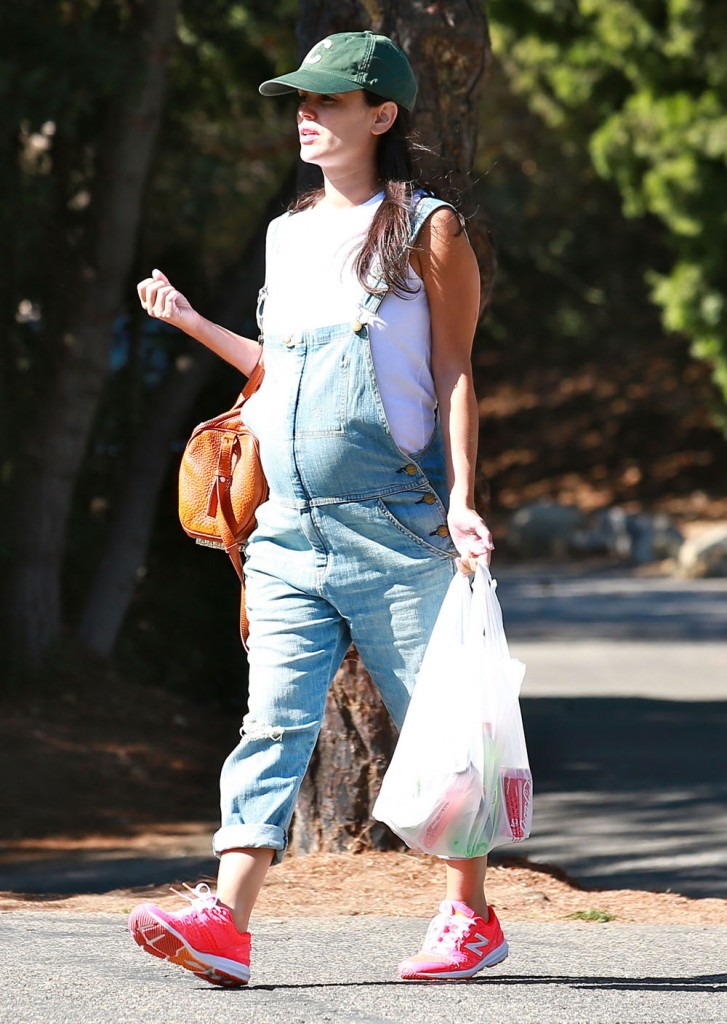 Photos are from August. Credit: FameFlynet and WENN.com