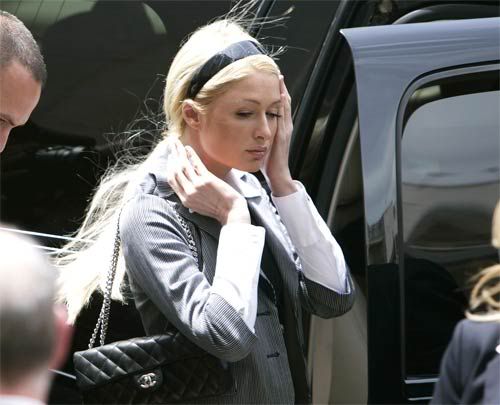 Up until now, statements by the LA County Sheriff's department have indicated that Paris won't receive any leniency in her jail time, as was widely expected at first given Michelle Rodriguez's less than four hour stay for a 60 day sentence in the same facility. Rodriguez was jailed last year, and after the Paris' sentence was announced officials said that the prison is no longer crowded and she could be expected to serve most of the time, with up to 6 days off for good behavior.
Now the LA county jail is suddenly overcrowded again, and little vulnerable Paris could be out in hours or days. They gave one of those official-sounding poilce statements that makes it seem as if it's this calculated decision, but to me it looks like they're changing their tune and have decided to go easy on her.
The source is the same sheriff's representative that said the prison had plenty of room and she would serve most of her sentence in an earlier statement. I'm a bit dissapointed, but not surprised, by this:
Sheriff's Department spokesman Steve Whitmore said Hilton's sentence could be cut nearly in half by state law allowing for credit for time served for good behavior. In addition, he said, overcrowding in the jail system could further reduce the time she spends in custody.

Overcrowding has been a major issue in the L.A. County jail system, with some inmates — even violent ones — serving as little as 10% of their sentences. (If that standard was applied to Hilton, she would serve less than a week in jail.)

Actress Michelle Rodriguez, who starred on "Lost," was sentenced to 60 days in jail for a probation violation last year but ended up serving less than a day in jail.

"She will be treated like any other inmate who's classified as a low-level security risk," Whitmore said. "There are a series of issues that will come into play here, including her criminal history, the nature of the offense and the population of the facility."

Using those and other factors "the decision will be made as she is booked into the jail," Whitmore said. "We do this with every single inmate."
[From LAtimes.com via RadarOnline]
It's suspicious that things could change so quickly in a week. Paris and her family are trying to pull a personal favor with Governor Schwarzenegger and have asked for a pardon. They've donated nearly 60k to his campaign over the years. Maybe Arnie put a call in to the LA sheriff's department and asked them to come up with a reason why Paris won't be subjected to L.A. county jail for much more than a day or two.
With all this hoopla over Paris, I'm wondering what's going on with her frenemy Nicole Richie's case. Richie was busted driving the wrong way on the freeway in December, 2006. She had an earlier conviction of DUI in 2002, in which she received three year's probation after blowing a .12 and admitting to officers to drinking vodka. In December, Richie told cops she had pot and a vicodin that day, but she passed the breathalyzer.
If convicted of the recent DUI, her second, she faces a mandatory 5 days in jail under California law. The last I heard, her lawyers entered a not guilty plea on her behalf and there was a pretrial hearing scheduled April 2nd. If she gets time too, that will indeed be sweet justice.